The market has plunged by about 10% in just the first couple weeks of 2016. This decline seems to be fueled by concerns over the energy sector, worries about global growth, and whether the Federal Reserve is going to tighten so much that it puts our economy into recession. It seems that many investors have once again convinced themselves that it makes sense to sell stocks, even as many sectors now trade at or near 52-week lows. This includes the energy, industrial and financial sectors, just to name a couple. The fear, negativity and irrational stock prices we have now remind me of what we saw when the market had its panic lows over Greece, Ebola, and more recently the flash crash lows in August of last year. Every one of these market pullbacks was a chance to buy stocks cheap for the long term or even just to buy for a short term trade and then sell when markets rebounded as they always have. As tempting as it might be for some investors to avoid the potential of additional losses by going into cash now, there are a number of reasons why this could be the biggest mistake to make now. Let's take a closer look:
Reason #1: Stocks are now oversold and at strong support levels, so this could limit potential downside risks: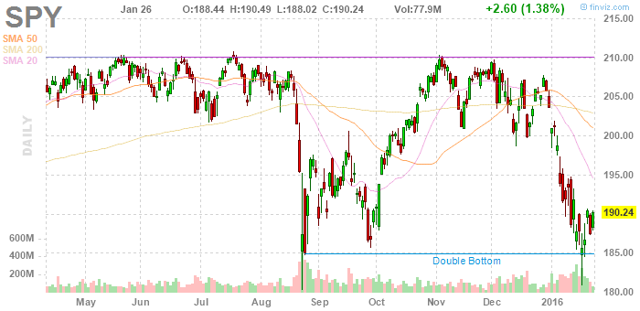 Click to enlarge
The chart of the S&P 500 Index (NYSEARCA:SPY) shows that the market successfully tested a key support level last week which was right near the August "flash crash" lows. This has created a bullish "double bottom" on the chart and that could help create more confidence in this market with many investors. The S&P 500 Index now has a relative strength index or "RSI" of about 35. This indicates it is at oversold levels and could therefore be due for a rebound.
Reason #2: Overly negative sentiment could be a indicator the market has bottomed and is now due to rebound:
The CNN Money "Fear & Greed" Index is based on a number of factors which include: Stock price momentum, stock price strength, stock price breadth, put and call options, junk bond demand, volatility, and demand for Treasury Bonds. The index takes all this data which then produces a reading between 1 (fear) to 100 (greed). As shown below, the index has a current reading of 15 out of 100 which indicates "extreme fear". This level of fear is often indicative of a market bottom or a potential buying opportunity. Historically, it almost never pays to sell stocks when there is this level of pessimism and fear in the market. The "Fear & Greed Over Time" chart below shows that extreme fear readings of 20 or less rarely last long and often lead to sharp rebounds, which is another reason you should be buying now.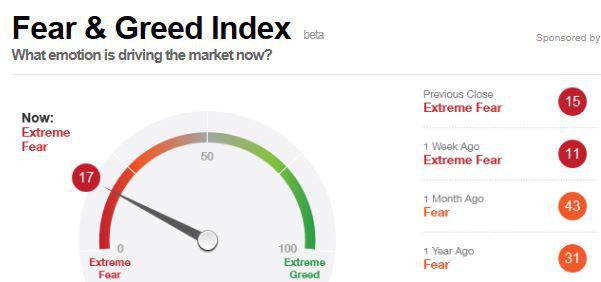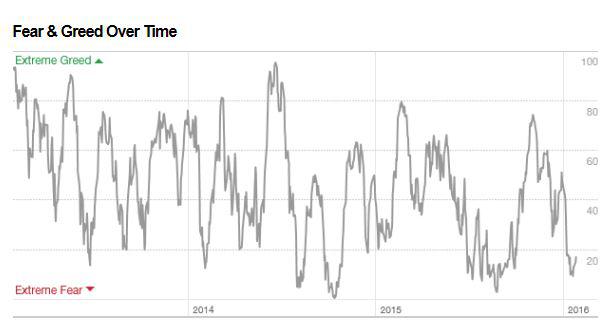 Source: CNN Money
Reason #3: Cash is a long-term loser:
The U.S. dollar was once backed by gold but that ended many decades ago and now it is nothing more than a belief system. A dollar has no real tangible value, the only value is the belief that someone else will take it as a form of payment. This works until it doesn't (as we have seen currencies of other countries become worthless) or it can simply erode in value over time as the U.S. government goes deeper into debt and has to print more money in order to "repay" its obligation. The U.S. debt is nearly $19 trillion now and much more if you consider Social Security, Medicare, and other unfunded liabilities. This virtually guarantees that a dollar today will buy far less in the future; therefore, it is deteriorating in value. Cash is not "safe"; if you had about $40,000 in cash under your mattress you could have bought a home in the San Francisco Bay Area back in the 1960's. If you had you left it under your mattress all these years and tried the housing market today, that same $40,000 is not even enough for a down payment.
Reason #4: Stocks are not overvalued and many analysts see significant upside:
After the recent pullback, the price to earnings ratio is now just around 15 times. That is reasonable and well below the levels that have been seen at historical peaks. A PE ratio of 15 times is even undervalued when you consider the extremely low interest rate environment that exists today. With the U.S. Treasury Bond now offering a yield of just 2%, stocks are cheap by comparison. Analysts at Goldman Sachs (NYSE:GS) recently said that recession fears are "overblown" and that the market could gain 11% in 2016.
Reason # 5: Sharp declines have often been followed by sharp rebounds:
Extreme sell-offs in a short period of time are often amounting to nothing more than volatility and a buying opportunity. Pullbacks are normal and healthy for the market and set the market up for future gains. People who sell into a sharp panic-like sell-off as we saw in the "flash crash" lows of August 2015, only had to wait about 2 to 3 weeks before regretting that decision, and it will likely be the case again this time. Some dovish words by the Federal Reserve, stimulative measures by China or Europe, or a production cut by OPEC could spark a very significant rally in the coming weeks. Plus, making emotional financial decisions that are based on fear and which come at a time when the Fear & Greed Index is at extreme fear levels, are likely to be a big mistake in hindsight. History backs this up: A recent Barron's article points out that after a sharp 10% plunge, the average gain for stocks in the following 12 months was 23%.
"Instead, significant declines are often followed by sharp subsequent upturns," adds Nelson. "According to research from Dimensional Fund Advisors (DFA), we've seen 28 instances where stocks fell at least 10% on consecutive trading days-reminiscent of the experience since the start of the year. On average, stocks were up over 23% in the following twelve months, almost 9% per year over the following three years, and over 13% over the subsequent five years. While some downturns lead to greater declines in the near term, the long-term evidence is clear, lower prices eventually lead to higher future returns."
In summary, there are many reasons why it probably makes sense to be a buyer of stocks right now. Even if you want to sell, it makes sense to consider waiting for at least some rebound that always comes from sharp market pullbacks. For investors who want to take advantage of buying beaten-down stocks, I would suggest stocks like Genworth (NYSE:GNW), which Spencer Brannon (a deep value investor) writes about in this article with a lot of great analysis. I also believe the $4.20 shares of Supervalu (NYSE:SVU) are too cheap to ignore after the market pullback and an earnings "miss" (especially since it has a spin-off looming) which I write about in this article.
Data is sourced from Yahoo Finance. No guarantees or representations are made. Hawkinvest is not a registered investment advisor and does not provide specific investment advice. The information is for informational purposes only. You should always consult a financial advisor.
Disclosure: I am/we are long GNW, SVU.
I wrote this article myself, and it expresses my own opinions. I am not receiving compensation for it (other than from Seeking Alpha). I have no business relationship with any company whose stock is mentioned in this article.