On November 30, 2015, I published Several iPhone Risks In Review: Apple (NASDAQ:AAPL) Is About To Show Declining iPhone Shipments. In it, I made two predictions:
That the iPhone would soon post year-on-year declines.
That Apple would thus underperform at least until July-August 2016.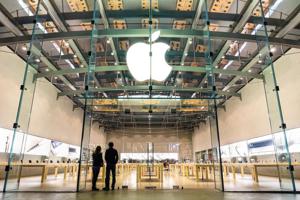 Back then, Apple's consensus estimates did not discount the possible iPhone decline. As a result, revenue growth of as much as 4.1% was still expected for Q2 FY2016.
Since then, the following happened:
Apple has significantly underperformed. AAPL's stock is down 15.5% from when the article was published until Tuesday versus an 8.5% drop for the S&P 500. This is a 7% underperformance over the period, which is significant for a major market capitalization.
Apple's revenue estimates for Q2 FY2016 significantly declined, with consensus pointing towards a 4.4% drop in revenues during that quarter. This drop obviously already discounted a drop in iPhone sales during Q2 FY2016.

Click to enlarge Source: Yahoo Finance
Moreover, Apple reported Q1 FY2016 earnings Tuesday, and guided towards Q2 FY2016. Its guidance, particularly when it comes to revenues ($50-53 billion), was both well below Q2 FY2015 ($58 billion) and the existing Q2 FY2016 consensus ($55.5 billion). The guidance implies a year-on-year drop of 8.6-13.8%. Obviously, this drop must include a significant drop in iPhone sales, thus validating my own predictions.
Given these developments, what can we expect and what things should we pay attention to? That's what this article covers, along with my updated opinion regarding Apple's expected performance going forward.
Two Quarters To Go
Apple guided towards a significant revenue drop for Q2 FY2016. However, Q3 FY2016 will be exposed to exactly the same dynamics as Q2 FY2016. This means that Q3 FY2016 will also show a significant revenue drop.
Moreover, Q3 FY2016 "laps" the Apple Watch launch, which even at its reduced sales expectations is still having an impact on reported year-on-year revenue growth. Even if we estimate a lowly three million Apple Watch units sold during Q3 FY2015 and a similar number in Q3 FY2016 (unlikely to be met - that is, unlikely to match Q3 FY2015), it would be enough to lop off ~2% from the already cringe-worthy year-on-year comparisons.
Apple knows this, which takes us to the next data point: The iPhone 5se.
iPhone 5se
Apple is rumored to be readying an iPhone 5se which would take the iPhone 5s, update its internals to be similar to the iPhone 6 and somewhat update its design language to be more family-like with the iPhone 6 and 6s.
My take on this is as follows:
This is a desperate move, with Apple knowing Q3 FY2016 is going to look even worse than Q2 FY2016 - at the very least on account of the Apple Watch being lapped (with the possibility that even the iPhone 6s continues to weaken).
It being a desperate move is evident from the re-purposing of a previous design through a facelift. Apple simply does not do this. Each Apple design is supposed to be unique (or the same, in "s cycles") - to be the best it can be. Taking an iPhone 5s body and changing some stuff around plus plugging in a 2.5D glass is simply not Apple-like. This means the product went through a very short design stage to get to the market as soon as possible.
It's rumored that the phone will not include 3D Touch (expected, to reduce costs), yet will have access to Live Photos. Again, this like many other instances I've chronicled in the past exposes Apple to an image risk. It shows the company is purposely keeping some features off previous models even though they're fully capable of handling them (the iPhone 6 did not receive Live Photos, for instance). Moreover, it also expands on the 3D Touch inconsistency, with the iPad Pro and now the iPhone 5se not having it in spite of it supposedly being some kind of great selling point.
iPhone 6s Styling
The iPhone 5se also highlights another problem. For years and years, Apple was the clear leader in smartphone design and quality feel.
One would, however, be hard-pressed to still think this remains true. A simple visit to an electronics store with many different brands on display shows this. A Samsung (OTC:SSNLF) S6 (which has several blunders to its name, here I'm just talking design) feels extremely better designed than the iPhone 6s. It needn't even be the Edge, the regular S6 would do. It's simply a much cleaner design where the iPhone now seems like an aging smartphone. And the Samsung S6 is a mere example - the fact is that design-wise, many Android phones have simply caught up to the iPhone.
One can just imagine how pushing an iPhone 5se using design language from 3-4 years ago (the iPhone 5 was out during 2012) with a facelift on top will do.
It's strange that Apple would even follow that route. Apple was known for its design prowess but perhaps the effect I talked about in Jony Ive Was Demoted, Not Promoted, And Other Things Apple is more evident than even I would expect.
The iPad Is More Worrisome Than People Think
The iPad has been showing year-on-year declines for eight quarters now, and in Q1 FY2016, it actually saw a massive 25% year-on-year volume drop. This has largely been ignored by the market since, as I've often said, Apple is the iPhone and the rest is rather irrelevant.
But this drop might actually be more serious than it looks. Not because of its direct fundamental impact on Apple's P&L, but because of what it represents. It represents the inability of Apple to sell the iPad at a significant premium, which by itself means:
People do not see enough value to pay a significant premium over Android tablets.
Android tablets by extension must provide the functionality people expect and must not lack significant "Sine Qua Non" features.
In the absence of subsidies distorting the apparent price, Apple has trouble selling the device at a premium.
The supposed iOS advantage is no longer enough to sustain the premium.
All of these can become relevant to the iPhone. And it would be a tremendous problem if the iPhone started showing consistent year-on-year declines like the iPad. Consider:
iOS tablets (iPads) actually have a larger app advantage over Android tablets than iPhones have over Android smartphones. This is so because iOS has a significant advantage in iPad-specific apps, whereas Android apps many times forgo tablet-specific design - instead relying on dynamic layout/scaling which does not provide nearly the same friendliness and design.
Android phones are now providing near-flagship specs at ever-lower prices. Previously, if you went with a cheap Android smartphone, you'd get a subpar experience. Nowadays, that's not true, and even smartphones approaching $100 are usable, whereas $200-250 smartphones are starting to have near-flagship specs. Moreover, new Android flagships now seem likely to either launch at a discount to the iPhone, or quickly see that discount build up. This is new and worsens the competitive environment for the iPhone.
Carriers (particularly in the U.S., but the trend looks set to spread worldwide) are increasingly moving towards separate pricing plans for the device and mobile service. This exposes the smartphone consumer to the price difference, which previously was rather hidden. Thus, smartphones are slowly becoming more like iPads in the way they're priced and bought.
Taking these together, it's evident that the iPhone is very likely to remain pressured and might suffer an iPad-like fate. Again, this fate materialized in eight straight quarters of year-on-year losses while the iPhone is just entering its first such quarter in Q2 FY2016.
Conclusion
From what I explained, here's an update to my opinion:
I expect AAPL to continue to underperform the market until July-August 2016. There is no reason for optimism right now, and I doubt the iPhone 5se will change this. The downward revisions to consensus are likely to hit not just Q2 FY2016, but also the following quarters and even years. Q3 FY2016 looks even more challenged than Q2 FY2016.
While I limit the period where I expect AAPL to underperform to August 2016, I only do this on account of the expected speculation into the iPhone 7's launch.
After the iPhone 7 launch (preceded by perhaps an entire month of outperformance), and barring an extraordinary product by Apple, I find it likely that underperformance will resume. I find this likely on account of the iPad phenomenon I described as well as the "good enough" impact that's starting to be felt in today's smartphones (you can get smartphones from 2014 which are perfectly usable today with no major shortcomings).
Other than extreme underperformance leading to very low valuations, I don't see much in the horizon that can make Apple interesting. I fully expect the iPhone sales drop to have an outsized impact on AAPL's profitability, which I might cover in a coming article as soon as I have a full model ready.
Disclosure: I/we have no positions in any stocks mentioned, and no plans to initiate any positions within the next 72 hours.
I wrote this article myself, and it expresses my own opinions. I am not receiving compensation for it (other than from Seeking Alpha). I have no business relationship with any company whose stock is mentioned in this article.