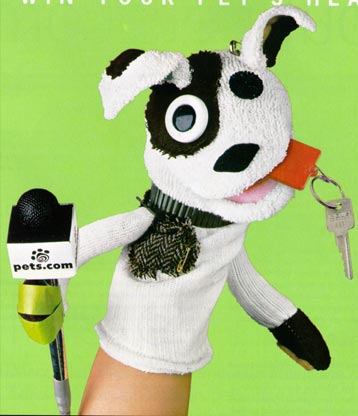 "Sell your house and buy stocks!" That's the type of insane financial advice that conjures up images of shady dot-com-era financial advisors telling retired senior citizens to put their life savings into Pets.com only to see the firm declare bankruptcy less than a year later.
Is that advice really as insane as it initially seems? The short answer: YES.
The risk profiles between stocks and residential homes is vastly different, not to mention that you can live in a home, but you can't live in a stock.
The answer, though, becomes far more complex when you assume that the "stock" is an apartment REIT, an equity investment in a portfolio of residential units. In that case, your equity investment in a residential apartment unit could be very similar financially to an equity investment in a housing or condominium unit.
While writing a recent article that we published on Seeking Alpha, "The Rent is Too Damn High! Blame Bad Policy and Buy REITs" I began to more closely examine the total returns of the multifamily residential sector. One thing became immediately clear: according to NAREIT data, the total returns on the average multifamily investment have been absolutely incredible over the past two decades.
Since 1995, annual returns on these properties have averaged 14.8% per year. Over this same time frame, according to the Case-Shiller Home Price data, single family homes have returned an average of 3.88% per year.
We ran a simple analysis on this data to show the growth of $500,000 over this time, given those annual returns.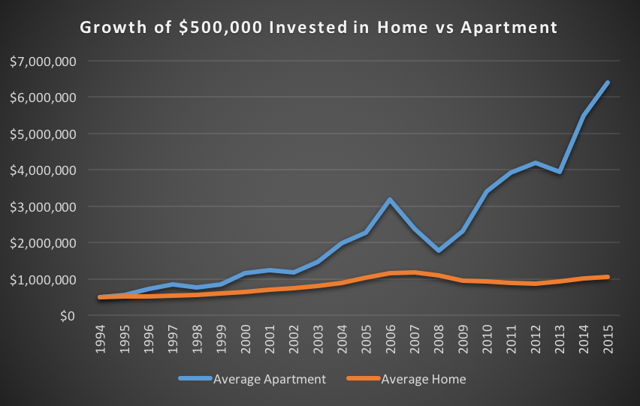 This (overly simplistic) chart is rather jarring. Before accounting for necessary adjustments, a half-million dollar equity investment in the average apartment would be worth over six million dollars in 2015, while a similar investment in a home would be worth just over one million dollars.
With this in mind, and with the understanding that direct ownership of rental property can be faithfully replicated through an investment in a high-quality apartment REIT, we decided to conduct a study with the simple question:
Are you better off buying your home, or renting and investing in an apartment REIT?
In other words, we envision that an investor is faced with two choices on a $500,000 budget: buy a home (and thus avoid rental payments), or rent an equivalent home or apartment, and use the capital (minus rent) to invest in an apartment REIT.
Obviously, the above chart is not a fair comparison by any means. If you were renting, you would be making period rental payments… every single month! So we need to adjust for that. To be very conservative, we will assume that you are paying $3,000 per month in rent, likely higher than a rent would be paying to rent a similar $500,000 home with an equivalent amount of space and amenities. That's $36,000 per year coming out of the REIT investment.
Secondly, the original chart did not account for the effect of taxes. According to the NAREIT data, about 40% of the total returns from apartments came from passive income, while 60% came from price return. We'll assume that you are paying 30% income tax on that passive income.
To be even more conservative, we will relax the costs of homeownership. We will completely disregard property taxes, maintenance expenses, and selling costs of a single family home. Those can be substantial, but for the sake of this study, we will be extra biased towards homeownership, in part to account for some non-monetary benefits of homeownership.
We ran the numbers once again, this time adjusting for rent and expenses.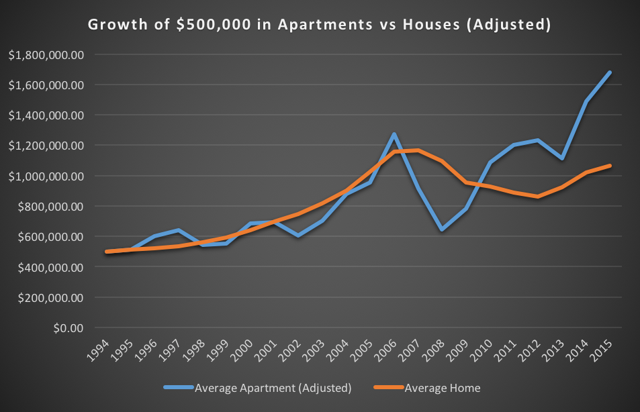 Unsurprisingly, considering rental units and purchased homes are essentially "substitute" goods given our modified assumptions, the adjusted data correlates far better. In fact, from 1995 to 2006, investors would be almost equal between the two options, and investors that sold their home at the peak during the crisis of 2008 would have actually outperformed the apartment alternative substantially.
Since the recovery from the financial crisis began, though, apartments have been on an absolute tear, nearly tripling since the low of 2008 while housing prices have not recovered to pre-recession levels.
This outperformance of apartments over homes during this time can be explained by a number of factors, including changing attitudes towards home ownership and rentals, household deleveraging, and over-burdensome regulation. (See: "The Rent is Too Damn High!")
One final issue must be addressed in this study, though. Since we have been using zero-leverage cash-returns, we are assuming that the investor had the ability to purchase a zero-leverage nationally-diversified apartment portfolio for just $500,000.
Surely that must be impossible, right?
This is what makes REITs so special. REITs have truly leveled the playing field for the average investor when it comes to investments in commercial real estate, and makes the "rent and invest" strategy possible.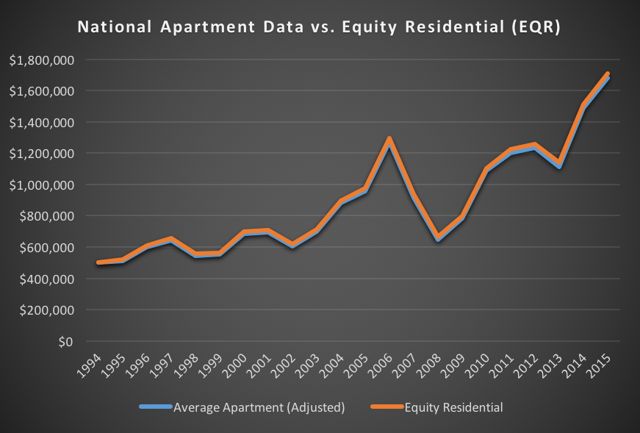 Equity Residential (NYSE:EQR), the largest apartment REIT, has tracked the national apartment index almost tick for tick, with EQR actually coming out slightly ahead. Diversified apartment REITs like Avalonbay (NYSE:AVB), Camden Property Trust (NYSE:CPT), and Post Properties (NYSE:PPS) will track the national index in a similar fashion. REZ, an ETF that focuses on residential REITs, will also track the apartment index well.
Professor Jonathan Morris at Georgetown University did an analysis on Equity Residential, recommending these "best of breed" REITs. He says, "My investment thesis is based upon "the best get better," and I've seen it up close and personal."
Quality (low leverage, and skilled management), is critical when it comes to replicating or outperforming the national index, a necessary condition for the "rent and invest" strategy.
Bottom Line
So, if historical average persist, would you be better off renting and investing in REITs instead of buying a home?
Based on this study, the short answer, we would conclude, is yes.
Even with very conservative assumptions, over the past twenty years, the average investor would have been better off renting and investing rather than purchasing their home. A $500,000 investment using the "rent and invest" strategy in EQR (after adjusting for rental payments and taxes) would be worth about $1.7 million today versus the "buy your home" strategy which would be worth about $1.1 million.
Of course, nothing is that simple.
Disclosure: I am/we are long EQR, AVB, PPS, CPT.
I wrote this article myself, and it expresses my own opinions. I am not receiving compensation for it (other than from Seeking Alpha). I have no business relationship with any company whose stock is mentioned in this article.