Canadian National Rail, TSX:CNR or (NYSE:CNI) reported earnings after close on Tuesday, January 26, 2016. CN Rail was first purchased for my portfolio on January 29, 2013 for a split-adjusted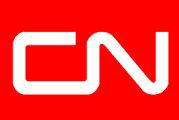 $47.07. As an income investor, my primary goal is to increase the future income of the portfolio for retirement. I need to regularly evaluate my holdings to see if they can continue to meet my goals and earnings time is a great time for me to take a hard look at each holding in turn. I listened to the call to see how CNR has been doing in this challenging commodity environment. Please note that as a Canadian investor I speak $CAD and all prices quoted and comments are in Canadian dollars and relate to the performance of CNR on the Toronto Stock Exchange.
As the stock chart shows, the share price has been trading in a range since the beginning of the year.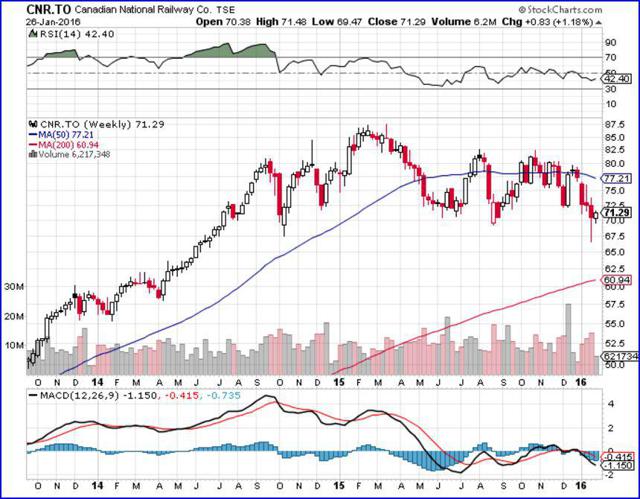 Click to enlarge
This is not unique to CN Rail; many stock charts look similar, and most rail stocks look far worse. This article also comes at the bottom of a swing, which is always the most disheartening and exciting time.
Here is a comparison to other popular rail stocks. In Canada, the close competition is Canadian Pacific Rail (NYSE:CP), which focuses on east-west lines. The north-south lines of CNR are why it was chosen for my portfolio. I chose Norfolk Southern (NYSE:NSC), CSX Corp (NYSE:CSX), and Union Pacific (NYSE:UNP) to represent American rails.

Click to enlarge
The tone of the call was upbeat but not skipping over the substantial difficulties of the industry over the last year.
Claude Mongeau, the President and Chief Executive Officer has been off for five months with health concerns but is now back to the office. He said, "The CN team did such an outstanding job closing out on the year that I could not resist coming back to be on this call...I am looking forward to leading CN to new heights in the future."
Mr. Mongeau called the Q4 results, "Very strong" and says they will "continue with our swift response balancing operational and service excellence in a way that is quite remarkable given the challenges we face."
In Q4 net income increased by 11% to $941 million. EPS was $1.18, topping the analysts expectations. This represents a 15% increase over 2014's 1.03. Revenue was down 1% compared to Q4 last year.
On an annual basis, revenue increase by 4% to $12.6 million, setting a company record. Earnings per share rose 14% to $4.39.
It was stated that the balance sheet remains strong with "operating ratio 58.2%, well within leverage ratios, within our guidelines."
For 2016, CN expects mid-single digit EPS growth of about $4.44, with a capital investment program of approximately $2.9 billion. The dividend was raised by 20% to $0.375 per share, paid quarterly. The next ex-dividend date is March 7th. This is the 20th consecutive annual dividend increase, averaging 17% per year, since it went public in 1995. Sadly the dividend is still a low 2.1%. However, the company did address this in the call stating that 80% of net income has been returned to shareholders through buybacks and dividends and that their goal is to "gradually move towards a 35% payout ratio." TD reports that the current payout ratio is 27%.
I would like to look further at the revenue compared to earnings per share. Car-loadings declined and revenue ton-miles decreased both quarterly and annually reducing revenue, yet there was record earnings annually and excellent earnings quarterly. Substantial headwinds for CN were a 32% drop in Crude by Rail and a 43% drop in Frac Sand. Steel shipping related to the oilfield is falling as well. Reduced Coal shipping has been a substantial problem for several US rails, but was only 4% of Q4 revenue and it is expected to drop further. Exchange was also identified as a headwind, especially that much of CN's debt is in USD.
Improving lumber trade to the US, record automotive sales, natural gas, grain, and potash have been growth areas. CN has cautioned that for this year, we can expect car load volume to continue to be down.
Jim Vena, the Executive Vice-President and Chief Operating Officer said that efficiency grew with velocity, productivity, and fuel efficiency. "Each train handled more freight, faster, and the employees were more efficient...Very satisfying results in the face of headwinds that made those results difficult to deliver."
One must celebrate with CN as they have taken challenging circumstances and created a most efficient rail system. The question now is, "How much more efficiency can be created within a system?" in order to offset the lower carload revenue and, "How long will the lower revenue conditions last?" These questions were touched upon in the question period of the call.
I first purchased CNR for my portfolio on January 29, 2013 and doubled my holding this year (as planned since the portfolio doubled with two more purchases: May 7, 2015 and June 18, 2015. I have considered playing the swings in the stock several times, but my focus this past fall has been on options. As a low dividend payer with growth possibilities, I hold this in my Tax Free Savings Account where puts are not allowed. At 3.5% of the portfolio, the current holding is exactly the size and where I want it to be, so I do not plan to mess around with it, at least for now. If it was to sharply bounce back to previous highs and then begin to pull back, I may write the odd covered call for protective income to lower the ACB which is currently $62.25.
Though there are significant headwinds for the company, they have achieved efficiencies that have been able to drop down to the bottom line. They are continuing to invest even more in the business. A company with these actions are exactly who I want to partner with: one with already producing excellent assets, whose earnings continue to increase, and who is not shying away from growing, even with significant headwinds. I am pleased to continue to partner with CN Rail as one of my long-term holdings.
Disclosure: I am/we are long CNI.
I wrote this article myself, and it expresses my own opinions. I am not receiving compensation for it (other than from Seeking Alpha). I have no business relationship with any company whose stock is mentioned in this article.