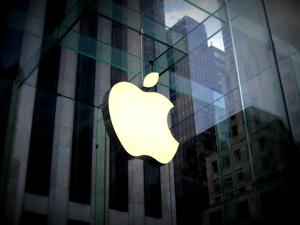 On Tuesday, Apple (NASDAQ:AAPL) released its fiscal first-quarter results. The company was within its revenue guidance for the period, but fell short of analyst estimates. Despite all of the doom and gloom out there regarding Apple, there are still a couple of reasons to stay positive.
The first reason is one of the key items I previewed, and that was the iPhone selling prices. Apple actually reported a $3.20 increase per phone sold over the year-ago period, and that was despite a $49 negative impact from currencies mentioned on the conference call. There were many out there calling for a large ASP drop in the quarter, perhaps as much as $50, on the basis that strong sales of older phones would ding ASPs. That did not happen, proving that newer phones sold well, Apple was able to sell higher storage capacity (more expensive) models, and that consumers are willing to pay a premium for the phone even in a tough macroeconomic market. Mac and iPad ASPs also rose over the prior-year period.
The second reason to be positive is the huge upgrade opportunity that Apple has in front of it. On the conference call, management mentioned that roughly 60% of iPhone holders have not upgraded yet to a 6 or newer device. I suspect that some of these consumers are waiting for the new 4-inch phone expected to come in the next few months, but this also provides an opportunity for the iPhone 7 this fall. While fiscal 2016 may show flat iPhone sales overall, a strong launch this fall could return the product to growth.
I also have to wonder if management was playing to the crowd with its guidance for fiscal Q2. With all of the bearish notes regarding the iPhone and the March quarter, there was a lot of pessimism built into this report and the stock. If there was ever a time to sandbag the forecast, this would seem to be it. While I'm not suggesting Apple lopped several billion of its forecast, perhaps management shaved a billion or two off. The company expects to be active in the debt markets during 2016, mostly as a way to keep fueling its strong buyback program. With Apple's shares down to the mid-$90s in early Wednesday trading, providing light guidance could be a way to not only set up future beats by lowering expectations, but also allowing the company to repurchase shares close to their yearly lows.
While Apple's earnings report on Tuesday wasn't spectacular, it wasn't the end of the world either. The company still grew iPhone sales over the prior-year period, fueling a corporate quarterly record for both revenues and net income. Tim Cook reiterated that the company has the "mother of all balance sheets," and the stock's decline will make the buyback program even stronger. Apple is facing some tough compares from prior-year periods, and the currency environment is lopping billions off the top line. This week's news should provide a realistic reset of expectations, and that could set up the stock for a solid 2016 as the company looks to return the iPhone to growth with a strong iPhone 7.
Disclosure: I/we have no positions in any stocks mentioned, and no plans to initiate any positions within the next 72 hours.
I wrote this article myself, and it expresses my own opinions. I am not receiving compensation for it (other than from Seeking Alpha). I have no business relationship with any company whose stock is mentioned in this article.
Additional disclosure: Investors are always reminded that before making any investment, you should do your own proper due diligence on any name directly or indirectly mentioned in this article. Investors should also consider seeking advice from a broker or financial adviser before making any investment decisions. Any material in this article should be considered general information, and not relied on as a formal investment recommendation.