Examining a potential investment based on its underlying valuation is a critical element for determining whether or not the subject security promises safety of principal and satisfactory return. As the legendary investor Ben Graham explained (The Intelligent Investor):
Operations not meeting these requirements are speculative.
Accordingly, it's that distinction - between investment and speculation- that lies at the heart of Graham's investment philosophy and its primary impetus behind his development and promotion of the "margin of safety" principle. As Graham suggested, the value investor's purpose is to capitalize upon "a favorable difference between price on the one hand and indicated or appraised value on the other."
That's why the margin of safety is the essence of value investing - because it's the metric by which hazardous speculations are segregated from bona fide investment opportunities.
As many frequent readers know, I typically analyze a REIT security based upon historical earnings (or Funds from Operations) and overall dividend performance (and safety). For me, Price-to-Funds from Operations (or P/FFO) is a relative valuation metric, because it provides a clear picture of where the company has been, where it is now, and where it's headed in the future.
The other widely accepted REIT valuation metric is Net Asset Value (or NAV) - an analysis of underlying real estate designed to evaluate valuation of any REIT relative to its sector-level peers. It's much more difficult for a business journalist or independent analyst to determine with accuracy the valuation of a company, since there are many variables involved.
Conversely, Green Street Advisors has devoted considerable resources to the NAV-based tool, and the company said "it has always been the driver of (its) valuation conclusions". See Green Street NAV paper HERE.
I simply don't have the time or resources dedicated to appraising various REIT assets, and when I need to determine market pricing for a REIT security, I will typically rely on the dedicated research team from a well-known brokerage firm.
Where's The Bottom?
As noted above, I typically don't provide NAV-based pricing, since my preference is to focus on earnings trends. In addition, REITs are rarely liquidated, so the use of the NAV model is less meaningful for the average retail investor. Many of you reading this article are looking to find an adequate "margin of safety" in which you can buy a cheap stock with strong growth potential.
However, many readers have asked me to provide an asset based measuring stick for New Senior Investment Group (NYSE:SNR). As you may recall, I wrote my first article on SNR back in June 2015 in which I explained that in November 2014 the senior housing REIT "spun from Newcastle Investment Corp. by issuing 17.5 million shares generating proceeds of around $241 million." I summed up the article as follows:
I see powerful potential unfolding. I view SNR as an opportunity to invest "alongside" Fortress, except instead of a traditional private equity wrapper, I get a much focused REIT that has a tactically rewarding platform: to become the consolidator in senior housing.
Then in November 2015 I wrote another article on SNR and explained,
For those who got on the SNR train early, it has been a brutal trip as shares have declined by over 50% since the public listing. Much of the decline has occurred in the second half of the year and on Friday SNR hit an all-time low of $9.35 per share (closing price was $9.55).
As I pondered the perplexing share price movements I kept reminding myself of the obvious reasons for the underperformance:
Ultimately there are three risks noted: (1) tenant concentration, (2) high leverage, and (3) external management - have all led to substantial erosion in shareholder equity.
The thrill of victory seems to offset the potential agony of defeat. Recognizing risks is an essential attribute for investing and although there are certainly lingering risks related to SNR's business model, yet the potential for rewards seems very attractive, as I wrote:
While the business model is simple, there are complexities that make this REIT somewhat unique and while I feel as though the dividend is safe, there is only four quarters to rely upon. That being said, I am attracted to the chase for yield (a whopping 10.9% dividend yield) and I do not see an imminent threat to the dividend itself.
The chart below illustrates the share price decline since SNR went public: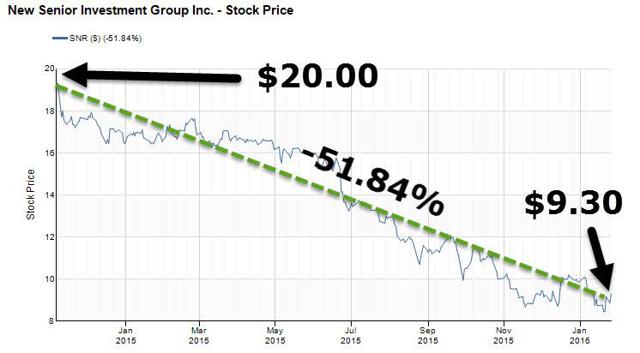 Click to enlarge
What is New Senior Investment Group Really Worth?
This is my second NAV article ever on Seeking Alpha, the only other article I have published was on VEREIT (NYSE:VER). Therefore, I am essentially coming out of retirement (not in a literal sense) to make available a purely academic valuation of the SNR.
You will see my disclaimer noted at the bottom of this article, and I will summarize it here: My NAV-based model includes opinions and should not be relied upon in any way. Investors should conduct his or her own due diligence.
Now, let's get started...
To arrive at a quarterly run rate, I located the latest publicly available rental revenue in the Q3-15 supplemental. I took that number (~$58.4 million) and I arrived at an annualized run-rate of ~233.6 million. Then I used an average cap rate (net income divided by purchase price) provided by four analysts of 6.33%.
Cap rates are subjective and that's one reason that I don't consider NAV to be the best valuation metric. The range of cap rates from the four analysts are 5.9% to 6.7%. I will use the average cap rate of 6.33% in this example and I will also provide you with the high and low NAV numbers at the conclusion of this article.
I added back in the cash component and I arrived at Total Assets of $3.518 billion.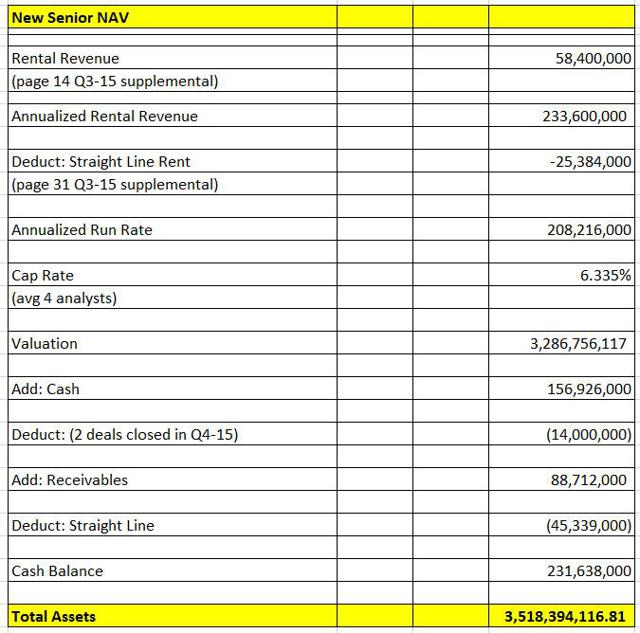 Click to enlarge
As referenced in my other articles, SNT has significant leverage. I used the latest mortgage debt (also found in the Q3-15 supplement) of $2.127 billion and I also added back in two new acquisitions that I estimated since the last filing. As you can see below, I have estimated SNR's Total Debt at $2.259 billion.

Click to enlarge
Finally, I took the total equity estimate of $1.365 billion and divided it by the share count of 87.128 million shares to arrive at a Net Asset Value of $15.67.

Click to enlarge
As I said above, cap rates are subjective and when I plugged in the low cap rate (of 5.9%) I arrived at an NAV of $18.45 and when I used the high cap rate (of 6.7%) the NAV is $13.61.
So using the average cap rate of 6.33% we can now see that SNR's liquidation value of $15.67 is substantially higher than the current share price of $9.30. Does that mean that you should run out and buy shares now?
Keep in mind, there is already a chilling impact related to most all healthcare REITs (except MOB) and much of the concern is over supply issues in the senior housing sector. When you combine the broader forces along with SNR's high leverage, high tenant concentration, and significant hedge fund control, the valuation appears somewhat justified.
As I see it, SNR is essentially boxed-in right now. The share price has significantly under-performed and the company simply cannot buy assets right now, so buying stock is the only option.
A share buyback program went into place in early December and the company switched gears recently to a tender offer - a more transparent vehicle - signaling to the market that the shares are substantially undervalued. The shares were tendered in the $9 to $10 range and SNR was able to buyback all of the shares (~$30 million) at the lowest end of the range ($9.00).
I believe that SNR's best way to create value is to sell the REIT. As noted, high leverage makes that difficult but I believe one of the best ways to understand the true value of the enterprise is to examine SNR's largest tenant.
SNR's largest tenant is Holiday Retirement. As you can see below, the company derives around 75% of its revenue from Holiday and around 12% of revenue from Blue Harbor (Disclosure: my direct relative is employed at Blue Harbor.).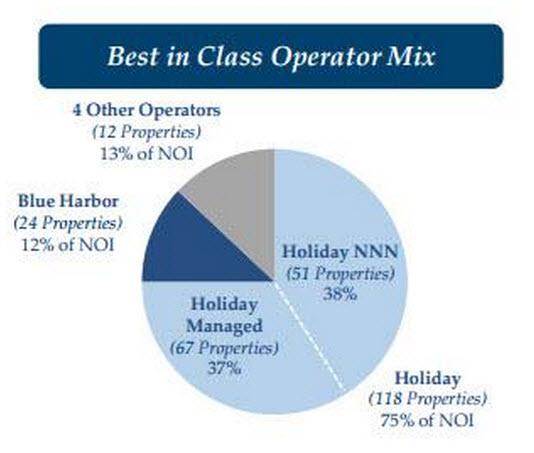 Holiday was formed in 1971 by William Colson, and sold to Fortress in 2007. SNR owns both net leased and managed buildings leased to Holiday and the outsized concentration risks has been a well-known overhang for SNR investors (Holiday operates around 308 properties and SNR is landlord to 118 Holiday properties).
Holiday owns over 300 properties and in addition to SNR several other REITs have exposure in the senior housing company: Ventas (NYSE:VTR), SABRA (NASDAQ:SBRA), Northstar Realty (NYSE:NRF), and National Healthcare (NYSE:NHI). Note: NRF does not disclose percentage metrics but the company owns 32 Holiday-leased properties (according to SNL Financial).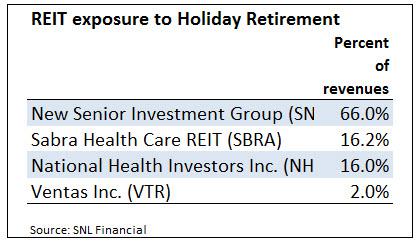 Although Welltower (NYSE:HCN) does not appear to have exposure with Holiday (at least I cannot find Holiday in HCN's top tenant list) I consider the Ohio-based REIT to be the best strategic fit for SNR. I recently wrote a detailed article on HCN HERE.
What will it take for SNR to move the needle?
Answer: More investors to buy the shares.
Given SNR's discounted valuation (based on earnings and NAV) I consider this security to be most attractive. There are risks that should be fully vetted out but based upon my research I believe the dividend is safe. This NAV analysis provides me with a higher degree of confidence and I am maintaining a BUY Rating on the shares.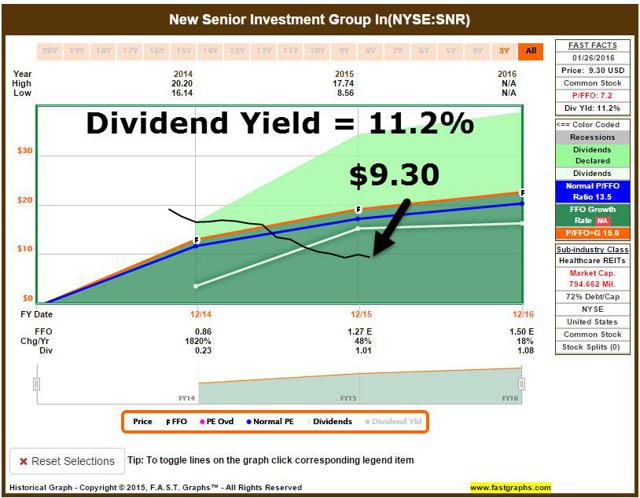 Click to enlarge
INVESTORS SHOULD NOT RELY ON THE NET ASSET VALUE MODEL PREPARED BY THE AUTHOR. CONDUCT YOUR OWN DUE DILIGENCE.
Author's Note: I'm a Wall Street writer, and that means that I am not always right with my predictions or recommendations. That also applies to my grammar. Please excuse any typos, and I assure you that I will do my best to correct any errors if they are overlooked.
Finally, this article is free, and my sole purpose for writing it is to assist with my research (I am the editor of a newsletter, Forbes Real Estate Investor), while also providing a forum for second-level thinking. If you have not followed me, please take 5 seconds and click my name above (top of the page).
The only guarantee that I will give you is that I will uncover each and every rock I can in an effort to find satisfactory investments that "upon thorough analysis promises safety of principal and satisfactory return. Operations not meeting these requirements are speculative." (Ben Graham)
Sources: SNL Financial and FAST Graphs.
Disclaimer: This article is intended to provide information to interested parties. As I have no knowledge of individual investor circumstances, goals, and/or portfolio concentration or diversification, readers are expected to complete their own due diligence before purchasing any stocks mentioned or recommended.
Disclosure: I am/we are long O, DLR, VTR, HTA , STAG, GPT, ROIC, HCN, OHI, LXP, KIM, WPC, DOC, EXR, MYCC, BX, TCO, SKT, UBA, STWD, CONE, BRX, CLDT, HST, APTS, FPI, CORR, NHI, CCP, WSR, CTRE, WPG, KRG, SNR, LADR, HCN.
I wrote this article myself, and it expresses my own opinions. I am not receiving compensation for it (other than from Seeking Alpha). I have no business relationship with any company whose stock is mentioned in this article.