Over the years Tencent Holding (OTCPK:TCEHY) made a big impact on the Chinese internet space. Its messaging services and e-commerce websites are one of the most popular among consumers in the region. However, the biggest field, where company has its presence is online gaming.
According to Newzoo, Tencent is the biggest gaming publisher in the world. Its online gaming divisions are the most profitable in the holding and are showing an exponential growth in the last few years: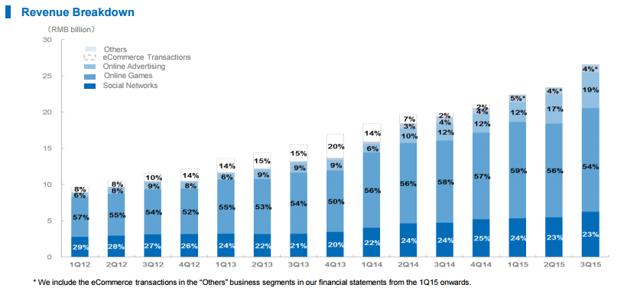 Click to enlarge
(Source: Tencent Fact Sheet)
The secret to Tencent's success in online gaming is its acquisition strategy. The company invested a lot of capital in different development studios all around the world and now holds a number of popular franchises in its portfolio.
Notable acquisitions
In 2012, Tencent bought a minority stake (48.8%) in North Carolina-based studio Epic Games. The studio is famous for its game engine Unreal Engine which is widely used by many developers in the video gaming industry, and titles like Gears of War and Bulletstorm. However, in 2014 it sold Gears of War series to Microsoft (NASDAQ:MSFT) and currently is developing a new IP called Paragon.
Then last year the Chinese giant purchased a 14.6% stake in Glu Mobile (NASDAQ:GLUU). Main assets of the company are its partnership agreements with famous Hollywood celebrities like Kim Kardashian, Katy Perry, Kylie and Kendall Jenner and others. Its Kim Kardashian: Hollywood was very successful at the launch and made over $62 million in first year for the developer.
And to strengthen its mobile presence, Tencent bought a 20% stake in U.S. game maker Pocket Gems, invested $500 million in a Korean mobile-games company CJ Games Corp., and made a deal with Tokyo-based game developer Aiming. The publisher now controls a big chunk of the Asian-Pacific online gaming market and slowly expanding into the international field.
But the most important acquisition Tencent made back in 2011. That year the publisher acquired a small part of Los Angeles based development studio Riot Games. In the following years it increased its position in the company and as of December 2015 it fully controls the studio. Riot is famous for its MOBA game League of Legends (LoL). Since its launch in 2009, LoL became one of the most popular franchises in the eSports community and made a lot of money for the Chinese internet giant. Riot website says that 67 million players are playing game every month and 27 million of them are online every day. According to SuperData Research, League of Legends made an estimated of $1.25B from micro-transactions last year. The highly desired millennial male demographic that plays the game is of high interest to many industry advertisers and they're ready to pay big bucks to influence this audience via ads/banners/commercials/sponsorships etc.
Market Overview
Online gaming trends are also having a big impact on Tencent's success in this field. According to Newzoo, online gaming market will continue to grow in 2016 across all of the major platforms: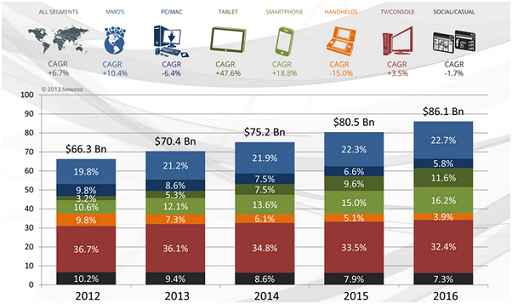 (Source: Newzoo)
And while a lot of developing countries are entering recession and commodity prices are falling worldwide, entertainment remains to be the one industry that's not been hit by the global slowdown. There's a notion that games are recession-proof. If we look at the data from NPD Group for the end of 2009, we would see that for the video game industry as a whole, sales were up 18 percent for the month, to $1.31 billion from $1.12 billion a year earlier. Software was up 35 percent in October, from $514.5 million in 2007 to $696.8 million in 2008, while hardware had a more modest 5 percent rise in the same period, from $470.5 million to $494.8 million. So, despite a slump of the worldwide economy in 2007-2009, game publishers saw growth and rising sales numbers.
And in today's situation, if things go really bad economically, we could safely assume that the picture in the entertainment industry would be similar to the one that we saw a few years ago. If we look at the Tencent stock price, we would see that it showed a moderate growth in the last few years: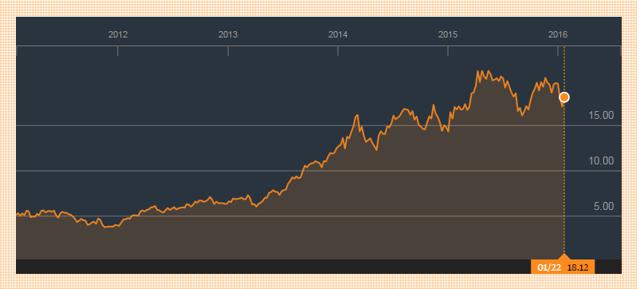 Click to enlarge
(Source: Bloomberg)
With the studios and IPs that Tencent has in its portfolio, I believe that it will continue to show growth and create an additional shareholder value for the years to come. Unlike other Chinese stocks that were seriously hit this summer, Tencent managed to quickly recover and show that it has a strong fundamentals to support its share price. And the rising online gaming market will only help the company to succeed in the future.
Disclosure: I/we have no positions in any stocks mentioned, and no plans to initiate any positions within the next 72 hours.
I wrote this article myself, and it expresses my own opinions. I am not receiving compensation for it (other than from Seeking Alpha). I have no business relationship with any company whose stock is mentioned in this article.
Editor's Note: This article discusses one or more securities that do not trade on a major U.S. exchange. Please be aware of the risks associated with these stocks.