The Boeing Company (NYSE:BA) used to be a stock that I found myself constantly reflecting on and saying "why didn't I buy it THIS time?" On every meaningful pullback I considered a position, but never got in. The stock has provided capital appreciation and dividend growth and that is why I got in back in December. This was as the company raised its dividend and expanded its buyback. Both very positive for shareholders. But now was we enter 2016, we need to consider where the stock is going. There have been some good pieces of news. First, right before the Christmas holiday we learned that the company booked orders for 166 commercial jets in the week before the holiday, everyone for the company's 737 suite of jets. That is strong. Boeing, at that point had booked deals for 743 jets net through December 22nd. Then a week later on New Year's Eve, we learned that FedEx (NYSE:FDX) committed to purchasing another 16 Boeing 777's. We also learned that Boeing recently picked up another $855 million contract with the Pentagon. This contract involves upgrades and logistic support for the T-38C supersonic trainer aircraft, and this work will be completed in about a decade. This was key as Boeing beat out a competitor for this contract. Just last week United Airlines (NYSE:UAL) committed to purchase 40 of the company's 737s, while cutting back production on 747s. I was pleased with the recent developments minus the charge related to the 747s, but the stock has been getting punished with the market. Now of course I am thinking "I should have known better."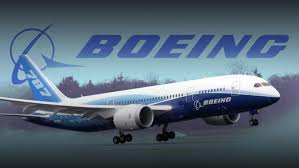 Source: foxnews.com
Why do I say that? Maybe it is buyer's remorse but after waiting and waiting to get in, now the stock is getting hit. I do plan to add to the position on continued weakness as this is a long-term buy, but still, it's disappointing. But is this temporary weakness, or is there more to be concerned with? To answer the question we need to review the company's performance but also discuss where the company is heading. First off, the just reported fourth quarter was decent. The numbers beat estimates. The company reported revenue was $23.6 billion in the quarter and a record $96.1 billion on strong commercial deliveries. Quarterly revenues beat estimates by $50 million. Core earnings per share for the quarter were down 31% year-over-year to $1.60, versus $2.31 last year. Core earnings per share totaled $7.72 for the full year, reflecting the KC-46 Tanker (2Q) and 747 program (4Q) write off charges of $1.61 per share, but these charges were of course offset in part by strong core operating performance across the company.
Let's take a look at some of the sector highlights to get a feel for the performance. The Commercial Airplanes segment saw fourth-quarter revenue dip slightly to $16.1 billion on lower delivery volume, while operating margins was 3.5%. This is down from Q3's strong margins of 10%. The reason is that in Q4 there was the $885 million pre-tax charge on the 747 program. In total, the 737 program has won nearly 3,100 firm orders for the 737 MAX since launch. It is important to note that the company's 777X program is on schedule for first delivery in 2020. Commercial Airplanes booked 321 net orders during the quarter. Backlog remains strong with nearly 5,800 airplanes valued at $432 billion.
In the company's Defense, Space & Security segment revenue was a strong $7.8 billion with an operating margin of 12.4%. But why? Well Boeing Military Aircraft performed exceptionally with fourth-quarter revenue increasing to $3.2 billion primarily as a result of higher volumes. The company saw some strong contracts in the quarter as well. The Network & Space Systems division saw revenue of $2.0 billion and its operating margin was 8.3%. One of the key developments was that NASA awarded Boeing its second commercial contract for a human spaceflight mission as part of the existing Commercial Crew contract. The Global Services & Support Division saw revenue increase to $2.6 billion due to timing of airborne control deliveries and its operating margin increased to 13.8% on strong performance. Like with the Commercial Airplanes segment, there is a significant backlog. Backlog in this segment was $58 billion, of which 40% represents orders from international customers. Commenting on the quarter Boeing President and Chief Executive Officer Dennis Muilenburg stated:
"Building on our foundation of solid core operating performance and customer focus, Boeing extended its leadership of the aerospace industry in 2015 with record deliveries and revenues in commercial airplanes, and solid sales and healthy margins in our defense and space business. We also generated significant cash flow to fuel investments in innovation and our people, and provide compelling returns to our shareholders. With clear strategies and strong positions in our markets, a large and diverse order backlog worth nearly $500 billion, and multiple additional production rate increases planned yet this decade, we are well positioned for profitable growth and higher cash flow as we move into our second century in business. Our priorities for 2016 and beyond are to build on our existing strengths to deliver on current plans and commitments, and to stretch beyond them by accelerating progress on key enterprise growth and productivity initiatives, investing in our team, and creating more value and opportunity for our customers, shareholders and employees."
I thought the performance this quarter so-so, despite the 747 program charge and revenue declines in some segments. Revenue although down was strong and earnings delivered a beat. So why are shares being punished? Well the 2016 outlook was light. And that caught me by surprise. Revenue guidance is between $93 and $95 billion, including commercial deliveries of between 740 and 745. Operating cash flow is expected to be approximately $10 billion. Core earnings per share guidance for 2016 was for between $8.15 and $8.35, which is higher than 2015. As you can see, the revenue guidance is lower than what was brought in during 2015. I will point out that Boeing revises guidance throughout the year and this is subject to change. A 10% haircut on this name seems overdone, but remember this is a long-term game.
We care about the long-term. And the long term is where I am focused. With that, I feel like the market is discounting the fact core earnings per share guidance and operating cash flow guidance were increased relative to 2015. Further, the company is very shareholder friendly. During the quarter, the company repurchased 5 million shares for $800 million, leaving $5.2 billion remaining under the current repurchase authorization. In 2015, the company repurchased 46 million shares for $6.8 billion. That is incredible. Further, Boeing also paid $0.6 billion in dividends in the quarter, reflecting an approximately 25% increase in dividends per share compared to the same period of the prior year. The stock yields 3.4% at its current price of $115.25. Wait for the dust to settle, and there will be a chance to scoop shares at a nice price for the long-term.
Note from the author: Christopher F. Davis has been a leading contributor with Seeking Alpha since early 2012. If you like his material and want to see more, scroll to the top of the article and hit "follow." He also writes a lot of "breaking" articles that are time sensitive. If you would like to be among the first to be updated, be sure to check the box for "Real-time alerts on this author" under "Follow."
Disclosure: I am/we are long BA.
I wrote this article myself, and it expresses my own opinions. I am not receiving compensation for it (other than from Seeking Alpha). I have no business relationship with any company whose stock is mentioned in this article.