Apple (NASDAQ:AAPL) added over 5 million iPhones to channel inventory in the past two quarters. In the face of stalling sales this does not make a lot of sense. What it does do, however, is inflate results since Apple recognizes revenues when units are shipped to carriers and not when they are purchased by end users.
It is worth taking a moment to review Apple's channel inventory figures. Through Q3 2015, changes quarter by quarter have been quite modest with channel inventory at the end of Q3 at 16.45 million units.

Click to enlarge
Source: iPhone inventory blogspot
In Q4 2015, Apple added just under 2 million units to channel inventory as reported by Apple's CFO during that quarter's earnings call. As per the transcript of the call:

Click to enlarge
In round numbers, that brought channel inventory to 18.5 million units, an all-time high. In yesterday's earnings call, Apple's CFO did not reveal the channel inventory change which was only disclosed in response to a question. The answer was an addition of 3.3 million units, presumably bringing the total to 21.8 million units. The transcript records the following:

Click to enlarge
Source: Seeking Alpha transcripts
It is not hard to dimension the effect. Adding 5.3 million iPhones to inventory at an average selling price of about $675 over the two quarters added $3.6 billion to sales and, in my estimation, over $1 billion to net income.
Apple says it targets channel inventory at 5 to 7 weeks and it is within that range if sales continue to run at 4 million units a week. If they don't, an inventory correction will not only result in lower reported unit sales but also in a sharp drop in income and Apple may well find itself in a "BlackBerry moment" where it reports lower unit sales than actual sales to end users.
The market can smell that something is amiss. In the fall of 2015 the Apple chart took on a disturbing shape sometimes referred to as a "death cross."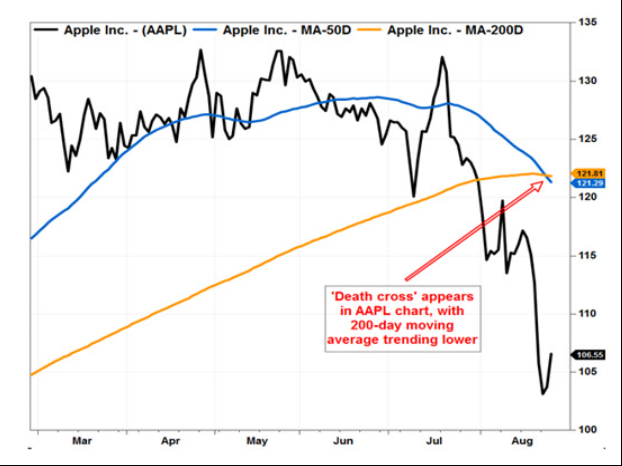 Source: Apple inventory blog spot
With over $200 billion in cash Apple faces no risk of death, but some Apple inventors might if they are long on margin and Apple fails to meet its lowered guidance for the current quarter. But Apple stock is down another $10 points since that chart was prepared and I bet it will go lower yet.
Turning points are dangerous ground for investors. I'm going to watch from the sidelines for a few more weeks while I measure indicators of iPhone sales and, if the soft trend continues, put on a new short position.
Disclosure: I/we have no positions in any stocks mentioned, but may initiate a short position in AAPL over the next 72 hours.
I wrote this article myself, and it expresses my own opinions. I am not receiving compensation for it (other than from Seeking Alpha). I have no business relationship with any company whose stock is mentioned in this article.