O, be some other name!

What's in a name? That which we call a rose

By any other word would smell as sweet.

-William Shakespeare
Over the last few mutual fund articles we have been discussing the myths versus the reality of what the mutual funds really were. While many investments were as they were once envisioned, policies and fund managers change, recessions come and go, and with that come the differences that are formed over time.
As value investors, we are always on the look out for great deals, to pick up companies that are either on sale or overlooked by the markets and Wall Street analysts. More importantly, it also applies to companies that are in the midst of a turnaround, seeing what other investors and analysts do not see. This investment philosophy can be described by the term "contrarian investing."
Over the years, there have been a number of mutual funds that called themselves contrarian, one of the most commonly recognized is Janus's (NYSE:JNS) Contrarian Fund (MUTF:JCNRX), (MUTF:JCNAX), (MUTF:JCONX).
To my surprise, while browsing Columbia Threadneedle's website I stumbled across the Columbia Contrarian Core Fund (MUTF:LCCAX), (MUTF:LCCCX), (MUTF:SMGIX), (MUTF:COFYX). It was a fund that I have not heard of before and was instantly attracted to the contrarian proposition.
It is a 4/5 star Morningstar rated fund that has returned solid numbers over the recent history... except there is one thing wrong with it... the name.
The Basics
Sponsor: Columbia Threadneedle Investments
Managers: Guy Pope (2005)
AUM: $6.8 Billion across share classes
Historical Style: Large Cap Blend
Investment Objectives: The Fund seeks total return, consisting of long-term capital appreciation and current income.
Number of Holdings: 79
Current Yield: 2.8%
Inception Date: 11-2-1998
Fees: A Share: 1.09%, C Share: 1.84%, Z Share: .84% (Net Expenses)
Source: Columbia Threadneedle Investments website
The Alpha
The fund's central focus is to create alpha by going on the "offense to identify companies that are currently out of favor. The companies aren't inherently troubled; they are simply suffering from temporary setbacks that have spawned investor pessimism."
Source: Columbia ThreadNeedle Investor Summary.
The fund strives for a portfolio of household names, consisting of both value and growth large caps stocks. The "contrarian" approach involves a screen that identifies stocks trading in the bottom third of their 52 week price range.
The team then conducts research into identifying stocks that are not facing negative long-term issues.
Once purchased, the fund prides itself on conducting ongoing defensive research. The stocks are then sold as they reach full valuations.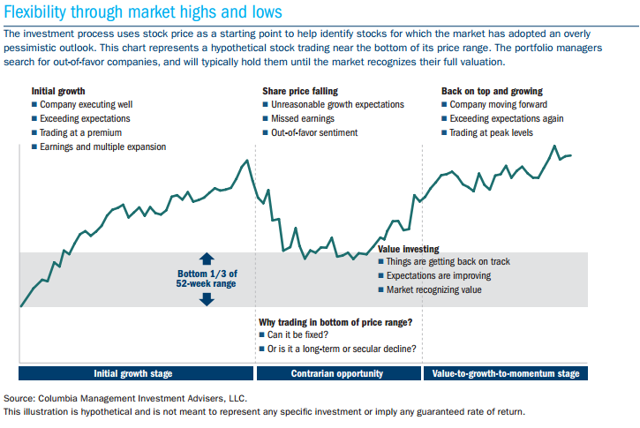 Click to enlarge
Source: Columbia Threadneedle Fund Summary
So... it's a Value Investing fund?
The Numbers
If you are looking at the long term performance of the fund, it has handily outperformed the Russell 1000.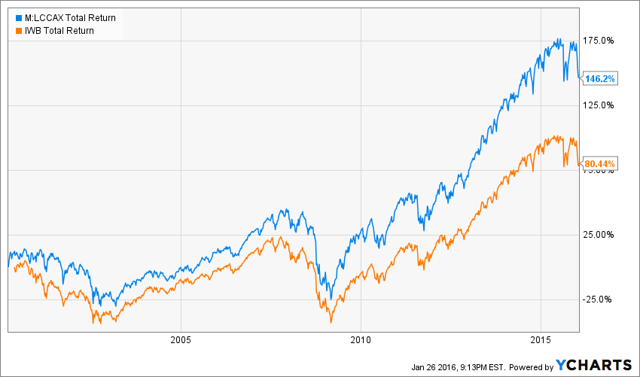 Click to enlarge
Since inception, the fund returned 146% on a total return basis, compared to 80.44% had you invested in the iShares Russell 1000 ETF (NYSEARCA:IWB).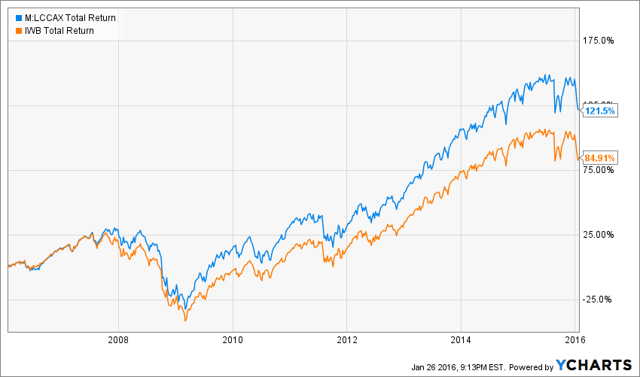 Click to enlarge
Over the last 10 years, the picture looks the same, with the fund being up 121.5% and the ETF up 84.91%. Quite deserving of the 5 star rating.
Once we get down to the 5 year timeframe, the differences are not as big.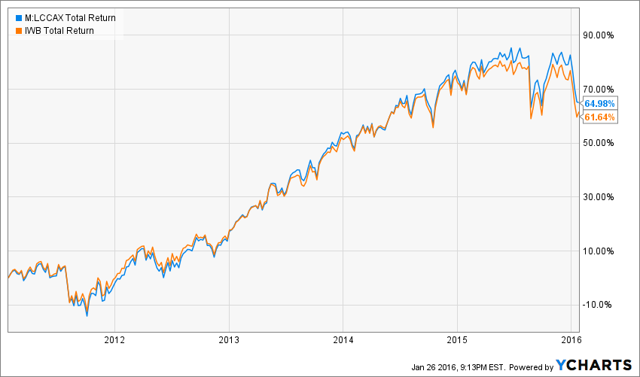 Click to enlarge
The fund outperforms by a bit over 3% compared to the IWB.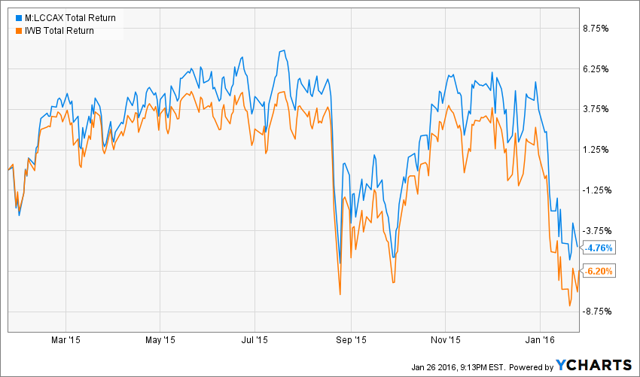 Click to enlarge
Finally over the last year, the fund saved you about 1.5% on the downside, ending up down 4.76% compared to 6.2% for the ETF.
The Morningstar data confirms this in the MPT stats.
(click to enlarge)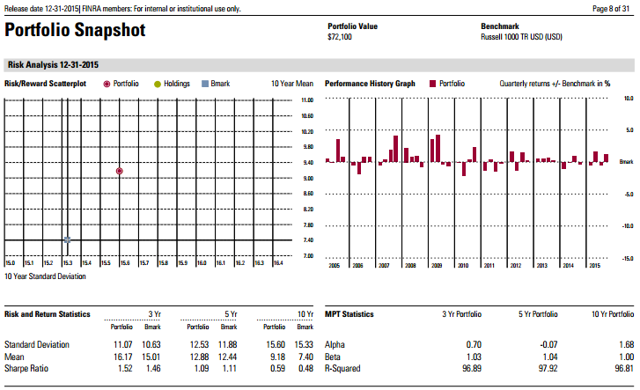 Click to enlarge
Source: Morningstar
On a 10 year basis, the fund took market beta and had a positive alpha of 1.68%.
Over the last 5 years, the fund did beat the benchmark, but as a result of slightly higher risk, earning a slightly negative alpha.
Over the last 3 years, the fund still look a slightly elevated beta to the market, however did earn .70 positive alpha.
What the investor has to consider here, particularly with fund ratings is that it all depends on the shareclass and the timeframe.
While the fund is a great fund over the long term, the 5 star rating is for the 10 year numbers. If you are looking at the 3 & 5 year numbers, the fund is a 5 star rated fund... as long as you did not pay a sales load, or if you purchased the Y or Z share classes, which may not be available to you as they typically strip out ongoing service charges that are passed on to brokers and the distribution channels.
Our Take & Bottom Line
This is a solid fund and deserve a look and perhaps a place in your portfolio.... however I have one problem with it.... the name.
Simply put, I don't believe it is a "contrarian" fund. I think it is a very good strategy to buy solid companies that are trading cheap... either because the market got stupid and was willing to pay idiotic multiples... ie GoPro (NASDAQ:GPRO), Netflix (NASDAQ:NFLX), Chipotle (NYSE:CMG) and Shake Shack (NYSE:SHAK).
Then again... perhaps I am not that far off. After all, this was not always the "Columbia Contrarian Core Fund". Up until 2009, it was simply the Columbia Common Stock Fund, and the portfolio seems to fit right in light with any old fashioned, fundamentals based mutual fund.
Looking at the top holdings, you have Apple (NASDAQ:AAPL), Citigroup (NYSE:C), JPMorgan (NYSE:JPM), Medtronic (NYSE:MDT), Berkshire Hathaway (NYSE:BRK.B), Verizon (NYSE:VZ), Microsoft (NASDAQ:MSFT), Alphabet/Google (NASDAQ:GOOG), CVS (NYSE:CVS), Comcast (NASDAQ:CMCSA), J&J (NYSE:JNJ) and Wells Fargo (NYSE:WFC).
These are all names that are found in pretty much every large cap mutual fund, perhaps the only difference is the strategy is based around buying them low and selling high... but isn't that what every good fund manager is supposed to do?
If you do an search in the investment universe, you find 5 other mutual fund families offering a fund that has "contrarian" in the name. In most of the cases, the fund management explicitly states the opportunity is in the company itself, rather than the fact that it trades near the 52 week average.
The Janus Contrarian Fund, perhaps the most well known contrarian fund states that it is a...
A U.S-centric equity fund, investing opportunistically in non-consensus ideas, unconstrained by sector with flexibility across market cap. Through deep fundamental analysis, we seek to identify underfollowed, underappreciated and undervalued companies undergoing significant, positive change at the company, industry or market sentiment level.
Source: Janus Investments
The Linde Hansen Contrarian Value Fund (MUTF:LHVAX), a newer fund run by former Lord Abbett managers Edward K von der Linde and Howard E Hansen.
Contrarian Value As a value-oriented investor, LindeHansen strives to identify situations where the common stock price is not currently reflecting the true earnings potential of the underlying company. Generally these situations arise when a company has fallen upon hard times and the consensus is that recovery is unlikely. This creates an opportunity for LindeHansen to identify changes occurring at the company or within the industry that we believe will enable profitability to return to normal levels. Fundamental research and our proprietary process enables LindeHansen to take positions in these companies, contrary to consensus thought, when detailed analysis supports the case.
Source: Linde Hansen Investments
The Virtus Contrarian Value Fund (MUTF:FMIVX)'s value is all about contrarian thinking.
Using a contrarian investment approach, the manager searches for 'Jewels' buried in distressed or restructuring companies. The portfolio manager targets established companies that, based on independent research, offer promising future growth prospects. Extensive valuation and security analysis provides the basis for construction of a concentrated portfolio with low turnover.
Source: Virtus Investment Partners
And finally, there is a contrarian ETF available, the PowerShares Contrarian Opportunities Portfolio (NYSEARCA:CNTR). It is a newer ETF that tracks the Dow Jones US Contrarian Opportunities Index. The index is a rules based index that is designed to "systematically measure the performance of stocks that lag behind the broader market in terms of performance, but outrank their peers based on fundamentals-based and other qualitative criteria."
Source: PowerShares Factsheet
Needless to say, the top ETF holdings don't overlap with the Columbia Contrarian Core mutual fund.
Furthermore, the contrarian funds we just identified and others will typically not be market cap restricted and tend to be in the Mid to Small Cap space, quite a departure from the Large & Megacap household names this fund invests in.
I will end with how I started this article with the beautiful text of Romeo & Juliet.
O, be some other name!

What's in a name? That which we call a rose

By any other word would smell as sweet.

-William Shakespeare
This is a great fund that should of just been the Columbia Common Stock Fund. It is run by a good manager who actually invests as they are supposed to.... by buying good companies low, and selling them high. By putting contrarian in the name, it brings completely different expectations of what investors expect out of contrarian investments.
Moral of the story... you cannot pick your investments by the name of the mutual fund... as good as it may be.
Disclosure: I/we have no positions in any stocks mentioned, and no plans to initiate any positions within the next 72 hours.
I wrote this article myself, and it expresses my own opinions. I am not receiving compensation for it (other than from Seeking Alpha). I have no business relationship with any company whose stock is mentioned in this article.
Additional disclosure: Nothing in this article should be construed as investment advice. Please consult your financial professional to see how anything discussed here applies to you. This is not a solicitation to buy or sell any securities. This is not Tax Advice. Please consult your tax professional. The author previously worked for the parent company of the sponsoring mutual fund.