Sabra (NASDAQ:SBRA) is a healthcare-based REIT. It owns a portfolio of nursing facilities, senior housing, hospitals, as well as several loan receivables that are generally leased under a triple-net agreement. As of October 2015, it owned 178 properties in 34 states and 2 Canadian provinces, reaching a bed-capacity of over 18,000.
A 2010 spin-off of Sun Healthcare (which later became Genesis, more on this later), Sabra grew from an initial 88 properties. In the past five years, it has consistently increased revenue, net income, and dividend yield.
1 Source: Bloomberg, 1/21/2016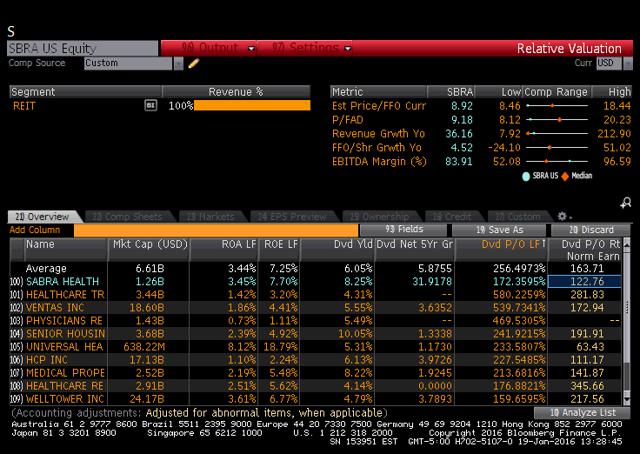 Click to enlarge
As the chart demonstrates, Sabra pays one of the highest dividends in the healthcare REIT sector. Its growth has greatly outpaced its competitors, as well. For this simple reason, it is worth evaluating Sabra.
Despite the healthy dividend, Sabra has had a rough year. Coming down from a high of $34.02 in March, it now trades around $19.
The plunge was mainly caused by the bankruptcy of Forest Park, a group of hospitals and healthcare facilities in Texas.
Forest Park
A lot of Sabra's management team's time has been tied up in the three Forest Park hospital facilities it owns: Forest Park Frisco, Forest Park Dallas, and Forest Park Fort Worth. From a real estate perspective, the properties seem like great opportunities: luxury healthcare facilities in affluent zip codes built amongst mixed-use development.
However, it was sold to Sabra by Vibrant Healthcare Providers, to help with its finances. Unfortunately, things haven't gotten better, and Vibrant Healthcare Providers recently filed for Chapter 11 bankruptcy. This article provides a great background; however, in a nutshell, the physician-owned hospital was mismanaged, despite its relatively strong location and niche.
Despite this, the concern about Forest Park is overblown. On the balance sheet, the notes that Sabra owns on these properties make up 11.9% of the REIT's assets - a large amount. However, Forest Park accounts for only 2% of the REIT's total revenue and 5% of its FFO (Funds from Operations).
Additionally, the properties are still bringing in some money. Although Forest Park Dallas is closed, Forest Park Frisco paid Sabra $2.3 million in payments last quarter. Even without taking this into account, Sabra increased FFO by $.04 a share. In other words, even if Forest Park didn't pay Sabra another dime, FFO would still be up by a healthy 7.8% on a per-share basis.
Fortunately, Sabra's management believes that its financial health won't be adversely impacted by Forest Park. One reason is that Vibrant is actively seeking buyers for its distressed property, recently partnering with an investment bank. Given the good location and high-end niche that the facilities serve, they will probably find a buyer. In fact, Sabra management has indicated that there is already some interest. If they find a buyer, they will renegotiate a similar lease, and likely recoup most, if not all, of the money Vibrant owes them.
Alternatively, the property could go into foreclosure, in which case, Sabra will likely buy the property via credit bidding (Sabra currently owns the note) and then sell the property if it couldn't find a tenant. Worst-case scenario, Sabra recovers the principle of the loan. Best-case scenario, Sabra realizes a capital gain from the sale, which management has said it will use to repay debt and/or buy back shares.
Despite the fact that Sabra will mostly emerge unharmed or profit from the situation with Forest Park, management has conservatively revised its 2016 guidance. The new guidance reflects Sabra making no money from Forest Park and losing all of the payments that the tenant owes the company. In other words, management is projecting the worst-case scenario, and it is already reflected in the stock price.
Genesis Healthcare
Looking ahead, Sabra faces another significant challenge: a lot of Sabra's properties are tied to Genesis Healthcare (NYSE:GEN) (the successor of Sun Healthcare from which Sabra was spun off), which is currently going through its own financial difficulties.
When Sabra was created in 2010, it was a real estate spin off of Sun Healthcare, with 88 properties in its portfolio, all owned by Sun. In 2012, Sun was acquired by Genesis Healthcare, which remains one of Sabra's largest tenants.
Genesis is a troubled company. It is in the middle of a turnaround. Despite losing money, it has improved its operating margins. It is expanding, both via a recent acquisition and new operations in China (promising because of a rapidly aging population). It has also begun cleaning up its highly leveraged balance sheet.
2 Source: Bloomberg 1/21/2016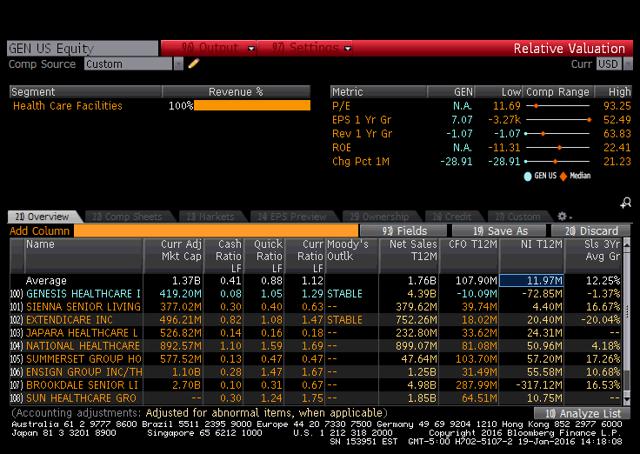 Click to enlarge
3 Source: Bloomberg 1/21/2016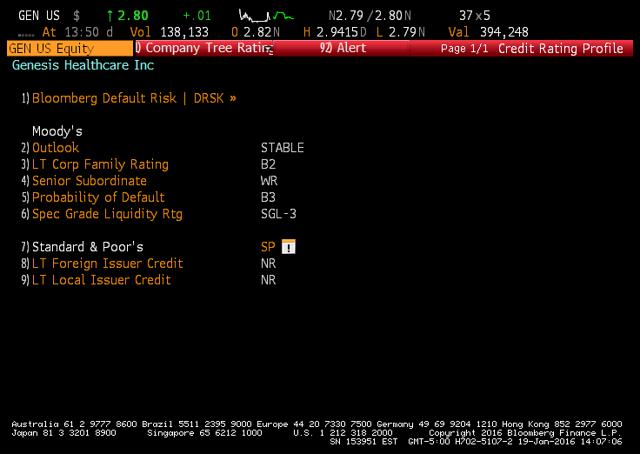 Click to enlarge
It really doesn't matter, from Sabra's standpoint, how Genesis does, as long as it keeps paying its rent. As the two screenshots above show, Genesis, while not a shining example of financial health, is definitely solvent. Moody's rated the company as "stable" and its liquidity ratios offer some reassurances. Genesis also generates a gross profit, from which its rental expenses are paid. Genesis isn't going anywhere - at least not in the near future. And it will continue to pay Sabra.
More importantly, management has been aggressively diversifying away from Genesis. As of October, just under a third of Sabra's revenues came from Genesis, down from 100% at the beginning of 2011. Management is pushing to lower this percentage even more. It is unlikely that Genesis will be a problem for Sabra in the near or medium term.
Looking Ahead
Sabra is aggressively growing and expanding. Between March and September of 2015, it opened or acquired 18 new properties. While it doesn't set goals for the number of facilities it wishes to open, it is geographically diversified, with concentrations in regions that have a higher share of aging populations. Additionally, it has expanded into Canada, a market that shows additional potential.
The company is also flexible with its business model. In addition to expanding its core senior living and long-term care facilities, it is also opening shorter-term rehab "step-down" centers. The REIT is sitting on over $30 million in cash and a borrowing capacity of almost $250 million in its revolving credit facility. This allows management the resources to capitalize on good investment opportunities.
An aging population, as well as an increase in healthcare related spending, will help Sabra. Additionally, vacancy rates in senior and assisted-living facilities has fallen as the housing market and economy improves and more people are moving into Sabra-owned facilities. Without going into an in-depth macro analysis, demographic and economic trends will likely boost Sabra in the years ahead.
Investment Grade Rating
In addition to growing, diversifying, and resolving the Forest Park debacle, another of management's priority is attaining an investment grade credit rating.
The "big three" healthcare REITs - Welltower (NYSE:HCN), HCP (NYSE:HCP), and Ventas (NYSE:VTR) - all have investment grade ratings. Obtaining an investment grade rating would be a milestone for the relatively young Sabra. More practically, an investment grade rating would cut the borrowing cost in half for Sabra's revolving credit facility.
Recently, Moody's reaffirmed Sabra's credit rating of BB+. It is on the cusp of obtaining investment grade status. Once the issues with Forest Park are resolved, likely in the coming months, coupled with the REIT's ongoing diversification, Sabra will probably obtain investment grade status in the near future.
4 Source: Bloomberg 1/21/2016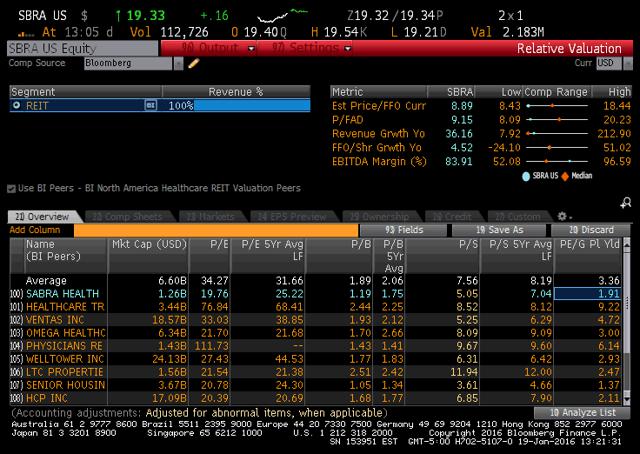 Click to enlarge
Valuation and Comparison with Peers
The chart above is self-explanatory. Sabra has the lowest P/E and the 2nd lowest Price/Book, Price/Revenue, and PEG ratio of its peer group. It is also trading significantly below its average P/B and Price/Revenue ratios. Sabra's low historic and comparative valuation, along with its attractive yield, makes it a very appealing investment. However, valuation is only part of the puzzle. Let's take a look at potential future growth:
5 Source: Bloomberg 1/21/2016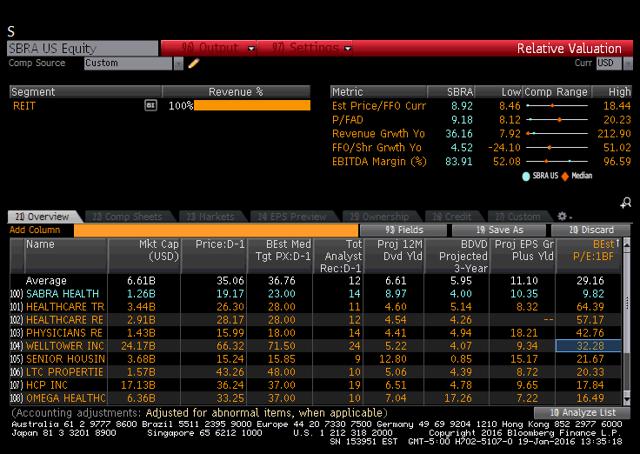 Click to enlarge
The Street has put a target price of $23 on Sabra, an upside of roughly 15%. It has gotten a positive recommendation from 14 analysts, more than the industry average, including the "big three." The one area where Sabra is lacking is its projected EPS + yield. However, this is taking into account the very conservative, worst-case scenario estimates that management put forth in its revised guidance. It is likely that Sabra will either meet or exceed the estimates, as the Forest Park situation is resolved.
Conclusion
Sabra will resolve the Forest Park issue, which has driven down the share price, in the coming months. The REIT is oversold. Long term, a combination of aggressive growth strategies and diversification (geographically, property type, and tenants), coupled with a high yield and low valuations (both compared to peers and itself historically) make Sabra a strong buy for long-term value and income investors. But be prepared to stomach some short-term volatility.
Disclosure: I am/we are long SBRA.
I wrote this article myself, and it expresses my own opinions. I am not receiving compensation for it (other than from Seeking Alpha). I have no business relationship with any company whose stock is mentioned in this article.