Following the recent earnings beat by luxury retailer Coach (NYSE:COH), could Kate Spade & Company (NYSE:KATE) follow suit next when it announces its full year results at the end of February? The market has so far reacted well to the news and sent the shares higher by 2.53%.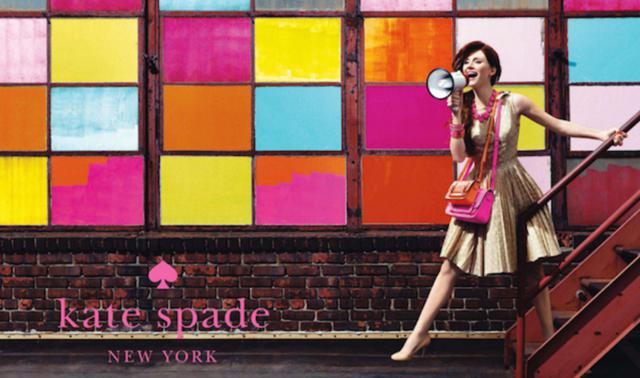 Kate Spade now has over 140 retail shops and outlet stores throughout the United States, as well as over 175 shops internationally. Further to these locations, its products are also sold in over 450 doors worldwide. The company is perhaps best known for its colorful handbags.
The Coach Results
Luxury retailer Coach reported on Tuesday that for its second quarter of FY 2016 it had produced net income of $170 million, equating to adjusted earnings per share of 68 cents. While this is a decline from the $183 million (or 72 cents per share) from a year previous, it was ahead of the consensus estimate of 66 cents per share.
Revenue improved year over year from $1.22 billion to $1.27 billion, missing the consensus estimate of $1.28 billion ever so slightly. The market didn't seem to mind with the shares closing up almost 10% on Tuesday. Not a bad result considering headwinds from the strength of the US dollar, a tough global retail environment, and lower tourist traffic in the United States.
It is, however, worth noting that 5 cents of this earnings per share growth came from the recently acquired Stuart Weitzman brand which specializes in boots, so it isn't necessarily a resurgence in handbags that we are seeing here.
Back to KATE
As mentioned above Coach's earnings growth was driven largely by the Stuart Weitzman brand which specializes in boots, and not handbags. We see Kate Spade as a handbag retailer first and foremost, so this good news coming out of Coach is not necessarily good news for Kate Spade.
On Coach's recent earnings call chief executive officer Victor Luis said the following:
"Turning now to a discussion of category trends, overall, we estimate that the North American premium women's handbag and accessories market was essentially flat in the December quarter, with unit growth still quite positive, offset by lower AURs given the heightened levels of promotional activity."
This for us does not sit well. Coach has one of the most respective and innovative designers in Stuart Vevers and if Coach is seeing its handbags and accessories segment coming in flat then we fear worse will be happening at other retailers like Kate Spade, especially when you consider the heightened levels of promotional activity in the market.
Kate Spade could really do with avoiding a flat holiday season. When you look at the company's performance in last five years it is clear to see the struggles it has faced.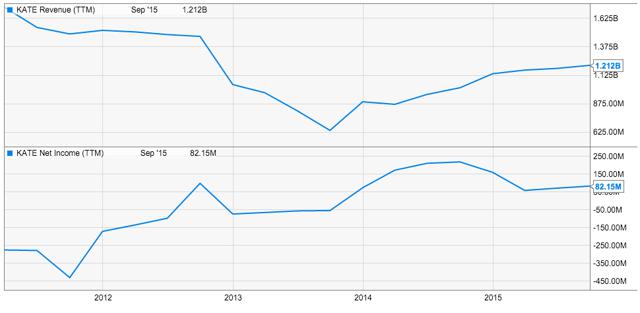 Source: Ycharts
At present analysts are expecting Kate Spade to produce earnings per share of 32 cents for the fourth quarter, bringing it to 49 cents for the full year. The company's reliance on its fourth quarter, accounting for approximately 65% of its earnings, makes this a very risky investment in our opinion. We believe there is a strong chance of an earnings miss due to the news coming out of Coach and the strong dollar. As such we now anticipate the company to produce earnings per share 5 cents below the consensus estimate, at 44 cents per share for the full year on revenue of $1.2 billion.
With a price to earnings ratio of 26.97 and a price to sales ratio of 1.8, the stock is trading at much higher multiples than the industry as a whole, which trades at 18.54 and 1.58, respectively. So despite falling by over 41% in the last twelve months we still see the stock as being overvalued now.
If we were confident that the company would beat its earnings and convince us that it has turned its fortunes around, then we would be willing to pay a premium for the stock. But at present, we fear there is a strong chance of an earnings miss and feel it is wise to sit this one out.
There is no doubt that when the day comes that the company does manage to turn around its fortunes, and we're confident it will happen one day, then this is a stock that will appreciate a great deal. But for now, that day just isn't on the immediate horizon so we will allocate funds elsewhere and wait patiently.
Disclosure: I/we have no positions in any stocks mentioned, and no plans to initiate any positions within the next 72 hours.
I wrote this article myself, and it expresses my own opinions. I am not receiving compensation for it (other than from Seeking Alpha). I have no business relationship with any company whose stock is mentioned in this article.