Synchrony Financial (NYSE:SYF) is the perfect example of a good stock gone bad due to the current market conditions. Shares of Synchrony Financial are currently down 9% for the last 12 months and 22% since hitting a high of $36 in July last year.
Since November last year, shares of Synchrony Financial have been on a vicious downtrend characterized by a series of lower lows, bar the recent kickback, which came following the company's Q4 results.
The company is now independent from diversified machinery giant General Electric (NYSE:GE) following the split that took place towards the end of last year. Since that split, the stock price has spiraled downwards to the current level of about $28 per share. This is interesting because the split is supposed to be good for Synchrony Financial as it will now be able to focus on its core business.
As such, the only significant explanation to Synchrony Financial's decline in price can be attributed to the general plunge in the equities markets. Both the SPDR S&P 500 Trust ETF (NYSEARCA:SPY) and Synchrony Financial are down about 9% for the last three months.
Synchrony Financial is the company behind Synchrony Bank, which previously went by the name GE Capital Retail Bank. For those who are not familiar with it perhaps you are familiar with the Old Navy Credit Card and CareCredit card, which are quite popular in consumer banking. They are some of the company's major products.
There is a lot that is happening for Synchrony right now in a positive way. First, the split, then interest rate hike, which should boost interest income, and then an impressive quarterly earnings report.
The company's most recent quarter profits beat analyst estimates thereby triggering the resurgence that we have witnessed over the last few days. However, most investors will know that while the recent rebound is positive from a capital gains perspective, it may not be enough given the company's financial position. The company is compellingly financially stable such that shareholders should be getting a lot more.
When investors choose to invest in a stock that appears to offer little in terms of capital gains, they often do so looking for some other kind of compensation. Synchrony Financial is currently not paying any dividends to investors, though there has been talk of such a scheme beginning in the near future.
Some investors if not most are holding on to the stock in the hope that it can share some of the gains reported on its bottom line in the form of dividends or buybacks.
During the Q4 earnings conference call, the company revealed that there are indeed concrete plans to return some capital to shareholders, including share buybacks. However, the process is subject to board and regulation approval.
We're highly focused on positioning the business to return capital to shareholders. And now that we're fully separated from GE we will look to return capital this year through the establishment of a dividend and share repurchase program subject to Board and regulatory approval.
This is perhaps one of the biggest take-outs that shareholders were excited about in the company's most recent quarter report. Synchrony Financial has good cash flows that can sustain dividend payments and share buybacks for the next few years.
Synchrony Financial currently has $12.32 billion in cash and trades at a price to cash ratio of about 1.9x. The company's current debt of about $24 billion is nothing to fret about as this includes a huge chunk of interest income receivables.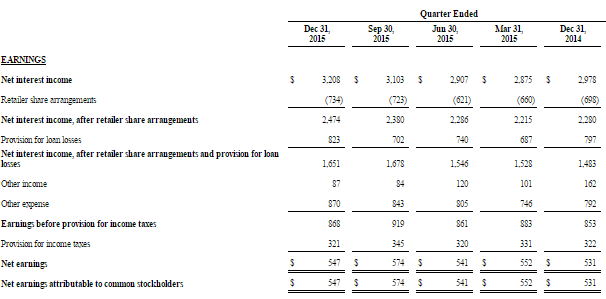 Source: Company Financials
In the most recent quarter, Synchrony Financial reported 8% increase in net interest income to $3.2 billion, which suggests that the current debt level is well managed and under control.
From a going concern perspective Synchrony Financial is now a better company as compared to when it operated as part of General Electric.
Valuation
Synchrony Financial's most recent quarter earnings may have beaten analyst estimates, but year-over-year growth was quite modest at just 3% while revenues increased by 5.7%. This is not very impressive on a growth perspective.
However, the company offers stability, which is backed by its impressive margins. Synchrony currently boasts 52% operating margin, which compares to the industry average of just 27%. It also has a very strong net profit margin of about 33%, which should be good enough to absorb operational shocks and working capital changes during the post GE era.
Shares of Synchrony Financial currently trade at 10.75x in P/E ratio, which is significantly impressive when compared to the industry average of about 13.10x. However, its price to earnings growth ratio of about 3.44x compared to the industry average of about 0.94x confirms the company's growth potential weakness while the P/S ratio of 3.57x is roughly in line with the industry average of 3.30x.
As such, when buying this stock, investors should be looking at its current undervaluation in preference to growth, as well as, its impressive margins and upcoming share buybacks and dividends. For now, shares of Synchrony Financial are significantly undervalued partially due to the current stock market storm that has led to the declines of S&P 500, the NASDAQ 100 and the Dow Jones Industrial average.
Conclusion
Synchrony Financial has not been paying dividends, but the recent comment by management suggests that things are about to change. This decision comes at a prime time when the stock market is beaten up and sunken as the pressure from major economic slowdown in China and Europe begins to trickle to the rest of the world.
However, once the approval process for the proposed share buyback and dividend payment program is approved, we are likely to see an uptick in Synchrony Financial's stock price. The next 6-12 months present an interesting scenario for Synchrony Financial investors.
Disclosure: I/we have no positions in any stocks mentioned, and no plans to initiate any positions within the next 72 hours.
I wrote this article myself, and it expresses my own opinions. I am not receiving compensation for it (other than from Seeking Alpha). I have no business relationship with any company whose stock is mentioned in this article.
Additional disclosure: This is NOT a recommendation to buy or sell any stock mentioned here. It is just my personal opinion.