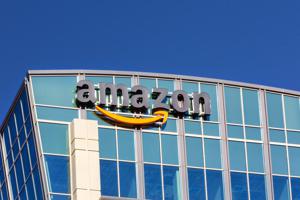 Amazon (NASDAQ:AMZN) is set to announce Q4 earnings Thursday, 1/28, after the close. From multiple sources, it appears Amazon experienced significant retail sales growth during the quarter. We further believe sources indicate that 2015 holiday retail sales growth was stronger than 2014 holiday retail sales growth. We feel, however, these strong retail growth tailwinds are already largely baked into the estimated revenue growth for Q4 (cons. 22.7%). We further see the $1.58 cons. EPS estimate as aggressive. While we remain bullish on the secular growth story of Amazon, we are not overly bullish on Amazon's ability to top estimates this quarter.
Thanksgiving through Cyber Monday sales were exceptionally strong this year. Amazon reported that sales of its own devices rose 3x Y/Y during that weekend, with Amazon Fire TV sales up over 6x Y/Y. Amazon Echo, on its first Black Friday, was the top seller across all $100+ products on Amazon.com. The new Fire tablet's $49.99 list price is proving to be in impulse buy range for consumers, as tablet sales during the Thanksgiving weekend were up 3x Y/Y. This compares to the 2014 holiday season, when Black Friday tablet and Kindle sales rose 3x and 4x Y/Y, respectively.
According to a separate press release by the company, Amazon said that third-party sellers on their website saw Cyber Monday orders rise over 40% Y/Y to more than 23 million. Confirming this growth, ChannelAdvisors reported that Amazon's Thanksgiving through Black Friday same-store sales rose 24.1% Y/Y. This is slightly better than the 23.8% increase ChannelAdvisors reported last year for Amazon during the same five-day stretch.

Click to enlarge
Strong retail sales growth continued beyond the Thanksgiving weekend. Amazon device sales doubled in 2015 compared to the 2014 holiday season. This increased shopping can be seen as a result of increased Prime membership. Amazon reported that more than 3 million people joined Prime in the third week of December, while CIRP estimates Prime memberships grew 35% Y/Y in Q4 to 54 million US members.
On a larger scale, comScore estimates that total digital spend on Cyber Monday was up 21% Y/Y in 2015, driven by a 53% increase in mobile commerce. comScore further found that 107.8 million Americans visited online retail properties on Cyber Monday using a desktop, smartphone, or tablet, a 23% Y/Y increase.
Overall, we believe Thanksgiving through Cyber Monday was a strong holiday shopping weekend for Amazon. We further believe strong retail sales growth persisted throughout the duration of the Holiday season, driven by Prime growth and increased digital spend. We believe, however, that the consensus revenue estimate is fully baked with these bullish sentiments.
In 4Q14, Amazon saw net sales grow 15% Y/Y. In order to meet the 22.7% Y/Y expected growth this quarter, we need an additional 700-800 basis points of revenue growth on top of last year's 15% growth. In 3Q15, AWS almost doubled Y/Y and North American retail sales were up 28% Y/Y, and this resulted in 3Q15 net sales growth outpacing 3Q14 net sales growth by roughly 300 basis points. Net revenue growth this year has been slightly down from last year's net revenue growth. From this standpoint, the revenue consensus growth estimate of 22.7% versus 15% last year seems fully baked with healthy expectations for retail and AWS sales growth.
We are even less certain about the company's ability to net $1.58 in EPS, and this is mostly due to the Y/Y comp coupled with the wide range of management's Q4 guidance for operating income. In 4Q14, Amazon netted EPS of $0.45, so the $1.58 estimate represents more than a 3x Y/Y increase. Last quarter, the company did manage to increase EPS by more than $1 Y/Y, but we are not counting on this large of an increase this quarter based on the wide operating income guidance ($80 million to $1.28 billion, a $1.2 billion spread).
Nonetheless, the stock has reacted exceptionally well to earnings beats in each of the past 4 quarters.

Click to enlarge
We are long Amazon and bullish on the company's secular growth story of continuing to dominate a growing e-commerce space. We are not, however, particularly bullish on the company's chances of topping what appear to be aggressive revenue and earnings estimates this quarter. If the company does top these aggressive estimates, then the quarter was exceptional, and we expect such news to send shares dramatically higher.
Disclosure: I am/we are long AMZN.
I wrote this article myself, and it expresses my own opinions. I am not receiving compensation for it (other than from Seeking Alpha). I have no business relationship with any company whose stock is mentioned in this article.