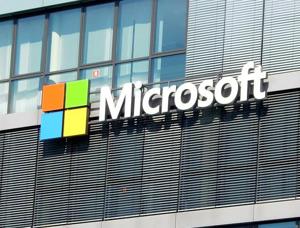 As Microsoft (NASDAQ:MSFT) prepares to report earnings Thursday (the whisper number is 75 cents on revenue of $25.26 billion for those scoring at home), one important point needs to be emphasized and repeated, especially in light of Apple's (NASDAQ:AAPL) "disappointment" on Tuesday.
Satya Nadella has stopped the enterprise bleeding.
The loyalty of enterprises to Microsoft, which it had been winning from IBM (NYSE:IBM) ever since the split between Windows and OS/2 a quarter-century ago now, was in real danger of being lost to Apple when Nadella became CEO two years ago. Nadella crafted a "cloud first" strategy that made Windows and Office into Software as a Service, matched the prices of Amazon.com (NASDAQ:AMZN) on base cloud infrastructure, and won back the loyalty of the C-suite in what now looks like record time.
You can see it in Apple's results. Sales of Macs have slowed. Windows 10 is the king of the office, again. The revenue stream from having people subscribe to that and Office is even more regular than it was before, allowing Microsoft to actually do some long-term planning for the first time in years.
The volume of Surface sales, even the volume of PC sales, is now less important to Microsoft than maintaining that continual march to Windows 10, which already has nearly 10% of the market and should pass both the shares of XP and Windows 8.1 this quarter, trailing only the company's last hit, Windows 7, which runs on more than half of all desktops and laptops. What matters most is versions of the Apple Mac OS represent just 5.5% of the market.
As users move to 10, and as those free versions turn into subscriptions, especially Office subscriptions, Microsoft's share of user attention and desktop real estate will continue to grow. So will its ability to make big cloud sales, converting enterprise buyers into enterprise subscribers.
It's that moat that has Microsoft now selling at 35 times earnings, almost four times what Apple sells for and even slightly ahead of Alphabet (NASDAQ:GOOG) (NASDAQ:GOOGL), which has been trying to crack the enterprise market with its Chromebooks and Google Compute Cloud but remains, at heart, a search company.
The repair of its brand and cornerstone market means that Microsoft will now be the aggressor in gaming, which is where Virtual Reality headsets are going to be sold over the next few years, that it can continue to maintain a retail presence for things like keyboards and mice, and that it's starting to generate the kind of cash position - it reported nearly $100 billion in cash and short-term investments in its September report - that lets it play the "Great Game" of buying cool technology before it gets big. Given what is happening in Silicon Valley right now, with unicorns being chopped down left and right and venture money becoming scarce, that is a great position to be in.
And you can not only get in right now, but get in with a higher yield than you'd get from Apple, 2.77% at current prices. The lesson is that a technology investor should be diversified, ready to bail on real losers but having some patience with any company rich enough to play the "Great Game" and buy its way out of short-term trouble.
Disclosure: I am/we are long MSFT, AAPL, GOOGL, AMZN.
I wrote this article myself, and it expresses my own opinions. I am not receiving compensation for it (other than from Seeking Alpha). I have no business relationship with any company whose stock is mentioned in this article.