The rise of the FinTech industry in the recent years brought many new companies to our lives targeted to improve small segments of the financial system with simple and sleek digital solutions. For many people, interactions with the financial system involve a lot of bureaucracy and concerns, and that is why technological solutions that remove these barriers have a good starting point. Solutions that are also time-saving bring added value to consumers and enable them to save real money or improve their financial status and are expected to become more popular than other solutions. The successful adoption of FinTech applications triggered a surge in the number of players competing in each segment (e-payments market surge overview available at this link).
Even though there are many players in each segment, the path of these FinTech startups to the public markets is long and challenging. The public FinTech companies experienced a tough year in 2015 when the online lending companies LendingClub (NYSE:LC) and OnDeck (NYSE:ONDK) fell the most, shedding around 50% of their value, as shown in the chart below.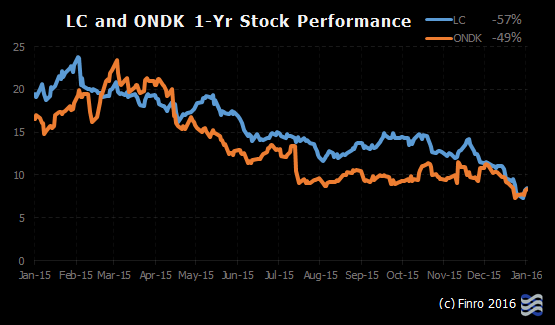 In light of the falling prices of online lending companies, it was strange to see that another company, Elevate Credit (NYSE:ELVT), decided to proceed with its IPO despite the negative sentiment towards the online lending segment and the recent sell-off in the markets. Unlike many other tech companies, online lenders are impacted by many external factors that are currently not in their favor. These factors are well presented by LendingClub and OnDeck but are even more highlighted by Elevate Credit's case.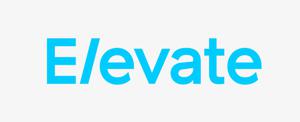 Elevate Credit lends small amounts of money to middle-class customers in the U.S. and U.K. who cannot receive credit in the traditional banking system. Khurram Aziz described Elevate Credit in his article as a business that, "rather than liberating customers from the clutches of banks, continues to offer products at prices that disadvantaged customers cannot afford." This single line introduces some of the external factors I mentioned earlier.
First, the online lending industry is highly dependent on the customers' ability to pay their debts. However, clients who approach online lenders for loans are usually those that cannot receive a loan in the traditional banking system, have maxed out on their credit cards, and have some financial instability. According to LendingClub, 49% of its customers use the money for refinancing other loans and 19% to pay off credit cards debts. LendingClub's solution to diversify its lending audience was to partner with companies like Alibaba (NYSE:BABA) to generate more trustworthy cash flow. Elevate Credit, however, focused only on troubled borrowers, and in the case of an economic slowdown or downturn, these will be the first to feel the pressure, and Elevate Credit will be directly impacted.
Second, online lenders are highly dependent on third-party enterprises to initiate the loans. These institutions receive their cut of the cash and create a steady cash flow; however, when interest rates rise, the third-party institutions will require higher fees on their services. Moreover, in higher interest rate environments, these third-party enterprises might prefer to shift their cash to other investment vehicles and not to non-prime borrowers through online lending services.
Third, as I mentioned earlier, the online lending business model works well in a very low interest rate environment; however, once interest rates start to rise, the business model will be tested and stretched. When bank-originated loans and credit card debts carry higher interest rates, will online lenders increase their fees or average interest rates? In an unstable interest rate era, investing in an online lender is risky, and an online lender focused on troubled borrowers is even riskier.
Fourth, Wall Street giants will not wait and see what Silicon Valley startups are up to without penetrating the market and trying to lure consumers to their online systems. Even though consumers might be intimidated by banks and often dislike interacting with them, I believe that most borrowers will prefer to borrow money from a subsidiary of, for example, Citi (NYSE:C) or JPMorgan (NYSE:JPM). The penetration of giant banks like Goldman Sachs (NYSE:GS) into the territory of online lending is an important competitive challenge for the online lending industry. Looking at Elevate, once Goldman decides to offer small-sized, short-term online loans, they will be able to do it more efficiently and with a better cost structure. Moreover, they could leverage that service to provide additional financial services to these customers. I don't see Elevate competing with that type of competition.
When taking all the external factors into consideration, online lending companies don't offer a unique business model that could halt Wall Street giants from penetrating the market. When LendingClub is valued at $3B and OnDeck only at $550M, they both could be attractive acquisition targets for financial firms that want to leap into the online lending market quickly and at a fairly low price. Elevate is no different, and I don't believe going public will bring any added value to the company besides an exit strategy for the existing shareholders. Following the market conditions, the unproportioned disadvantages Elevate has, and the impossible external factors, I believe Elevate's shareholders should change their exit strategy and look for a buyer to sell the company as a whole instead of going public. That way, investors could receive an excellent return on their investments instead of seeing them evaporate in the public markets before being taken over at a much lower price or going out of business down the line.
(LendingClub and OnDeck were used as examples in this article as the market leaders of online lending; however, the general idea is similar to other players like LendingTree, Yirendai, LoanDepot, etc.)
Disclaimer: The information provided in this article is for informational purposes only and should not be regarded as investment advice or a recommendation regarding any particular security or course of action. This information is the writer's opinion about the companies mentioned in the article. Investors should conduct their due diligence and consult with a registered financial adviser before making any investment decision. Lior Ronen and Finro are not registered financial advisers and shall not have any liability for any damages of any kind whatsoever relating to this material. By accepting this material, you acknowledge, understand and accept the foregoing.
Disclosure: I/we have no positions in any stocks mentioned, and no plans to initiate any positions within the next 72 hours.
I wrote this article myself, and it expresses my own opinions. I am not receiving compensation for it (other than from Seeking Alpha). I have no business relationship with any company whose stock is mentioned in this article.