Introduction
The last 8 months have not been kind to BX, as shareholders have watched the equity lose ~42% of its value as the share price declined from $43.66 to $25.03.

Click to enlarge
Source: Google Finance
The decline in BX share price appears to have been triggered by fears of a global macroeconomic recession. Specifically investors are concerned that rising default rates on high yield corporate bonds, the falling price of oil, and the broad decline in equities will have a sustained negative impact on distributable earnings (the non-GAAP measure of how much capital is available to be returned to shareholders via the traditionally generous dividend). While these factors may temporarily delay profits for shareholders (BX creates a significant portion of earnings from performance fees after the profitable sale of assets) the current selloff is shortsighted and overdone.
Why I Believe Blackstone Will Recover to $45 and Beyond
Operational Advantages Will Continue to Create Value
Steve Schwarzman, CEO, on the Q3 2015 earnings call:
We are uniquely positioned to take advantage of dislocations. We've seen the public markets correct many times before and as always, it represents the potential for greater deal flow with favorable risk adjusted returns.
As one of the largest asset managers in the world BX has an unfair advantage due to the opportunities they have access to, the level of talent working in-house, and long-term capital commitments from limited partners that protect them from having to sell at inopportune times. One recent example of their ability to execute unique value creating transactions is the acquisition of GE Capital's entire $23 billion real estate portfolio in April 2015. Going into 2016-17 BX will use this unfair advantage to acquire cheap energy assets with little competition, which should generate healthy returns in the future.
Smart Money is Going Long
In Q3 2014 BX had $284 billion in Assets Under Management. A year later in Q3 2015 that number had risen to $334 billion AUM as $97 billion of newly raised capital plus market appreciation of $12 billion well outpaced capital returned in that period to investors of $60 billion. While short sighted equity investors have sold off the stock institutional and high net worth investors have committed an additional $97 billion in long-term capital.
Global Recessionary Fears Are Overblown
BX has an established track record of being able to identify high quality assets and as a result they are sheltered to a degree from market corrections. In Q3 2015 their private equity company portfolio experienced 9% YoY EBITDA growth; their hotels grew revenue per available room; their commercial rents in India rose 17% for new leases. and their Chinese shopping malls experienced same store sales growth of 15%-16%.
Largest Stash of Dry Powder in the Industry
As explained by MTI in their excellent article Blackstone Is Crushing The Private Equity Competition:
... what the market seems to be forgetting is that Blackstone ended the third quarter with more than $85 billion in capital that can be put to work and begin generating management fees. From this perspective, a downturn in the market is just what the doctor ordered in that it allows Blackstone to start using its war chest of capital to invest in new opportunities.
Conclusion
The economic engine that has been creating value for over 30 years is still intact and, in fact, appears poised to reach new levels in the years ahead. Investors have shortsightedly sold off the stock as a reaction to natural macro-economic volatility that will end up helping BX create even more value in the long run. Due to the factors outlined above I believe there is a greater than 25% likelihood that BX will trade at or above $45 a share by January 2018. This would generate an ~80% return for shareholders from current equity prices and creates the opportunity for the options trades I outline at the bottom of this article.
At Blackstone, we take the long view. It is vital to who we are and how we deliver market-leading performance. This long-term perspective is so ingrained in our culture that we singled it out in our initial public offering prospectus. Today, nearly 30 years since the founding of the firm, we still run the firm in the same way.

- 2014 Chairman's Letter
As we approach the Q4 2015 earnings release on Thursday (January 28th), investors should take the long view as well and consider adding this value creation machine to their portfolios.
Long-Term Options Play
Some investors might want to consider the low capital requirements and leverage offered by options as a possible mechanism to benefit from future appreciation in the BX equity. Below, I will layout how to take advantage of January 2018 Call options to create an inexpensive speculative long position in BX.
Currently, the January 2018 $35 Call option contract is trading at $200 per contract. Each contract gives the buyer the right, but not the obligation, to buy 100 shares of BX for $35 anytime before January 19th, 2018. The following chart shows that the option would generate a ~$660 profit (excluding transaction fees) if the underlying equity recovers to its current 52-week high of $43.66 at expiration.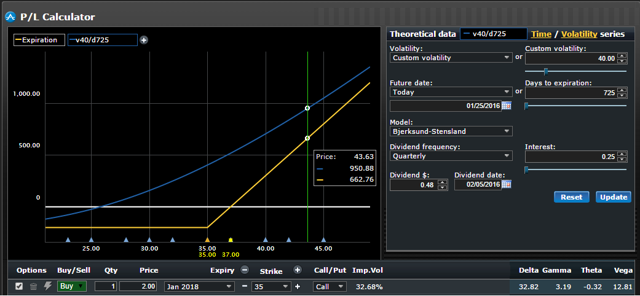 Click to enlarge
The $660 profit would represent a gain of 330% on the original $200 purchase price of the option. (Note that this is profit AFTER taking into account the original cost of the option, but before transaction costs.) The trade would breakeven at expiration if the equity was trading at $37 (as denoted by the yellow square), and would incur the max loss of $200 at any equity price below $35.
Another way to look at this speculative trade is to examine the payout in terms of expected value in order to determine how certain we must be about BX price movement for this to be a profitable trade. In the above scenario we must risk $200 for the opportunity to receive $660. After converting those numbers into percentages we can see that we would be risking 30% of the potential payout. In expected value terms, this means that if we are right about BX price movement 30% of the time, we would breakeven on this trade ($660 payoff X 30% rate of occurrence = ~$200 expected value, the original cost of the option.) This calculation is clearly oversimplified as it ignores the very real possibility of our trading resulting in anything other than a $200 loss or $660 gain. However, it gives us a rough idea of how often we must be correct about the future stock price movement in order to profitably enter this trade.
What if the BX stock price recovers to $45 at expiration?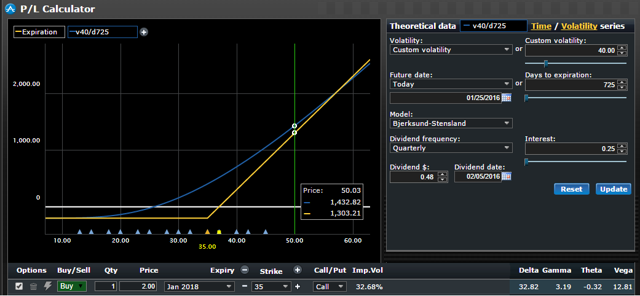 Click to enlarge
In this case the trade would generate a ~$1,300 profit at expiration for a gain of 650% with the same breakeven and max loss cutoffs as above. In expected value terms, we would be risking the same $200 for the opportunity to receive $1,300. Using the expected value calculation from above we arrive at a breakeven occurrence rate of ~15% ($1,300 payoff X 15% rate of occurrence = ~$200 expected value.)
As demonstrated above, long-term options (LEAPs) give investors the ability to speculate on future stock price fluctuations using less capital than buying the underlying equity. Specifically, if an investor is confidant that the BX stock price will recover above its previous 52-week high of $43.66 by January 2018, the $35 strike calls of that expiration may present an attractive and inexpensive way to speculate on this outcome.
Disclosure: I/we have no positions in any stocks mentioned, but may initiate a long position in BX over the next 72 hours.
I wrote this article myself, and it expresses my own opinions. I am not receiving compensation for it (other than from Seeking Alpha). I have no business relationship with any company whose stock is mentioned in this article.
Additional disclosure: Using Out of the Money Options is not appropriate for most investors. They should only be used with caution by experienced options traders as a small speculative portion of a large diversified portfolio.