Sanderson Farms (NASDAQ:SAFM) is facing industry headwinds from an oversupplied market due to export bans. Headwinds have produced a well-managed company trading for a very attractive valuation. We believe that headwinds are temporary and the industry is already in an upswing. Our thesis is based upon; incremental topline growth, a recovering industry and margin expansion.
Summary
In short, SAFM is a poultry, or chicken, processing business. In the past ten years, the company has grown the numbers of chickens processed by 4.46% annually on a CAGR basis. Furthermore, the dressed pounds has increased 6.56% annually on a CAGR basis. Interestingly enough, in 2006, SAFM was the 5th largest processor of dressed chicken, only to become the 3rd largest today.
| | | |
| --- | --- | --- |
| | Chickens Processed | Dressed Pounds |
| 2015 | 476mm | 3.4bn |
| 2014 | 452 | 3.0 |
| 2013 | 452 | 3.0 |
| 2012 | 498 | 2.9 |
| 2011 | 434 | 2.8 |
| 2010 | 405 | 2.57 |
| 2009 | 397 | 2.426 |
| 2008 | 390.3 | 2.4 |
| 2007 | 343.6 | 2.0 |
| 2006 | 307.7 | 1.8 |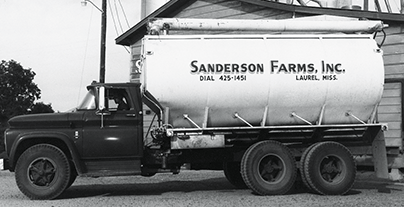 Source: Company History
The nature of the poultry industry is cyclical. There will be strong margin years, followed by compressed margins.
| | | | | | | | | | | |
| --- | --- | --- | --- | --- | --- | --- | --- | --- | --- | --- |
| | 2015 | 2014 | 2013 | 2012 | 2011 | 2010 | 2009 | 2008 | 2007 | 2006 |
| Gross Margins | 17.5 | 18.8 | 11.4 | 7.3 | -5.4 | 15.3 | 11.2 | 2.3 | 12.6 | 2.3 |
| Operating Margins | 11.99 | 13.76 | 7.67 | 4.04 | -9.52 | 10.90 | 7.63 | -3.81 | 8.50 | -2.56 |
| Net Income Margins | 7.56 | 8.73 | 4.87 | 2.26 | -6.42 | 7.00 | 4.60 | -2.50 | 5.35 | -1.10 |
When there is a negative correlation present in high prices of feed and low prices of chicken, margins get compressed. This is when the company feels the cyclical swing. Interestingly, the negative correlation can swing to the company's benefit. For an example, when chicken prices are high and feed prices are low, the company experiences an expansion in their bottom line. Today there is an oversupply of domestic poultry and oversupply of feed, which has let these two commodities trade in positive correlation.
Since the poultry industry is heavily dependent upon two commodities, SAFM is more along the lines of a price taker, than a price maker. Due to the price taking that SAFM has to endure, the industry can have its ups and downs. For an example when looking at the poultry industry on the supply side, we can see that there is an overall industry oversupply, in today's market.
The reason for the oversupply stems from disease or the avian flu. The outbreak happened in December of 2015 and since then several countries had partially banned and even fully banned US poultry exports. Total bans of poultry came from China, South Korea and Angola, while partial bans came from Mexico, Canada and Russia. Thus as domestic supply continues to increase, export demand decreased. This lead to an oversupplied domestic market and has pushed the price of poultry products to low levels.
However, the biggest decrease came from leg quarters. In 2015, leg quarters fell 53.3% YOY.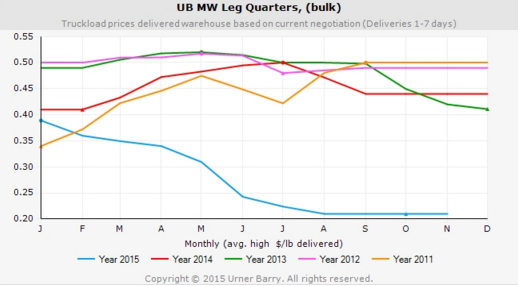 Source: 2015 Annual Report
As long as the export market stays weak, there will be headwinds on the price of chicken. Although, John Zhang makes a very compelling case that the bird flu epidemic will die down, which will help fuel upside for SAFM.
Vertical Integration: From Fragmented to Industry Wide Success
In the old days, and by old we mean, in the 1800s to early 1900s, poultry production meant having chickens in your backyard. The majority of individuals in these days used their chickens for eggs and occasionally cooked up a whole chicken. Then the entrepreneurs came to town and started to make money selling chickens.
By the time the 1920s and 1930s came rolling around, chickens started to be raised primarily for the consumption of meat (called the broiler). Broiler production was not a worldwide expansion though. The majority of boilers raised had to be produced in certain areas with satisfactory geographic conditions and located near corn and soybean production fields.
Moving forward in time to the 1940s and 1960s, all feed mills, hatcheries, and processors were all separate business units. Slowly the industry started to use vertical integration to their advantage. The initial start of vertical integration started with hatcheries becoming much more involved in the production, processing and marketing of the industry. Soon, entrepreneurs consolidated the industry into one business entity. In the mid-1960s 90% of all broilers came from vertically integrated business operations.

Click to enlarge
Source: NCC Vertical Integration
What we find very interesting and will help our thesis going forward is how brands started to take over consumer preference. It started in the late 1960s and early 1970s. Companies started to market their brand of chicken on TV and through newspapers. Today, 95% of all broilers sold at grocery stores have a brand name. From studying the poultry industry, we can contest that having a branded product is of the utmost importance to repeat and continual business success.
As SAFM has continued to become one of the largest chicken producers in the domestic market, we can contest that they have built up a strong and reliable customer brand. Brands are very important in a maturing industry. Think Coca-Cola (NYSE:KO) and Pepsi (NYSE:PEP) for an example. Will SAFM be the go to brand for poultry products going forward? We think that is a very high possibility.
Today, the poultry industry is one of the most successful industries in agriculture. Advancements in the production process and technology has allowed the industry to produce more meatier, healthy and affordable broilers today than ever before. Furthermore poultry consumption has surpassed beef and pork, and still remains cheaper than the two latter meats.
Secular Demand
We believe that SAFM will experience tailwinds from overall secular demand in the consumption of chicken. One of the biggest factors for secular demand in the consumption of chicken is related to health/nutrition and costs.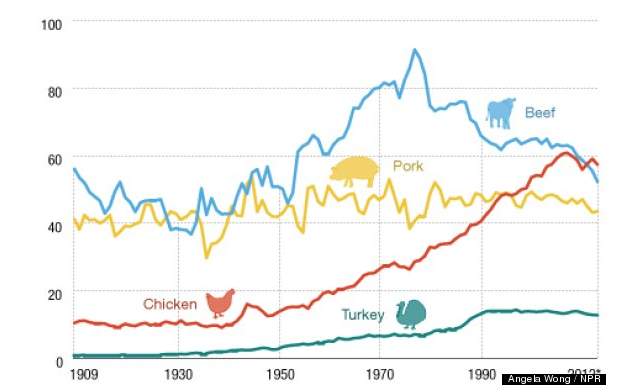 Source: NPR Nation of Meat Eaters
Many individuals view poultry as a leaner meat, with less health risks. For instance, red meat has been one of the culprits of heart disease and diabetes. Chicken on the other hand is a high quality protein, with essential amino acids, lacking unsaturated fat and recommend by health professionals as an alternative to beef and pork.

Click to enlarge
Source: Consumer Research Presentation
The picture above shows the reasons for the increase in consumption of chicken in grocery stores or supermarkets. Health/nutrition is the biggest factor for an increase in the consumption of chicken. As obesity continues to plague our nation, there will be a continual rise in health awareness. Interestingly, price is another big factor into the rise of chicken consumption.
We believe that the fall off in beef and pork consumption is due to rising prices and health concerns. In fact, in the year of 2000, total red meat per capita consumption was 120.2, with broilers ranking in at 76.6. Moreover, the 2016 estimate in terms of per capita consumption of total red meat and poultry was 105.3 and 90.1, respectively. As you can see, individuals now consume much more chicken than they do red meats. We believe that these shifts in secular demand will continue for the foreseeable future.
The price of red meat continues to rise…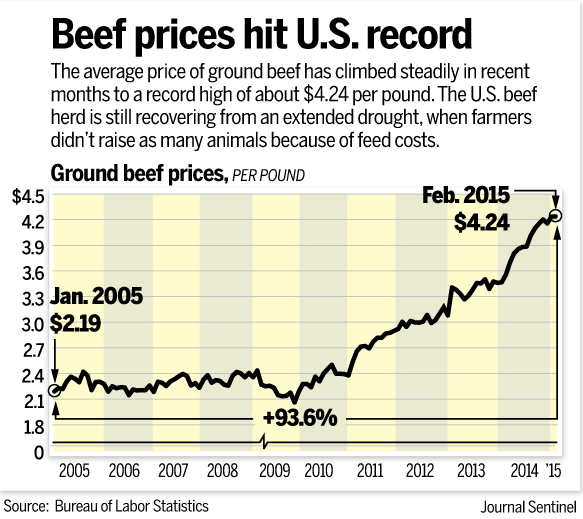 Not only are beef prices skyrocketing, but so are pork prices. With steady and in the recent days, falling chicken prices, this has helped fuel continual consumer demand for poultry. We can thank technology and vertical integration/industry consolidation for cheap broiler prices.
We believe that continual secular demand for poultry products will continue going forward. In short, secular demand will be fueled by; health/nutrition concerns and rising prices of beef and pork. Yes, there is a current domestic oversupply. However, when the export markets ease their fears, oversea demand should spark up again. SAFM is in a great position to continue to compound their monetary assets and business model in the future.
Past Incremental Topline Growth with Forward Potential Topline Growth
Since SAFM is a pure play chicken producer, their topline has marginally benefited from the rise in poultry consumption.
| | | | | | | | | | | |
| --- | --- | --- | --- | --- | --- | --- | --- | --- | --- | --- |
| | 2015 | 2014 | 2013 | 2012 | 2011 | 2010 | 2009 | 2008 | 2007 | 2006 |
| Revenues | 2,803 | 2,775 | 2,683 | 2,386 | 1,978 | 1,925 | 1,790 | 1,724 | 1,475 | 1,048 |
In millions
Depending on where you decide to cherry pick the data, revenue growth has started to slowdown. For an example take the following. In the past ten, five and three years, SAFM's revenues have increased at an annualized CAGR rate of 10.33%, 7.22% and 1.47%, respectively. The slowdown in topline growth can be contributed to a maturing industry, coupled with a larger company today than in the past.
Does a maturing industry and larger company mean that there is less of an opportunity in terms of value for investors? Not necessarily. We believe that SAFM can continue to drive topline incremental growth, create long-term compounding value and give investors a chance to buy the company at an absolute and relative discount.
One way SAFM will drive for topline growth in the near-term is from increasing the capacity of their overall production. In November of 2014, SAFM invested in a new facility located in Palestine, Texas. By February of 2015, the new facility was operating at a 50% capacity rate. Management expects the Palestine facility to reach full capacity by 4Q16.
The new facility in Palestine contains a hatchery, feed mill, processing plant and waste water facility. Overall, the facility has the capacity to produce 1.25mm chickens per week. If the facility can produce 1.25mm chickens per week, this equates out to ~65mm per year. At an expected 65mm new chickens produced per year, this equates out to 14.38% of 2014's chickens produced (452). In our opinion, this is a decent sized production upgrade that will add a significant amount of topline power.
SAFM isn't stopping at Palestine either. In March of 2015, the company selected sites near St. Paul's, North Carolina for the construction of a new facility. The new facility is expected to process 1.25mm chickens per week. Management expects the construction of the new facility to begin in 1Q17. Finally, the company has plans to expand their existing feed mill in Kingston, North Carolina, which will be beneficial to the overall supply chain.
The investor who has not dug into SAFM may be concerned about liquidity from forward production expansion, which stems from the overproduction of domestic poultry and compressed margins. Yes, there is a current over supply of poultry products and margins are compressed. However, SAFM is in a very sound financial condition.
First, SAFM is sitting on $196.66mm in cash and cash equivalents with a minimal amount of long-term debt ($10mm). Secondly, the company just secured a new revolving credit facility on April 24th, 2015. This increased the company's line of credit from $600mm to $750mm. In reality, there are industry headwinds. Nevertheless, SAFM is in a very sound financial condition to continue their product expansion.
We believe that SAFM can continue to grow their topline at an increment rate going forward, with a long-term vision of the company taking more market share in the poultry industry.
Valuation
In terms of relativity, SAFM is undervalued.
| | | |
| --- | --- | --- |
| | EV/EBITDA | EV/Revenue |
| Tyson Foods (NYSE:TSN) | 8.58 | 0.64 |
| Pilgrim's Pride Corporation (NYSE:PPC) | 4.29 | 0.73 |
| Sanderson Farms | 3.71 | 0.54 |
TSN, PPC and SAFM are the top three chicken producers, with TSN being the number one and SAFM being the third biggest. As you can see from the table above, TSN has been able to hold its value relatively well, and could be considered fairly valued. The reason that TSN has been able to hold its value is due to the fact that they only derive 35% of consolidated sales from poultry products. Thus with a more diversified product base, the company has weathered the industry headwinds rather well.
We believe that the best comp to use in a relative valuation comparison would be PPC. The reason that PPC is the best comp to use is due to the fact that it is a pure chicken play, like SAFM. Because PPC is a pure poultry play, their valuation has fallen from industry headwinds.
The chart below really shows how TSN has benefited from a diversified business model, while pure plays like PPC and SAFM got hit…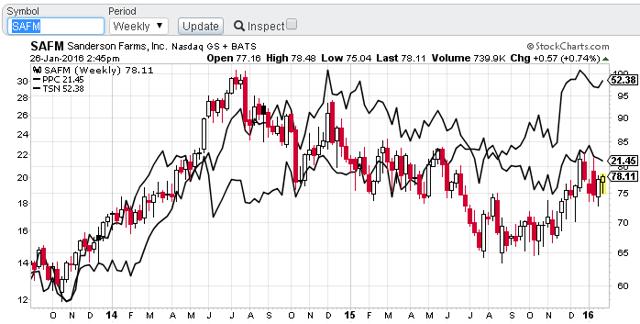 Click to enlarge
Source: Stock Charts
What we must ask and attempt to answer is why does PPC sell for a higher relative valuation than SAFM? The quick and dirty answer is due to size. PPC has a market cap and enterprise value of 5.48bn and 6.08bn, respectively. SAFM on the other hand supports a market cap and enterprise value of 1.76bn and 1.52bn, respectively. Thus, pure size can play a big role in why SAFM is selling for a discount compared to PPC.
We could stop here and declare that size is why SAFM is selling at a cheaper valuation that PPC. However, we believe that there is a deeper reason for the steeper selloff in SAFM. One reason why we believe the former is due to the margin comparison…
| | | | |
| --- | --- | --- | --- |
| | TTM | 2014 | 2013 |
| SAFM | | | |
| Gross Margins | 17.52 | 18.77 | 11.40 |
| Operating Margins | 11.99 | 13.76 | 7.67 |
| Net Income Margins | 7.56 | 8.73 | 4.87 |
| PPC | | | |
| Gross Margins | 17.68 | 16.24 | 10.05 |
| Operating Margins | 15.20 | 14.02 | 7.83 |
| Net Income Margins | 9.00 | 8.29 | 6.53 |
SAFM has experienced margin compression in the TTM, while PPC has actually seen their bottom line grow. A few reasons for the rather well holdup include; larger operating base (United States, Mexico and Puerto Rico), and controlled by a much larger company (JBS USA Holdings owns >75% of the shares).
Further looking, we can see that PPC recently issued a $5.77/share special dividend. Now, this dividend may have been to help out JBS's over mounting debt concerns, however, higher dividends usually translate into higher valuation multiples. Overall, we can't pinpoint why PPC is trading for a higher multiple than SAFM, but we can speculate that it's from; a larger overall business, higher margins, and a very attractive special dividend payment.
When looking at SAFM from an absolute standpoint, we conclude that the company is undervalued. SAFM operates in a cyclical industry. Yet what is interesting is that the business cycle in the poultry industry does not last forever. In fact, in the past, the cycles typically lasted 9-12 months.
One interesting aspect that suggests the cycle is near an end is due to the fact that South Africa recently lifted the chicken export ban. This is very enlightening news. We would not be surprised if other countries did not follow suit. Further export bans being lifted will help to ease the overproduction and lift prices.
We have provided two simple case scenarios for SAFM going forward.
| | | |
| --- | --- | --- |
| | Base | Bull |
| EBITDA | 446 | 460 |
| Multiple | 4.5 | 5.0 |
| EV | 2007 | 2300 |
| +Cash | 196.66 | 196.66 |
| -Debt | 10.00 | 10.00 |
| Total Equity | 2193.66 | 2486.66 |
| Shares Outstanding | 22.57 | 22.57 |
| Estimated Equity Per Share | 97.19 | 110.17 |
In millions
In the base case, EBITDA will revert back to 2014's run-rate with a multiple of 4.5x, which is the same multiple that PPC sells at. Moving forward, the bull case will generate $460mm in EBITDA with a multiple of 5.0x. Both of these cases are based upon exports lifting, which will result in higher chicken prices. Investors should remember that SAFM should have a new facility operating at 100% capacity in 4Q16 with another facility getting built in 1Q17. Both of these production upgrades will fuel topline growth.
In terms of downside, we believe that downside is minimal. We believe SAFM has minimal downside due to its balance sheet structure. SAFM has a very strong balance sheet and a new untapped revolving credit facility. The strong liquidity position will help the company continue their production upgrades while protecting the downside from low fixed rate expenses. We also believe that there is a high margin of safety with this issue due to the absolute and relative undervaluation.
Finally based on the recent price movements, the market is suggesting that a bottom has already happened…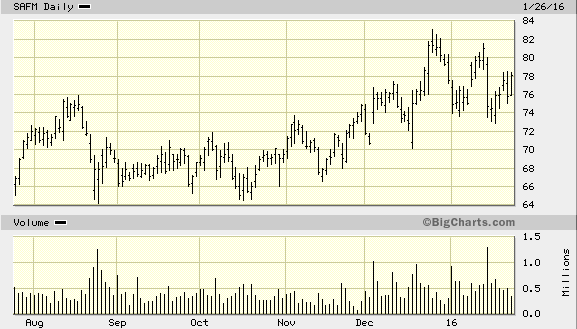 We are not technical analysts by any means, but market psychology is suggesting the cycle is over.
Risks
We believe that the biggest risk in an investment with SAFM is if chicken prices continue to fall and grain prices rise. This is a potential double edged sword that could bite shareholders and the company. Currently the market is not suggesting that grain prices will rise in the near-term. Investors should continue to monitor both feed/grain prices and chicken prices going forward.
Another risk is the uncertainty of whether export bans will be lifted in the near future. If exports bans are not lifted in the near future, this could help to fuel a further oversupplied broiler market. An oversupplied market will put pressure on prices, which in turn will compress margins. Further margin compression will punish the stock price in the near-term.
Another notable risk is the risk of disease. SAFM's inventory is live. If their inventory gets affected with disease, it could run through and affect their flock. This in turn could result in inventory write-downs and heavy one-time losses.
Conclusion
SAFM is one of the only poultry pure plays left in the industry. The company has grown from a small family owned business, to the third largest chicken producer in the world. Vertical integration and technological improvements have lowered overall costs and helped to produce a very efficient company, with a strong recognized brand. Our target price is based upon a recovery in the industry and incremental topline growth from production capacity upgrades. We believe that a price target between $97-110/share in the next 12-24 months is conservative and likely.
Disclosure: I am/we are long SAFM.
I wrote this article myself, and it expresses my own opinions. I am not receiving compensation for it (other than from Seeking Alpha). I have no business relationship with any company whose stock is mentioned in this article.