Most likely the only positive news to look forward to for International Business Machines (NYSE:IBM) investors in the coming months will be the next dividend raise, which can be expected with the second quarterly payment. When I wrote about IBM in October, I said that I would take a closer look at Big Blue once the yield reaches 4%. Well, this has just happened as the stock fell clearly below $130 after releasing disappointing 2015 results and a weak 2016 outlook.
As the yield reached the level that I have been looking for, I took another look, but what I saw lead me to the conclusion that it is still too early to buy the stock. There are two important reasons why IBM is not worth considering yet from my point of view. First, after the recent selloff, there are more attractive opportunities out there. The yield advantage which IBM offered and which was supposed to increase when reaching 4%, has become less thrilling. After market correction, there are now other stocks with attractive yields which are fundamentally in a much better situation.
Second and that is the most important aspect for me, IBM's 2016 outlook is worse than I had anticipated. After mixed results for Q4 and the full year, there is still no light at the end of the tunnel. FY15 Operating EPS of $14.92 (down 10%) were at the upper end of the guided corridor and the free cash flow increased by $700M to $13.1B, although a significant positive $3B tax effect contributed to it. EPS are seen to contract to at least $13.50 in FY16, and IBM's management expects that FCF will only be in the $11-12B range as stated in the earnings call. We all know that exchange rate movements are partly responsible for these developments, but even adjusted for currency effects, the bottom line continuous to shrink. Keeping in mind that these figures already include 2-3% EPS growth from the share repurchases, the picture gets even darker.
The only thing IBM can do to please shareholders at the moment is to continue on the path of dividend growth and to buy back shares. The company still generates substantial free cash flow for now, and the payout ratio remains at an acceptable level, even when considering the lower 2016 EPS. Having said this, the outlook of FCF diminishing by $1.5B concerns me. In order to fund the generous shareholder distributions also over the next years, this key metric needs to improve.
Business performance and cash flow
IBM's business performance is disappointing, and I cannot see any sign that points towards an improvement in the near future. It does not help to report strongly growing revenue from "strategic imperatives" when at the same time baseline sales are declining at a faster pace. To make things worse, even in this rather nontransparent area growth slowed down from 17% for the full year to 10% in the fourth quarter. Some things need to change, because IBM will not be able to live from its legacy business forever, and so far "strategic imperatives" and the various acquisitions of the recent years have not helped to turn the tide.
With IBM being unable to reinvent itself, the only hope for shares to recover short-term are a weakening dollar or the replacement of the top management. However, there are few signs that this is going to happen soon.
Last year, the company returned $9.5B to shareholders, $4.9B in dividends and $4.6B were spent on repurchases. In doing so, the company distributed 73% of its free cash flow, slightly below the target rate of 75-85%. Assuming that dividend payments will grow at a similar pace compared to last year and that the buybacks will remain at a constant level, likely more than 85% of the FCF will be required to cover these expenditures in 2016. This leads to the question whether IBM's generous shareholder remuneration is sustainable.
How could IBM become a buy?
The only reason for me to consider IBM shares would be income, therefore I do not count on capital gains. Needless to say that I do not want to see losses either, therefore I would prefer a safety net in the form of a higher dividend before buying. Even with a long-term horizon and counting on a growing dividend, I feel that IBM is too risky at the moment and that we have not reached to bottom yet. In the past four years, the stock only knew one direction, and total return is negative. Given the poor fundamentals, and the current state of the stock market, the likeliness for IBM shares to decline further are higher than for a recovery.
My rationale for an investment in IBM would be continuous dividend growth and an increasing yield-on-cost. In order to minimize the risk for further capital losses, there need to be signs that a bottom starts forming, and one requirement for this to happen is an at least constant earnings perspective. The second prerequisite is a more positive free cash flow outlook in order to avoid running into the danger of funding dividends or buybacks with new debt.
IBM pays a quarterly dividend of $1.30 or $5.20 per year. After the recent dip, the yield stands at 4.2%. It has continuously increased over the last years and is almost three times as high as in spring of 2012.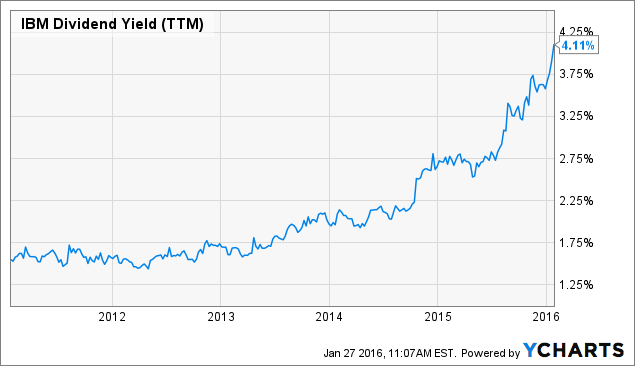 With the second dividend installment, IBM will very likely increase the dividend again. The question is how the 2016 raise could look like. Last year, the dividend grew by 20 cents from $1.10 to $1.30, even faster than the 15 cent hike in 2014. Given the deteriorating business performance, anything in addition to the 10 cent raises of the years before could hardly be justified from my perspective. In case of a 10 cent increase to $1.40, or annualized $5.60, the yield would grow to 4.6%.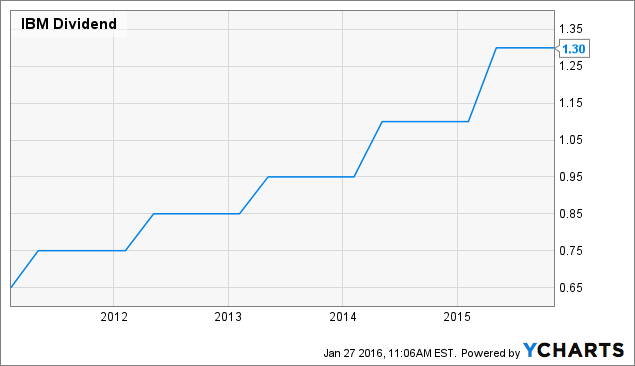 Despite having said that I might consider IBM if it yielded 4% only three months ago, I have to revise my assessment. After starting the year with an unexpected sell-off, the market offers other (dividend) stocks with an attractively risk reward profile. Adding IBM's poor outlook for the year 2016, and the expected decline in free cash flow, I am not ready to pull the trigger yet.
I am not convinced that these developments are fully priced in, even after dropping almost 20% in the past three months. I believe that there is a good chance that IBM shares will fall even further in an overall volatile market. Based on what I see today, a 5% yield is a level I would feel more comfortable with, and I don't think that this is an unrealistic target. The concurrence of the next dividend increase, possible at a higher pace than the 10 cent which I consider sustainable, and a further decline in share price could lift the yield to 5% in the next months.
Conclusion
Another poor quarter and a weak outlook for 2016 have put IBM shares under pressure - again. At $122 they already yield 4.2%, but still not good enough for me to consider the stock. Currently, I can see no reason for a short-term recovery, and I believe that there is a good chance that patient investors will get the opportunity to buy IBM even cheaper if they stay at the sideline for the next months.
Disclaimer: Opinions expressed herein by the author are not an investment recommendation, any material in this article should be considered general information, and not relied on as a formal investment recommendation. Before making any investment decisions, investors should also use other sources of information, draw their own conclusions, and consider seeking advice from a broker or financial advisor.
Disclosure: I/we have no positions in any stocks mentioned, and no plans to initiate any positions within the next 72 hours.
I wrote this article myself, and it expresses my own opinions. I am not receiving compensation for it (other than from Seeking Alpha). I have no business relationship with any company whose stock is mentioned in this article.