Our Investment Strategy Group identifies trends to watch over the next 12 months.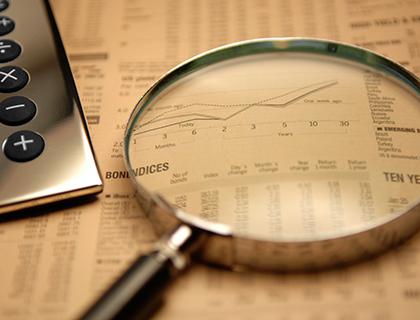 As the U.S. enters into its seventh year of economic recovery, we believe the current economic cycle is aging, but by no means over. Our outlook is that economic activity in the U.S. will chug along, while developed non-U.S. markets such as Europe could see a pickup in growth.
Meanwhile, emerging economies could continue to be vulnerable to structural shifts in China, rate hikes in the U.S. and price weakness in the commodity complex. We believe global central bank policies will continue to diverge and that a modest return of inflation, after a long hiatus, could introduce an additional driver of market prices.
Overall, we have moderate return outlooks for traditional asset classes in 2016, even as market volatility trends higher. As such, we believe diversification, tactical allocation and the use of nontraditional strategies could be important to help navigate this environment.
1. U.S. Economy Matures but Likelihood of Recession Is Low
The first Federal Reserve rate hike since 2006 marks a milestone in the maturation of the U.S. business cycle, which now enters its seventh year of growth. Despite a modest tightening of monetary conditions, we anticipate a robust consumer sector as the U.S. unemployment rate trends below 5%. While we believe the likelihood of recession in the U.S. is low in 2016, we would not be surprised to see signs of aging in the business cycle later in the year. We anticipate potential noise from the Presidential election campaign, and while we expect the eventual outcome to have limited impact on broad financial markets, certain sectors such as healthcare, energy and defense will have more at stake in the political outcome and, as a result, may experience volatility along the way.
2. Developed Non-U.S. Markets Accelerate, Some Bonds Are Vulnerable
With the support of additional monetary stimulus, we believe growth in Europe will pick up in 2016. We believe that, with corporate earnings in the region still far below the peak levels achieved before the global financial crisis, there is room for expansion. Should sentiment improve, we see "safe" assets such as German Bunds being highly susceptible to a downward rerating. In Japan, GDP growth remains highly volatile and the effects of the "third arrow" in Abenomics have been mixed. Nevertheless, corporations appear to be achieving low-teens earnings growth, which can support returns.
Improvement in Eurozone GDP Has Often Coincided with Pickup in Corporate Earnings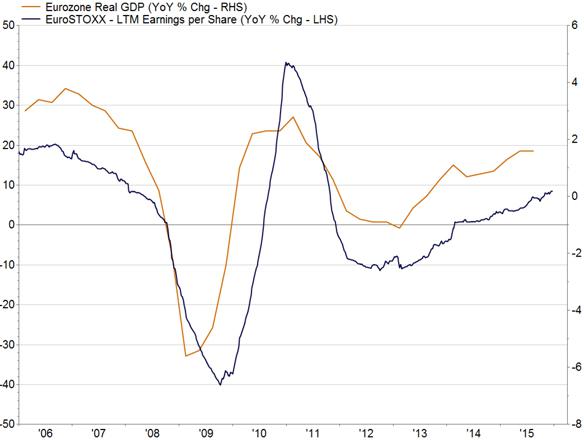 Source: FactSet, as of December 31, 2015.
3. U.S. Equities Grind Upward
We believe U.S. equities could generate modest returns in 2016. We anticipate that the stock market will be driven more by a resumption of earnings growth than by valuation expansion. While corporate earnings were challenged in 2015, due in large part to drags from the strong U.S. dollar and weak energy sector, we believe earnings growth will end in positive territory by the end of 2016. With the S&P 500 trading at 16.8 times forward earnings (as of December 31, 2015), we do not see U.S. equity markets as trading at excessive valuation levels.
4. 'Narrow' Market Broadens Out
In 2015, the return of the S&P 500 was driven by a very narrow group of large-cap growth stocks, among them what are now popularly known as the FANG stocks (Facebook (NASDAQ:FB), Amazon (NASDAQ:AMZN), Netflix (NASDAQ:NFLX) and Google (NASDAQ:GOOG) (NASDAQ:GOOGL)). In fact, these four stocks alone contributed more than 100% of the index's total returns for the year. This lack of breadth has had many implications. Many active long-only managers have underperformed broad indices while many hedge fund strategies have failed to deliver alpha and uncorrelated returns. Historically, periods of narrow market returns have often not persisted for extended periods. We believe that market breadth may begin to increase, which could bode well for more fundamentally driven, value-oriented strategies.
5. Bouts of Equity Market Volatility Continue
We believe equity volatility can trend higher from here, as is typical of later-stage growth periods. As such, investors could see more frequent pullbacks in the market, including the possibility of a correction (>10% pullback). We favor a diversified approach, including an allocation to high-grade fixed income, as these bonds are typically negatively correlated to equities and can dampen portfolio volatility. In addition, we believe nontraditional investments, such as "volatility harvesting" strategies (e.g., option writing), could tactically enhance returns.
6. Bond Markets Work Through Unresolved Issues as Yield Curve Flattens
With the first rate hike out of the way, investors will focus on the pace of tightening in 2016, which Fed Chair Janet Yellen has maintained will be gradual. Market consensus is that the Fed will raise rates two to three times this year, while the Fed "dots" (representing individual FOMC members' expectations) indicate that the Fed will raise rates four times this year. Either path suggests a measured rate cycle relative to history. Still, we caution that markets will be very sensitive to changes in rate expectations as investors resolve the difference between their expectations and the Fed dots, potentially resulting in periodic volatility. Nevertheless, as is consistent with prior periods of rate hikes, we anticipate that short rates could pick up faster than longer-term rates, causing a flattening in the yield curve.
7. Select Credit Markets Could Shine
Credit markets were often challenging in 2015. Spreads across high yield and many emerging country bond markets widened considerably, and a well-known U.S. high yield mutual fund was forced into liquidation after poor trading conditions in distressed bonds made it difficult for the fund to meet investor redemptions. While we anticipate that high yield corporate default rates will trend higher in 2016, we believe that current spread levels more than compensate for a moderate rise in defaults. We also believe that fundamentals remain strong, particularly outside the energy and mining sectors, as modest leverage ratios and extended bond maturity schedules may lessen the risk of default. For emerging market bonds, we remain more circumspect. We think hard currency sovereigns still provide good value but we are cautious on local currency markets, given their ongoing volatility.
8. China, Rates Dominate Emerging Markets
As in 2015, we think that Chinese growth will continue to experience heightened scrutiny from investors and induce periodic choppiness across markets. While we believe Chinese growth may, over time, trend below the 6%-7% targeted by the government, we do not believe that a hard landing is in store. In addition to China, we believe that Fed rate hikes could impact capital flows in some emerging markets. Nevertheless, low valuations lend support to the belief that there could be opportunities across emerging markets, although selectivity across countries, sectors and companies will be important.
9. Commodity Prices Find Better Footing
In our view, supply/demand imbalances and dollar strength were the main reasons for commodity price weakness last year. For 2016, we believe that supply may begin responding to lower prices, which could result in greater stability in these markets. In addition, with the first U.S. rate hike now over, we believe the dramatic strengthening of the dollar is also behind us. Stabilizing commodity prices could help fuel a rebound in some areas that have been hard-hit, such as master limited partnerships and high yield bonds, which are all trading at what we consider attractive valuations. Furthermore, we believe headline inflation across countries is likely to rebound and converge more closely with core inflation levels as the commodity price effect rolls off.
Implied Volatility For Crude Oil Has Been Elevated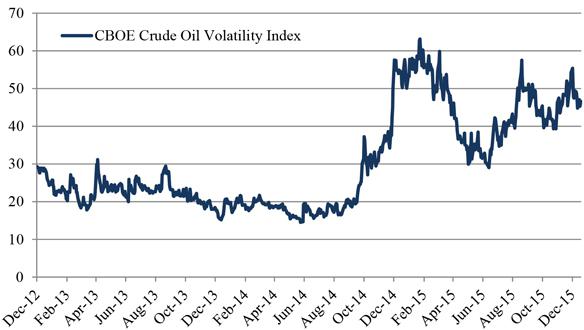 Source: FactSet, as of December 31, 2015.
10. Diversification and Rebalancing More Effective
For the past few years, a central tenet of portfolio theory - diversification - has been severely challenged. Within global equities and bonds, the S&P 500 and Barclays U.S. Aggregate Bond indices have outperformed most other major asset classes. We believe this could lead investors to heavily skew their portfolio allocation to a limited amount of asset classes based on short-term performance, even as the underperforming assets develop more attractive relative valuations. We favor maintaining a well-diversified portfolio and long-term perspective. Given our outlook regarding macroeconomic forces in 2016, we believe this could be an opportune time for investors to consider allocations to assets such as international equities, high yield bonds and value stocks in their portfolios.
Putting It All Together
We believe that the U.S. and global economies will continue expanding in 2016, even as the business cycle potentially starts to show signs of aging. We cautiously favor risk assets over safe haven assets, with a focus on selectivity and also with the knowledge that market volatility will likely trend upward. We see select opportunities in the markets, particularly in areas that appear to have been oversold in 2015. Furthermore, we believe that the very narrow market leadership of the recent period may begin to broaden out. Diversification, tactical allocation and the use of nontraditional strategies could benefit investors in this context.
This material is provided for informational purposes only and nothing herein constitutes investment, legal, accounting or tax advice, or a recommendation to buy, sell or hold a security. Information is obtained from sources deemed reliable, but there is no representation or warranty as to its accuracy, completeness or reliability. All information is current as of the date of this material and is subject to change without notice. Any views or opinions expressed may not reflect those of the firm as a whole. Neuberger Berman products and services may not be available in all jurisdictions or to all client types. This material may include estimates, outlooks, projections and other "forward-looking statements." Due to a variety of factors, actual events may differ significantly from those presented. Investing entails risks, including possible loss of principal. Diversification does not guarantee profit or protect against loss in declining markets. Investments in hedge funds and private equity are speculative and involve a higher degree of risk than more traditional investments. Investments in hedge funds and private equity are intended for sophisticated investors only. Indexes are unmanaged and are not available for direct investment. Past performance is no guarantee of future results.
The views expressed herein are generally those of Neuberger Berman's Investment Strategy Group (ISG), which analyzes market and economic indicators to develop asset allocation strategies. ISG consists of investment professionals who consult regularly with portfolio managers and investment officers across the firm.
This material is being issued on a limited basis through various global subsidiaries and affiliates of Neuberger Berman Group LLC. Please visit www.nb.com/disclosure-global-communications for the specific entities and jurisdictional limitations and restrictions.
The "Neuberger Berman" name and logo are registered service marks of Neuberger Berman Group LLC.
© 2009-2016 Neuberger Berman LLC. | All rights reserved