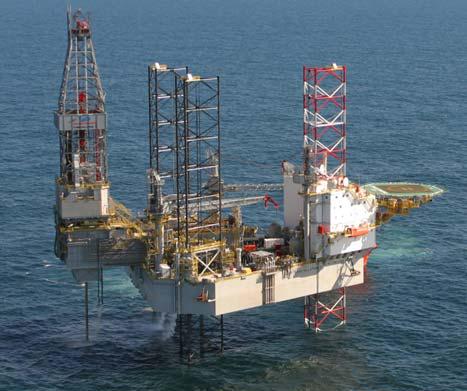 Image: GSF Constellation II
Transocean Ltd.
This article is an update to my preceding article on Transocean (NYSE:RIG), published on November 6, 2015, regarding the October 29, fleet status.
Today, Mr Steve Guidry, CEO of Vaalco Energy (NYSE:EGY) announced the following:
On January 25, 2016, we began demobilizing the Constellation II rig operated by Transocean and no longer intend to drill any wells in 2016 on our Etame Marin block offshore Gabon. We are pleased with the overall results we achieved with our 2015 drilling program as we reversed the decline in our production and meaningfully increased our volumes. Due to the continued sharp decline in oil prices we have determined additional drilling to be uneconomic. As a result, we estimate our 2016 capital expenditures to now range from $4 to $6 million. We are in discussions with Transocean regarding the remaining rig contract term which we believe carries a maximum exposure of approximately $7 million (net)."
The maximum exposure seems about right, at first glance?
The contract was supposed to end on July 2016, and the day rate is $170K/d. This is an early termination representing about 170-day to 180-day or approximately $30~ million.
EGY will pay about 24.4% of this total amount or $7.3 million net.
The Jackup GSF Constellation II (2004), will probably be idle in West Africa. However, it is unclear if the company will not be forced to cold stack the rig in this market environment?
Transocean High-Specification Jackups
High-specification Jackup: (11)

350'/400'-30,000'/35,000'

Year built

Contract

End

Current

Day Rate

K $

Location
1
GSF Constellation I
2003

1/16

3/16-12/16

150

104

[Total] Indonesia

[Bunduq]

UAE

2
GSF Constellation II
2004

7/16

1/25/2016

170
[Vaalco] Gabon
3
GSF Galaxy I
2001

5/16

5/16-11/16

11/16-5/17

5/17-5/18 Option

5/18-5/19 Option

223

227

230

-

-

-

[Total]

UKNS

4
2012

4/16

194

[Chevron] Angola

5
Transocean Andaman
2013

5/16

5/16-5/17

5/17-5/18 option

150

115

110

[Chevron] Thailand

6
Transocean Siam Driller
2013

3/18

140

[Chevron] Thailand

7
Transocean Ao Thai
2013
10/18
139

[Chevron] Thailand

(3d)3Q'16
The Jackup GSF Constellation II (2004), will be idle in West Africa. However, it is unclear if the company will not be forced to cold stack the rig due to this market environment?
Transocean had seven Jackups working early 2016. However, the GSF Constellation II is now idle and the Transocean Honor will roll off contract in April 2016. Both Jackups will be probably ready stacked or cold stacked in West Africa.
The company is not releasing a monthly fleet status report unfortunately, and it is difficult to keep an accurate account of what is going on. However, according to Ms. Terry B. Bonno, SVP Marketing who said in the last conference call on November 6, 2015, the following:
Outside of Brazil, we are also very close to realizing several opportunities already in the pipeline, and we'll have more positive news shortly.
Thus, let's hope Transocean will surprise us with some new contracts. We are still waiting for the ONGC decision regarding the 3-year contract that I commented in my preceding article.
However, On January 15, 2016, we learned from Upstreamonline the following?
INDIA'S state-controlled Oil & Natural Gas Corporation (ONGC) has since cancelled two major tenders, in which, it was seeking as many as five deep-water rigs.
The tender for a Floater 305m - 1,000', and the Semi or Barge 183m - 600' that requires another unit, is still valid, in my opinion.
Which means that we can expect Transocean to get at least one contract soon. The problem is that the day rate will most likely be below the breakeven point.
The oil market has turned from ugly to disastrous the past few weeks, and oil is trading now at $30-$31 a barrel, and has reached a low in $27's a few days ago. This ultra-bearish situation is quite concerning for the entire oil industry, and it is difficult to imagine a fast recovery for the offshore drillers. Big oil operators are reducing capital expenditure at a fast pace, especially in the deepwater segment, which is a long risky and costly endeavor.
However, oil is trading now at a level that will force producers to act and change their over-production strategy in order to support the price of oil, in my opinion. This change in strategy may give enough support to oil, and I can imagine $50-$60 a barrel by the end of 2016?
Price of oil is of a paramount importance, because it will trigger a recovery in tendering in the deepwater and shallow water sector, that has totally vanished.
It is still too early to conclude anything drastic, however, I believe Transocean will weather the storm and will be able to regain some strength in 2017-2018. I have accumulated carefully RIG and will continue.
Disclosure: I am/we are long RIG.
I wrote this article myself, and it expresses my own opinions. I am not receiving compensation for it (other than from Seeking Alpha). I have no business relationship with any company whose stock is mentioned in this article.