When Gaming and Leisure Properties Inc (NASDAQ:GLPI) was spun-off from Penn National Gaming (NASDAQ:PENN) in 2013, it was hyped as the first gaming-focused real estate investment trust, or REIT. It's still the only gaming REIT and investors have sent the shares down some 40% since the spin off. Is this an opportunity or just a realistic reflection of the risks?

Good idea?
If you are interested in the gambling space, but worry about the often volatile nature of casino earnings, I can see where a casino REIT would sound pretty appealing. So I understand why a reader recently asked me to take a look. Indeed, instead of worrying about gambling trends, you just have to worry about the ability of lessees to pay their rent on time. Your upside is constrained by the lease agreements, but you still get a piece of the action-a steady piece. And we all know how much people like to gamble...
So, in some ways, I understand why investors would be interested in GLPI. Add in an around 8.5% yield and the interest increases. But it's worth stepping back a moment to consider the risks. The REIT has seen its shares fall by nearly 40% since it came public, that's a commentary from Mr. Market that should be examined.
For example, right now GLPI is beholden to its former parent. PENN leases 18 of the REIT's 21 casinos and accounts for the vast majority of company's rent roll. If PENN gets sick, GLPI could very easily get sick, too. From day one, GLPI has discussed its plans to diversify, but some two years later the portfolio remains largely unchanged.
The one notable deal on the horizon is to purchase Pinnacle Entertainment (NYSE:PNK). The agreement calls for Pinnacle to be acquired, GLPI to keep the properties, and a casino operating company to be spun off. There's a lot of moving parts, but that's not the piece that worries me. It's the fact that GLPI had to materially increase how much it was willing to pay for PNK, a heavily indebted casino company that struggled to turn a profit after the deep 2007 to 2009 recession.
This isn't exactly a sterling sign that GLPI has wonderful growth prospects in the casino business. Indeed, it doesn't look like too many casino operators are lining up to sell their prized assets to GLPI. And how many casino companies can GLPI buy in full, spinning of a casino operating company and keeping the real estate?
GLPI's best growth options, in my opinion, probably await outside of casinos. More along the lines of EPR Properties (NYSE:EPR), which owns things like golf courses, ski parks, and water parks. A merger between EPR and GLPI would make a lot of sense in many ways, particularly since EPR is currently looking to have a casino erected on a property it owns. And the pair would have a very diversified portfolio of entertainment assets. But that's just my take on things...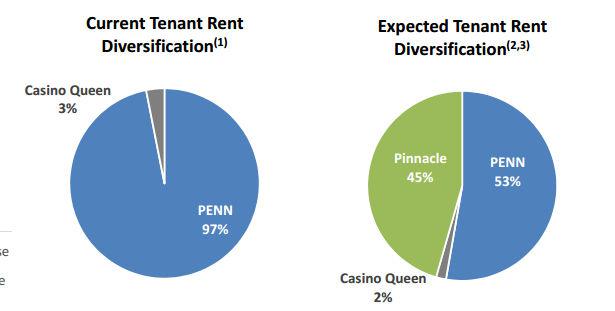 To be fair, the PNK deal will help materially with tenant diversification. Once complete, GLPI will have two tenants of roughly equal size. Yes, that's sarcasm since two tenants in the same industry isn't exactly much diversification. But, to be fair, it's better than what GLPI has going on right now. So, at least on some small level, I see a positive from the PNK deal. But the bigger picture still worries me.
Not worth the risk
For conservative investors GLPI is probably a bad option. It's highly focused on a niche sector that, so far, hasn't offered much in the way of growth potential. At least not the kind of growth potential that I'd like to see if I owned shares-acquiring top properties from top operators. And while the REIT notes that it would like to diversify beyond casinos, it hasn't done so yet. Conservative investors should wait for the promised growth and industry diversification before considering GLPI.
More aggressive investors, however, might be tempted by the yield and pending PNK deal. I can understand that. If all goes smoothly, GLPI's portfolio will gain scale and it will see modest tenant diversification benefits. Time will tell if that actually leads to any dividend growth, but at an 8.5% yield that may be less concerning to an aggressive investor who sees GLPI as something of a special situation play. So if you can accept the risks still inherent in the REIT's business, it might be worth a small investment for the right investor. Just be sure you understand what you are buying because, I have to say it, this one could be a real gamble.
Disclosure: I/we have no positions in any stocks mentioned, and no plans to initiate any positions within the next 72 hours.
I wrote this article myself, and it expresses my own opinions. I am not receiving compensation for it (other than from Seeking Alpha). I have no business relationship with any company whose stock is mentioned in this article.