Stocks nosed higher then turned choppy, while Treasury yields fell and the dollar weakened after the Federal Reserve conceded that U.S. economic growth has slowed and inflation remains quiet.
The Fed held off on any action on interest rates today, as was expected, in a 10-0 vote. But the panel clearly adopted a more dovish tone. "Inflation is expected to remain low in the near term," the Fed said in new, more cautious language.
What's missing? A ringing endorsement of a robust economy that could potentially help drive the stock market higher. But the Fed's tone is also seen as recognition by the central bank that a go-slow approach to unwinding accommodative monetary policy may be in order. For now, stock bulls cheered that revelation. But are the days of volatility over for the stock market? Not likely.
The central bank also hinted at stock market turmoil in the U.S. and China, saying it "is closely monitoring global economic and financial developments."
It wasn't all gloom. The Fed said it expects the U.S. economy to continue to grow "at a moderate pace," helped by a strengthening labor market.
Few on Wall Street expected the Fed to follow up December's rate hike with a move this week. But the group's statement can always potentially carry plenty of punch for markets. After all, since the central bank lifted rates in December for the first time in almost a decade, the economic and market landscape has been redrawn. Oil prices sit at a 12-year low, more evidence of Chinese economic weakness has emerged, and the stock market kicked off its worst start to a trading year ever.
The CME Group's FedWatch Tool suggests futures traders have priced in a 32% possibility of a rate hike at the next meeting on March 16. Stay tuned for more from the Fed.
Before a midday recovery, U.S. stocks tipped lower earlier Wednesday as Apple (NASDAQ:AAPL) and Boeing (NYSE:BA) shares dropped post- earnings and oil dipped back under $31 a barrel.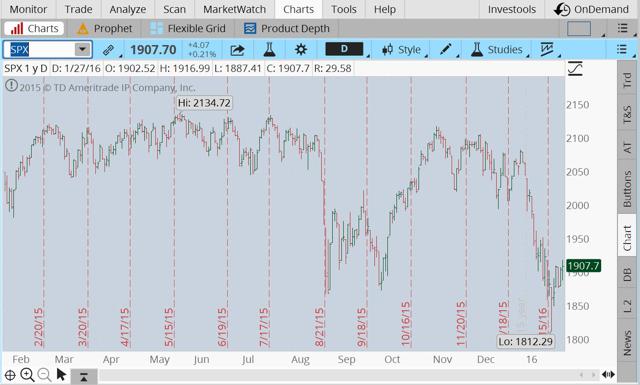 Click to enlarge
Figure 1: Back-and-Forth Action. The S&P 500 (SPX), plotted here through Wednesday afternoon on TD Ameritrade's thinkorswim platform, continues to churn over recent sessions and is still largely tethered to moves in the oil market. It recovered from early Wednesday declines. Data source: Standard & Poor's. For illustrative purposes only. Past performance does not guarantee future results.
iPhone Sales Slow. Apple shares are lower, and are having a psychological drag on the broader market, after its latest earnings report's details hinted at a slowdown from the boom days. Apple said iPhone sales-which account for roughly two-thirds of Apple's revenue, company documents show-grew at the slowest pace since its introduction in 2007. The company forecast that revenue in the current quarter will decline at the steepest rate in 15 years. For the current quarter ending March, Apple said it sees revenue of $50 billion to $53 billion, well below estimated revenue of $55.47 billion from analysts polled by Thomson Reuters.
Boeing's Guidance Stings. Dow-component Boeing is lower after the aerospace giant issued 2016 guidance below Wall Street's expectations. Boeing said it expects to post adjusted earnings between $8.15 and $8.35 in 2016, while analysts polled by Thomson Reuters had forecast $9.43 a share in earnings. The company forecast revenue between $93 billion and $95 billion, while analysts had called for $97.2 billion in revenue.
Earnings Round-Up: Biogen (NASDAQ:BIIB) stock gains after profit and sales beat the Street view; Tupperware (NYSE:TUP) earnings fell, as strong dollar blamed; United Technologies (NYSE:UTX) missed the Street view with sales; AT&T (NYSE:T) came up short with latest revenue figure. Post-close earnings releases include: Facebook (NASDAQ:FB), eBay (NASDAQ:EBAY), Qualcomm (NASDAQ:QCOM), and others.
TD Ameritrade, Inc., member FINRA/SIPC. TD Ameritrade is a trademark jointly owned by TD Ameritrade IP Company, Inc. and The Toronto-Dominion Bank. Commentary provided for educational purposes only. Past performance is no guarantee of future results or investment success.
Disclosure: I am/we are long AAPL.
I wrote this article myself, and it expresses my own opinions. I am not receiving compensation for it. I have no business relationship with any company whose stock is mentioned in this article.