After a disappointing 2015, the new year so far is not shaping up to be much different for Union Pacific (NYSE:UNP). The railroad transport company is already down over 5% on the stock market this year, and the drop has been accentuated by its woeful fourth-quarter results that were released a week ago. In fact, Union Pacific's drop seems justified as the company had missed analysts' expectations by a huge margin on both revenue and earnings.
What gives?
The reason behind the company's weak performance was the steep decline of 22% in coal volumes. Coal transport contributes 15% of UNP's freight revenue, so the drop affected overall freight demand. Additionally, Union Pacific witnessed weakness in almost all its other segments, including industrial, intermodal, and agricultural, as shown in the chart below.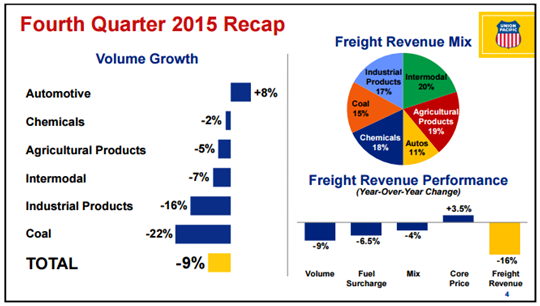 Source: Union Pacific
Due to these volume declines, the 3.5% core pricing gain was not enough to offset the overall weakness, as a result of which the average revenue per car declined 8% in the quarter. Overall, the decline in volumes and lower average revenue per car led to a 16% reduction in freight revenue. What's more, the volume declines were enough to take down Union Pacific's operating ratio by 1.8 percentage points to 63.2% despite a drop in its expense and better pricing. But, are there any positives for Union Pacific in 2016? Let's try to find out.
Coal might not bounce back in 2016
Coming to the biggest concern for Union Pacific, its coal revenue had declined 31 % year-over-year due to a 22% volume decline and an 11% decrease in average revenue per car. The usage of coal for electricity generation is continuously decreasing as natural gas is proving to be more economical source, while it is cleaner as well. As a result, weekly carloadings of coal have declined for Union Pacific, and as shown in the chart below, 2016 has got off to a weak start for the company's coal carloads.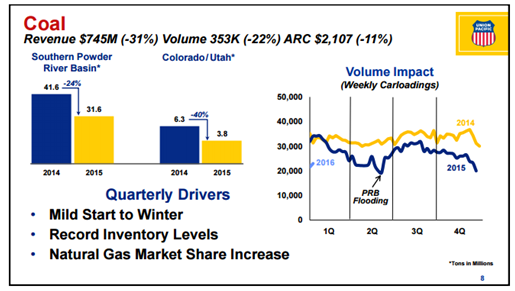 Source: Union Pacific
The key reason behind the drop in Union Pacific's coal volumes is the precedence that natural gas has gained in electricity generation. Nationwide electricity generation from coal has dropped from 37% market share in the fourth quarter of 2014 to 32% in 2015. As a result, coal inventory levels through December were 105 days, 39 days above normal and 43 days above last December.
With aging coal plants being taken offline and replaced by natural gas for both environmental and economic reasons, coal shipments might not be making a comeback anytime soon. Therefore, high coal inventory levels and low natural gas prices will continue to hurt coal shipments in 2016.
Is there any hope for a coal recovery?
Considering the impact of coal on Union Pacific's business, it is important to see where the fossil fuel is headed in the next two years. As we have already seen above, 2016 is going to be a difficult year for coal. However, in 2016, coal production is slated to drop 4% this year as compared to 11% last year, according to the EIA. Additionally, in 2017, coal production is anticipated to drop only 1%.
On the other hand, an expected increase in natural gas prices from $2.65/MMBtu in 2016 to $3.22/MMBtu in 2017 will swing the favor in coal's balance to some extent. In fact, in 2016 and 2017, the decline in coal consumption by the power sector is anticipated to remain almost consistent in 2016 and 2017 after the steep decline in 2015, indicating that coal volumes could stop declining going forward.
In addition, the increasing usage of technologies such as carbon capture from companies such as FuelCell Energy (NASDAQ:FCEL) that allow coal plants to reduce carbon emissions by 70%. This, in addition to the rising prices of natural gas in the long run, will help coal maintain its relevance and record better volumes. So, in the long run, an improvement in Union Pacific's coal business cannot be ruled out.
Conclusion
Union Pacific will find the going difficult in the short run as coal volumes will be under pressure due to weak natural gas pricing. However, due to an expected improvement in natural gas pricing next year, along with some stability in coal consumption by the power sector, the company's coal volumes could get better. Thus, investors should not rule out a turnaround for Union Pacific's coal business as the same could improve in the long run.
Disclosure: I/we have no positions in any stocks mentioned, and no plans to initiate any positions within the next 72 hours.
I wrote this article myself, and it expresses my own opinions. I am not receiving compensation for it (other than from Seeking Alpha). I have no business relationship with any company whose stock is mentioned in this article.