A reader recently asked me to take a look at CPI Card Group (NASDAQ:PMTS), a recent financial IPO. The complaint by the reader was that publicly available research was scarce, and I agree. As far as IPOs go, this one just didn't seem to get much traction with the investing public. The company's offering, initially expected to price 17.6M shares at a range of $16-18/share, was moved down to a $12-13 range quite quickly, and was subsequently lowered again to just 15M shares at $10/share. As a result, net proceeds were just $137.5M after the underwriters' cut and fees, a far cry from what the company had hoped for. CPI Card Group management and underwriters blamed a volatile underlying market for the weak initial demand for shares, and this lack of interest turned out to be a solid foreshadowing of share price weakness to come. While shares initially traded as high as $13.50 in the first few days of trading, the value of the equity has since fallen sharply, trading below $8/share as of this writing.
Majority owner PE firm Tricor Pacific, who has had full ownership of the company since 2007, is likely not happy to still be holding on to such a significant remaining stake, despite sitting on a hefty profit even with depressed prices. While known for illiquidity, PE funds rarely aim to hold on to company ownership stakes for as long as Tricor Pacific has with this one. The spectre of further sales by Tricor Pacific over the next several years has likely contributed to continued weakness. Nonetheless, the company has seen some stellar growth over the past several years and is solidly profitable. Is there an opportunity to pick up shares on the cheap?
Business Model
You've just signed up for a checking account at your local bank and requested a debit card. How does it get to you?
If you assumed the bank has a card-making machine of their own, you'd likely be wrong. Small regional banks don't generate nearly enough volume to make doing it in-house viable currently, and larger banks have better things to worry about other than churning out cards to send to consumers. Companies like CPI Card Group fill that void and provide a valuable service, handling fulfillment of orders of new cards. The company has seven high-security facilities in North America, all of which have been certified and approved by one or more of the large card brands (Visa (NYSE:V), MasterCard (NYSE:MA), American Express (NYSE:AXP), etc.) in the manufacture and distribution of these cards to consumers. The company estimates it holds the top market position for U.S. small issuers like regional banks and in the prepaid debit card market, while also holding a market-leading position in issuing cards for larger brands like JP Morgan Chase (NYSE:JPM) or Citi (NYSE:C).
Despite the admittedly non-inventive business model, the company is at the center of some very powerful macroeconomic trends: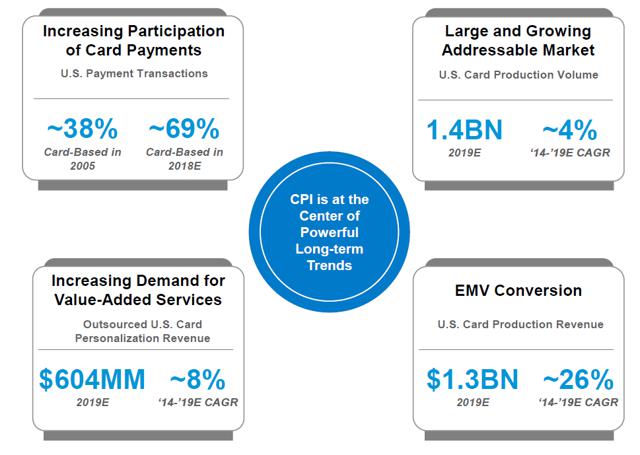 Click to enlarge
*CPI Card Group, Investor Presentation
Payments in the United States made via card (both credit and debit) are growing solidly each year. Ease of use and the temptation of rewards have drawn more and more consumers away from paying with cash to instead pulling out plastic. Furthermore, the shift to EMV (or chip & pin) will boost demand exponentially over the next few years as all cards in the United States are converted to the new payment system. Magnetic stripes are going the way of the dodo, and chip technology is proposed to be the next best thing by credit card companies, all in the name of reducing fraudulent transactions.
Balance Sheet Shift
In August of 2015 (shortly before its IPO) the company entered into an agreement to open a first lien term loan facility, which provided $435M in proceeds, along with a $40M revolver. Interest rate paid is Eurodollar + 4.5% or base rate plus 3.5%, at the company's discretion. This rate stood at 6.375% at the end of the most recently reported quarter. The company also pays a commitment fee (0.375-0.5% annual) on untapped portion of the revolver. While this seems like a poor deal at face value, in actuality its opening significantly helped the company's finances.
The vast majority of these proceeds were used to buyback nearly all of CPI Card Group's outstanding preferred shares, with the rest of the preferreds being settled by IPO proceeds. These shares were earning a dividend of 20% annually and carried penalties on redemption. The cost to settle was high - $277M, $221M of which was owed payments classified as dividends. The company was paying out $43M in annual payments on the preferreds, and the new loan facility will cut that by $10M annually.
As the company was set to trade publicly, getting rid of these costly preferreds as soon as possible was necessary. It was a painful hit, but it is an unfortunate fact of life that small, private companies like CPI often have to accumulate very expensive financing to fund growth. Ripping the band-aid off now is better than paying 20% into perpetuity, and management took the right steps.
Net debt/projected 2015 EBITDA stands at 4.2x, which appears slightly high at first glance. Given continued expected EBITDA growth for the next two years (Q4 will come in at 25M in EBITDA by my estimates) and the fact that the company is already cash flow positive, this ratio will quickly begin to improve as the company grows into its own shoes. Debt reduction will likely be a key target by management over the next two years with its operational cash flow.
Operating Performance

CPI Card Group is actually a highly profitable company. EBITDA margins are above 30% in the company's two most important segments, and this will only improve with time. While revenue has grown at a CAGR of 28%, adjusted EBITDA margin has grown by 50% over the same timeframe. Clearly, like many factory businesses, there is significant leverage in the business model as variable costs of producing another card are relatively low compared to the fixed costs of running the business.
The company reports in three main segments: U.S. Debit and Credit, U.S. Prepaid, and U.K. Limited.
The core business is the U.S. Debit and Credit business, which fills orders for cards as instructed by issuing banks and mails them out to customers. The U.S. Prepaid segment performs fulfillment for prepaid card products, as well as the manufacture, packaging, and shipment of gift cards to retail locations for sale. The U.K. business is a small part of the overall business, in which the company primarily manufactures loyalty and gift cards in the United Kingdom.
EBITDA margins are highest in the U.S. Prepaid segment, likely due to the additional manufacturing that goes into these cards. Gift cards require additional packaging, tamper-proof seals, and other preparation in order to be presentable for sale on gift card racks at the nation's largest retailers.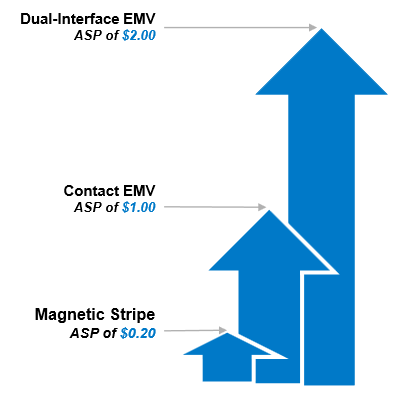 *CPI Card Group, Investor Presentation
Average sales price for card products currently fluctuate around $1.00/each, dependent on the aforementioned product mix and order timings. As magnetic strip cards will soon be mostly obsolete, prospective investors should expect average sales prices to trend upwards over time.
IPO Timing, Future Growth Prospects
Company management chose 2015 as the year to IPO in for a reason. The shift to EMV makes an excellent catalyst to point to as a clear growth driver over the next several years. By 2017, nearly all credit and debit cards will have been replaced with EMV. While EMV is voluntary, it is likely to at least marginally reduce fraud, and $1.00/card is a small price to pay to help cut losses.
Additionally, the so-called "liability shift" means that liability for a fraudulent transaction falls on the party with the older technology. If a merchant has an old swipe card reader and a fraudulent charge takes place on an updated card, the merchant bears the cost. If the opposite is true, the card issuer bears the cost (as per what is usual now). An early shift by banks to new cards is therefore presents the possibility of shifting the cost of fraud on merchants for a change, which could boost card issuer bottom lines.
Of course, management does have a plan beyond the demand boost that will be present in 2016/2017 from EMV conversion, and that is just the simple replacement cycle: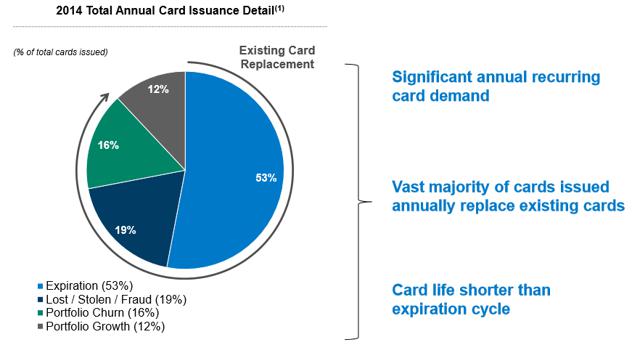 Click to enlarge
*CPI Card Group, Investor Presentation
We've all done it. We've lost a card, it becomes damaged, or we just grow tired of looking at that beat up old card in our wallet and want a new one. While credit cards are generally good for five years or so depending on card issuer from the date of issuance, they often don't make it that long. As of 2015, there are 1.2B cards in force in the United States, and at the minimum they will all have to be replaced once every five years, or 240M annually assuming no growth. In reality, cards in force in the United States will grow as the populace further shifts to spending on debit and credit cards and away from cash. The company estimates 4% growth in total cards through 2019, which I think leans on the softer side of the market potential.
Valuation
Like everything else, it all comes down to valuation. With $120M in EBITDA likely in 2016, the company trades at roughly 7x EV/2016 EBITDA. Before running off to call your broker, however, it is likely to remember that the company will see EBITDA contraction when the tailwind from the EMV shift will be over.
Revenue more than doubled in the U.S. Debit and Credit segment in the first nine months of 2015 compared to the same period in 2014. As a result, EBITDA was $30M in 2014, compared to $90M in 2015. However, this doesn't adjust for the EFT Source acquisition that took place late in 2014, which was responsible for roughly 50% of the jump in revenues, with EMV accounting for the other half.
Normalized EBITDA likely falls somewhere in the middle. We can assume $60M in "normal" EBITDA from the U.S. Debit and Credit segment, along with $30M from the Prepaid segment and $3M from U.7. Limited. All told, assuming $20M in corporate overhead costs, normalized EBITDA is around $53M, or 11x EBITDA. Not cheap, but not break-your-back expensive either.
All told, at or around $8-9/share, shares likely trade around fair value, slightly towards undervalued in my opinion. The problem for the company is growth from 2018-onwards, but investors should expect the press and focus to be around the company's 2016 and 2017 results. Substantial free cash flow will be generated, and management will likely make solid payments towards paying down its first lien term loan early. If you're an investor who went long at recent lows, you likely could do much worse than CPI Card Group when it comes to risk-adjusted returns.
Disclosure: I/we have no positions in any stocks mentioned, and no plans to initiate any positions within the next 72 hours.
I wrote this article myself, and it expresses my own opinions. I am not receiving compensation for it (other than from Seeking Alpha). I have no business relationship with any company whose stock is mentioned in this article.