Introduction:
According to industry sources Macau Gaming Bureau (DICJ) and Asian Pacific Gaming Consultancy Group's preliminary estimate (you will need paid subscription for this service), the average daily run rate (ADR) for the closely watched third week of January came in at HK$460 million. Whilst this is 5% higher than the previous week, this is 15% lower than December 2015's average ADR. The results will be a huge disappointment to industry watchers who would have hoped the Chinese New Year festive season could boost GGR numbers. Company filings last week that showed Steve Wynn adding 572,000 shares through his family limited partnership sent shares of Wynn Resorts (NASDAQ:WYNN) up 12.5% and closed out most of my short positions in WYNN. The latest news however darkens the outlook for WYNN. I will be looking to add additional short positions on rallies.
GGR for third week of January disappoints
Quite frankly, I would be lying if I said I did not hope for more clarity on GGR numbers for 2016. This has been my ongoing thesis for what will change my stance on WYNN or Las Vegas Sands (NYSE:LVS). Like many investors, I'm itching to accumulate shares of WYNN or LVS on the cheap, but I keep a disciplined approach of doing so only if this is supported by data.
Regular followers of WYNN will recall that I had emphasized the importance of the third and fourth weeks GGR because of the proximity to the Chinese New Year. And while we did see an uplift of 5% on a week-on-week (wow) basis, the numbers are still 15% lower than that seen in December's average. Despite seeing a rise in visitors in Macau from the Taipa Ferry Terminal's opening, the GGR numbers for the third week of January have failed to follow.
Flurry of different events in focus
A long list of events in the next few weeks will see more volatility for the gaming counters. Firstly, we will get LVS reporting their results followed by WYNN. Secondly, we also will get the overall GGR numbers for January, which should give us a sign of things to expect in 2016.
Lastly, the Macau government is scheduled to give color on the smoking ban announced last year. There is optimism among the sell-side analysts I speak to that the Macau government might relent on this issue, given that a full smoking ban if upheld is estimated to cut Macau GDP by 16% and hurt gaming operators as well.
If the Macau government does relent on this issue, then I think we will see a rally in the gaming counters and some support for the critical VIP segment as well for 2016.
Valuations
Based on their closing price on the 26th of January, WYNN is currently trading at 12.7x EV/EBITDA on a trailing basis vs. the sector's 9.6x, which is rich in my view given the uncertainties facing the sector and offers little room for upside.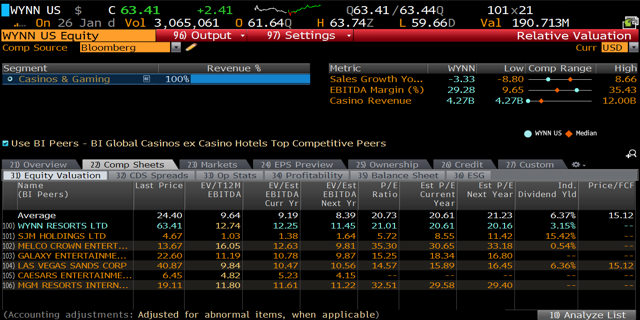 Click to enlarge
Source: Bloomberg
I continue to think LVS is the best positioned among the gaming counters to ride the recovery in the gaming sector, and just last week, upgraded LVS to neutral. Despite the announcement of Steve Wynn accumulating more shares, I continue to be underweight WYNN but the rally over the past few days trimmed my short positions as the stop losses were triggered. I think this announcement is likely to only see a temporary relief in the share price of WYNN, and I will look to add to my shorts in any strong rally.
Disclosure: I am/we are short WYNN.
I wrote this article myself, and it expresses my own opinions. I am not receiving compensation for it (other than from Seeking Alpha). I have no business relationship with any company whose stock is mentioned in this article.