I don't think anyone will disagree with me when I say that if oil stays at current prices, Energy XXI's (NASDAQ: EXXI) equity will eventually go to zero. So why am I interested in this stock? Before we get into Energy XXI, I'm going to get a bit off topic. If you followed me for a while, you probably know that I sometimes analyze distressed companies simply because their potential reward is phenomenal. The trade-off is that the risk of permanent capital loss (i.e. the company going bankrupt) is great as well. In the V20 Portfolio, there is one such company called Dex Media (OTCPK: OTCPK:DXMM). It was a dying business (involved in yellow pages), but I believed that it might have some residual equity value. At the time of writing, shareholders are still waiting for the verdict from restructuring negotiations. In some ways, Energy XXI is very similar to Dex Media. A dying business (thanks to oil) laden with debt.
However, there is one critical difference: turn around potential. Unlike the death of yellow pages, energy prices are highly unpredictable. Volatility is a dual edged sword. In fact, the management of Energy XXI was so confident that they were still repurchasing shares in 2014, when downside was much higher than upside for every dollar movement in crude prices. Fortunately for us, I believe that the tide has turned, and shareholders can once again benefit from volatility.
This article will be about asset allocation as much as the company itself. Let me first preface by saying that I think the equity of the majority of distressed E&P companies can only be beneficial when evaluated in a portfolio context. For those who follow the V20 Portfolio, you probably know that I've been looking for a hedge for the position in Spirit Airlines (NASDAQ: SAVE). Unfortunately, I've yet to see any "normal" (i.e., non-distressed) E&P companies that are undervalued. This is what led me to shift my focus to distressed companies.
Why is Energy XXI an ideal hedge? The most important thing I look for is that the company should still be a going concern in the near future. In other words, if the company is going bankrupt next week, then buying the equity would be pointless. I believe that Energy XXI still has at least a year left. The company's nearest maturity is in December 2017, roughly two years away. However, the company was going to breach various covenants, meaning that debt would have been accelerated.
Thankfully, the company was able to make arrangements with the bank to relax the covenants in November 2015. Following the changes, secured leverage ratio was delayed to 2017 and will increase from 3.75x to as much as 5.25x in June 2016. Furthermore, the borrowing base remained at $500 million. Clearly the bank is giving the company a lot of room so it can work through the commodity downturn.
Once we've established that the company is at least a going concern in the near future, we can start to determine how high the equity could go. Clearly this detracts from my typical value investing philosophy, but as mentioned earlier, the goal is to utilize the stock as a hedge. When looking for a hedge, we want to decrease the cost of hedging as well as risk. Because the V20 Portfolio does not have direct exposure to crude, using a direct hedge such as future contracts would not be a wise choice (equal upside and downside).
The best instrument would be using options (limited loss, unlimited upside). If we want to directly hedge crude exposure, we can say purchase December 2016 options, which is currently trading at $5.91 for the $39 strike. Adding on the cost of the option, the breakeven price of $44.91 (5.91+39) is more than 40% of the current WTI price of $31.88/bbl. In comparison, the equity of Energy XXI is much cheaper.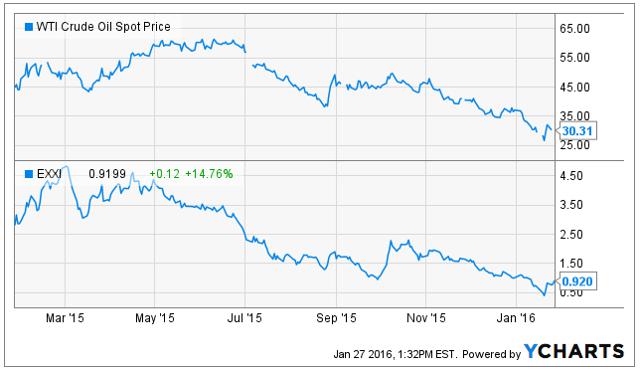 Click to enlarge
In the chart above, we can see that if oil rises to the $45 range, the stock could rise to more than $1.50. This represents an upside of 63%. Had you purchased the aforementioned crude options, they would've expired worthless.
Portfolio Considerations
As mentioned earlier, there is a good chance that the shares may be worthless in the long run. This means that you must control the size of the position to reflect the other side of the hedge. Let's suppose that you have a massive short position on crude or other E&P companies, then you may wish to initiate a larger position in Energy XXI. On the other hand, if your only exposure to oil is indirect (like the V20 Portfolio's position in Spirit Airlines), then you should not have a large position in the company.
Note: I spend a great deal of time researching every company in the V20 Portfolio (+40% in 2015). If you are looking for some ideas that could complement your own portfolio, you can click the "Follow" button and be updated with my latest insights. Premium subscribers will get full access to the V20 Portfolio.
Disclosure: I am/we are long SAVE, DXMM.
I wrote this article myself, and it expresses my own opinions. I am not receiving compensation for it (other than from Seeking Alpha). I have no business relationship with any company whose stock is mentioned in this article.
Editor's Note: This article covers one or more stocks trading at less than $1 per share and/or with less than a $100 million market cap. Please be aware of the risks associated with these stocks.