TransCanada Pipeline (NYSE: TRP) is one of those companies that, prior to the current commodity meltdown, might have been called a "widows and orphans" stock. Indeed, it had all of the appeal of one after a wonderful run. The shares could be had for the whopping price of $10.05 back on February 18, 2000. At that time, they had sold off from as high as $21 six months prior in August 1999 in a volatile period of the 1999-2002 tech wreck era, which, of course, had nothing to do with this oil pipeline, gas transmission and utilities delivery business. And that is a worthy starting point for this article.
Why? Because that was the last bit of pain TRP investors had to endure. Since then, they have experienced one of those special runs that convinces ordinary investors they can pick stocks. The stock never split, and touched a high of $61.92 on September 19, 2014 (making it a six-bagger, briefly), but the real impressive story here has been the dividend. Here is a graph showing the payout, which has grown every year for the past 15 years: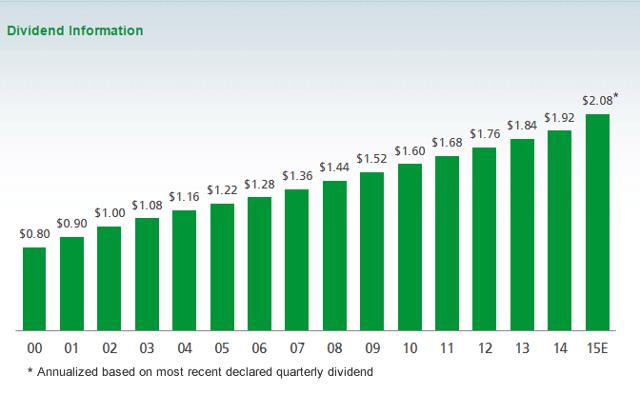 Click to enlarge
Source: TransCanada website
The dividend payout on 100 shares was $8.00 (on a $110 investment) in February 2000, and that investor would have since collected $226.40 in dividends. This is why the stock is a heavily covered, mega-cap by Canadian standards, and has almost 6% of its Canadian float owned by just five Canadian mutual funds and 49% total institutional ownership. The institutional money in a stock like this is big because of the big stable dividend, long history of performance and regulated nature of much of the company's business. It had a conservative payout ratio historically until it started inching up to 91% at Q3 2015, and is now sitting at around 87% ($2.08 projected dividends/$2.38 projected earnings 2015). As you know, any company with such a high payout ratio is higher-risk, because that means it is paying out almost all its profits to shareholders, and this is a company with huge expansion plans, and therefore, capital expenditures on top of that. This is dangerous. Persistently low revenues will not be wished away by the CEO saying "headwinds" in his speech 20 times at the AGM with a company like this, and revenue can remain under pressure as volumes decline, pipelines don't get built, and capex and dividends continue to flow out of the company.
The stable nature of the company's business stems from much of it being in the utilities and power generation sector, which is regulated and generally granted the power to raise rates annually, as well as its existing pipeline infrastructure, some of which is dependent on volumes and therefore vulnerable to commodity prices, but much of which is rented at preset rates regardless of volumes. According to the latest Bloomberg data, the current breakdown of revenues is 48% natural gas transmission, 37% power generation, and the remaining 15% in oil transmission. This makes the company much less vulnerable to big swings than pure plays on the commodities that flow through its pipelines, as the following chart of its performance against investments that closely track WTI crude oil and NYMEX natural gas futures demonstrates:

Click to enlarge
Source: Google Finance
The company's performance appears to have been more correlated with the commodities it delivers in the 2012-2014 period until the wheels started to come off oil and natural gas in Q4 2014. Throughout this five-year period, the stock has proven to be a stout one and held up remarkably well, again considering what one was getting "paid while they waited" in dividends. TransCanada, it must be noted, not only outperformed the commodities it delivers, but also its peers in the past year:

Click to enlarge
Source: Google Finance
Now, the same chart will tell you that TransCanada outperformed all of the companies over a greater than 15-year period but underperformed several of them on the 5- and 10-year charts. That's fine. Past performance is irrelevant to our current, and indeed any forward-looking, analysis. What is interesting to note is how the stock price as held up in the past 12 months.
Because there have not only been issues with the absolute swan dive in commodities, but the company has also been in the news for all the wrong reasons. It spent $2.8 billion on the Keystone XL pipeline as of August 2015, disclosed in this line in its Q3 report:
"As of September 30, 2015, we have invested US$2.4 billion in the project and have also capitalized interest in the amount of US$0.4 billion."
The pipeline was finally rejected by the Obama Administration on November 6th. It faces little public buy-in to its Energy East pipeline in Quebec, particularly after having to cancel construction of a terminal in Cacouna, Quebec due to the presence of a Beluga whale habitat. (Quebec municipal leaders also piled on against the pipeline in the Canadian media last Friday. It is not their jurisdiction, but the bully pulpit may have soured the ears of an already skeptical public even more.) It has taken a $34 million adjustment to pay the corporate tax increase enacted by the Notley government in Alberta, where it is based (Q3 report, page 10). Yet, these are mostly superficial issues; a look at the the company's "financial snapshot" page shows revenue increasing steadily every year along with liabilities, long-term debt, capital expenditures, and the payout ratio. That was all gravy until the oil crash, and suddenly an undetermined but high amount of Canadian oil does not have the economics to be extracted at $30 a barrel.
My market expectation is that the tug of war will continue going forward. There will be people and institutional money buying into the dividend growth story and realizing that TransCanada is a company with a 60+ year history of operating that has stakes in robust, active assets like the Bruce Power nuclear generating complex on Lake Huron in Ontario that will survive the rout. At the same time, the stock will have to contend with negative sentiment around news headlines. The Western Canadian provinces of Alberta and Saskatchewan have gone from the serial economic outperformers in the Canadian federation to bust in the space of just over one year. Adding to the pain of the commodity price collapse is that these provinces lack any outlets to deliver the commodities they produce (re: heavy crude oil) to the oceans for shipping within Canada.
TransCanada, therefore, had been the logical candidate to remedy the situation with its history and market position, and was willing to invest significant capital to do it. Keystone XL was projected to cost $7B, Energy East over $15B. These pipeline politics do create drama in the stock price; as you see on the chart, the 1-year low touched last November was due to the Keystone rejection. Our bird's eye view fundamental analysis would seem to indicate, however, that TransCanada and its profitability are here to stay, and management's commitment to annual dividend increases through 2018 obviously signals confidence by the people who run the company. However, pipeline politics and uncertainty are likely to continue to be a source of volatility for this stock, and the American pipeline operator Kinder Morgan's (NYSE:KMI) dividend cut that occurred two months after an increase shows that there is no longer anything to be taken for granted in the once "brainless" business of transporting oil through pipelines. The company has just launched two lawsuits against the US government for the Keystone rejection under NAFTA provisions, but according to expert Gary Nufbauer, it stands little chance of winning due to the wide degree of discretion given to the host country in matters of environmental protection. Given those odds, TransCanada is probably is throwing good money after bad and should have just waited until the November US presidential election to see who will be elected president. Anyway, not something we need to dwell on to set up a near-term trade; earnings are on February 11, and the stock goes ex-dividend at the end of March. We are collecting a 4.67% annualized dividend based on Wednesday's close if we get into the stock right now.
So, how do we trade TRP?
Click to enlarge
Source: Google Finance
The stock has been meandering in a downtrend for the better part of the year since its peak in February 2015, but has withstood the massive sell-off of the broader sector impressively for reasons we have just documented. In fact, it would have been possible to catch a 20% bounce off the November low if you had bought it; however, that had now been reduced to 10% yesterday with the extreme volatility we have seen in the energy sector the past couple of days, followed by a huge bounce today. Expect more gyrations, as oil is taking wide swings to figure out where it is going.
Owning 100 shares of TRP will set you back about $3355 as of Tuesday's close, and you have to wait until March 29th to collect your $38 quarterly dividend - and who knows what will happen in the oil market between now and then. If you have a bearish thesis, a bear call spread will allow you to collect some option premium by selling a lower strike call and buying a higher strike call, with the difference between the two amounting to your maximum risk. Since that will likely be a few times higher than your initial credit, you might want to avoid it, since the stock could continue to move upward if oil is breaking out of its basement.
You could also reduce your $3355 cost by writing a covered call on your 100 shares - a more conservative strategy, but ultimately counterproductive if this mini-rally in oil fizzles and you're left holding a company with an unsustainable payout ratio and $29 billion of long-term debt.
Straddles are a good way to play a volatile stock whose direction we are unsure about, and the stock is volatile like anything to do with energy right now. But when we pull up the implied volatility for TRP, we can see it is up quite a bit this year: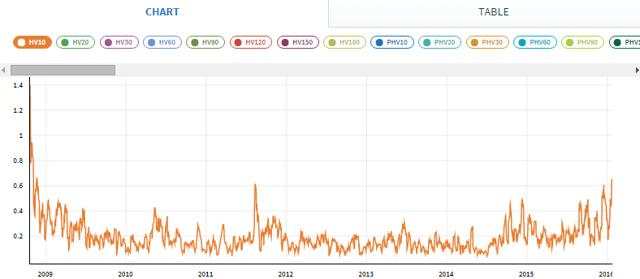 Click to enlarge
Source: Quandl.com
This means we want to be selling overpriced options, not buying them. Even if we buy, say, a $34 call and put six weeks out, we need a big move in the stock either way to make money, and we may get doubly hammered if the stock muddles along and has a big drop in IV.
My bottom line takeaway is that there is a lot uncertainty in this name despite the sterling dividend grower reputation it enjoys, due to the sector in which it operates, declining revenue, and uncertainty around future revenue sources/growth drivers. I would tread carefully with this name and seek to narrow risks with option positions, but if you have a lot of conviction on oil's direction, there are probably way more volatile names that could give a better risk/reward profile.
Disclosure: I/we have no positions in any stocks mentioned, and no plans to initiate any positions within the next 72 hours.
I wrote this article myself, and it expresses my own opinions. I am not receiving compensation for it (other than from Seeking Alpha). I have no business relationship with any company whose stock is mentioned in this article.