Baker Hughes (NYSE:BHI) reports quarterly earnings on Thursday before the market opens. Analysts expect the company to deliver revenue of $3.47 billion and losses per share of $0.10. The revenue estimate implies a decline of 8% sequentially. Investors should focus on the following items during the quarter:
North America Will Weigh
Oil prices sub-$30 have pounded land drillers and hampered their ability to service their debt. Through mid-December, there were an estimated 41 oil & gas bankruptcies; the lion's share has been shale plays with high break-even costs. Their cuts in capex helped lead to double-digit revenue declines for Schlumberger (NYSE:SLB) and Halliburton (NYSE:HAL) in Q4. I expect Baker Hughes to report a double-digit decline as well.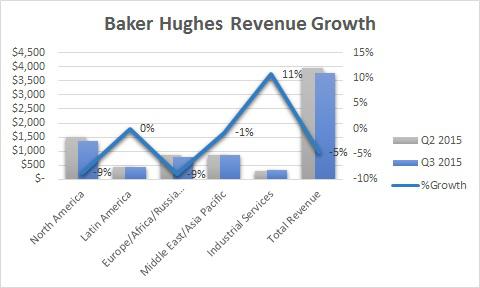 Source: Shock Exchange
In Q3, the company's total revenue was off Q/Q by 5%. A double-digit decline in North America could have an outsized impact given that 36% of total revenue comes from the region. Halliburton's management believes 2016 service spending in North America could fall Y/Y by 30% to 50%. That implies North America could weigh on Baker Hughes for the next four quarters.
Will EBITDA Margins Break Support?
Baker Hughes has done a yeoman's job in maintaining its EBITDA margins. Through cost containment efforts - including headcount reductions - normalized margins increased from 10% in Q1 2015 to 14% in Q3. In my opinion, management will be hard-pressed to continue to reduce costs without cutting into muscle. Secondly, if the revenue reductions are coming from the company's largest area, it may be difficult to cut costs at the same pace as revenue declines.
I would not be surprised if EBITDA margins tick down this quarter; further revenue declines in North America could cause margins to fall back to the 10% level that they were in Q1 2015. Regardless of how Baker Hughes does in Q4, it may be prudent for longs to price in a serious diminution in the company's earnings in the first half of 2016.
Conclusion
I believe investors should ignore the proposed merger with Halliburton for now and focus on BHI's fundamentals. Q4 2015 results will likely be unimpressive and the first half of 2016 could be worse. Investors should continue to avoid the stock.
Disclosure: I/we have no positions in any stocks mentioned, and no plans to initiate any positions within the next 72 hours.
I wrote this article myself, and it expresses my own opinions. I am not receiving compensation for it (other than from Seeking Alpha). I have no business relationship with any company whose stock is mentioned in this article.