Background
Today at 10:30, the United States Energy Information Administration, or EIA, will release its weekly statistic detailing the changes in Natural Gas storage in the United States. This is a major market moving number as a draw these days could send natural gas soaring upward, and a build could send natural gas plummeting lower. We try to help investors prepare for today's, as well as coming weeks' releases from the EIA regarding natural gas storage.

Volatility Spike
When the EIA statistics are released, volatility spikes in a few different markets are undeniable, most especially in natural gas futures as well as related natural gas backed ETFs.
On the 5-day chart below, note the severe downward spike in UNG prices followed by a rebound on January 21st when last week's numbers were released. There is high volatility coinciding with the 10:30 announcement on Thursday, January 21st. If only CBOE offered a Natural Gas Volatility Index to better track this...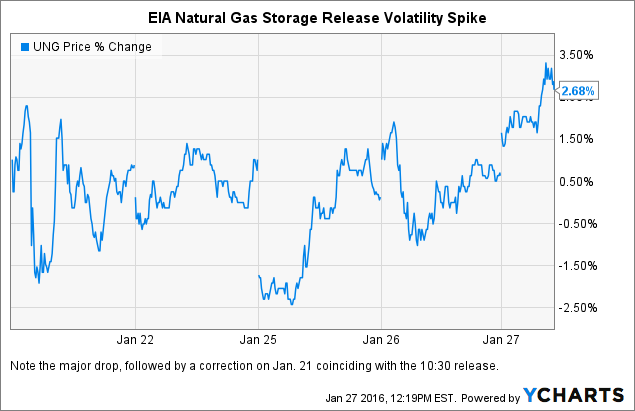 UNG Price data by YCharts
ETFs to Gain Exposure
There are many ways to use ETFs to trade the release of this natural gas number, eliminating the necessity to start a futures account. Listed below are various ETFs that can be used to gain exposure to the swings coinciding with the Thursday 10:30 EIA release.
Depending on if one expects/observes a build in inventory (net natural gas added to storage) or a draw in inventory (net natural gas decreased in storage), investors and traders alike can take their positions accordingly in the following ETFs and more. We even included a handful of leveraged options as well for those who like to add leverage to their natural gas trades.
Also, for those who like using options to place your bets, all ETFs listed below are also optionable with the exception of DCNG, UGAZ and DGAZ.
| | | | | |
| --- | --- | --- | --- | --- |
| Fund Name | Ticker Symbol | Optionable? | Build in Inventories (+) | Draw in Inventories (-) |
| United States Natural Gas Fund | UNG | Yes | Short | Long |
| United States 12 Month Natural Gas Fund | UNL | Yes | Short | Long |
| Seasonal Natural Gas ETN | DCNG | No | Short | Long |
| DJ-UBS Natural Gas Subindex Total Return ETN | GAZ | Yes | Short | Long |
| Ultra Bloomberg Natural Gas Fund | BOIL | Yes | N/A | Long |
| UltraShort Bloomberg Natural Gas Fund | KOLD | Yes | Long | N/A |
| VelocityShares 3x Long Natural Gas ETN | UGAZ | No | N/A | Long |
| VelocityShares 3x Inverse Natural Gas ETN | DGAZ | No | Long | N/A |
Conclusion
We hope that this has been a useful and comprehensive guide to using ETFs to trade the EIA Natural Gas Storage release today at 10:30, as well as for the coming weeks. Since it is one of an energy futures trader's favorite releases, we figured it would be of interest to those more interested/involved in natural gas ETFs as well.
We hope that this helps both investors/traders looking to make an anticipatory move leading up to the release, as well as investors/traders looking to make a reactionary move coinciding with the release.
Before doing either, be sure to familiarize yourself with the most recent EIA Natural Gas report in order to better react to today's! A link to the most recent EIA release is listed below. The format stays the same week to week, and unless there is a major holiday, these stats are always released the same day and same time every week.
References
Weekly EIA Natural Gas Storage Histogram
Most Recent EIA Natural Gas Release
Disclosure: I/we have no positions in any stocks mentioned, and no plans to initiate any positions within the next 72 hours.
I wrote this article myself, and it expresses my own opinions. I am not receiving compensation for it (other than from Seeking Alpha). I have no business relationship with any company whose stock is mentioned in this article.
Additional disclosure: Not Investment Advice.