Background
We dig into Chegg Inc. (NYSE:CHGG) to see whether or not this stock with such high short interest is poised for a short squeeze or primed to plummet further. In the process, we dig through recent news for Chegg, analyze its short interest over the last year, as well as mark our calendars for the company's upcoming earnings announcement. Additionally, we look into one major fundamental underlying Chegg's business structure: college enrollment.
Overall, we try to determine the trajectory for this beaten-down stock, which, as seen below, has tumbled roughly 15% YTD. This is near Chegg's all-time lows. With the Q4 2015 earnings release just a few weeks away from today, and a short interest update coming even sooner, we try to determine whether or not to expect a short squeeze in Chegg.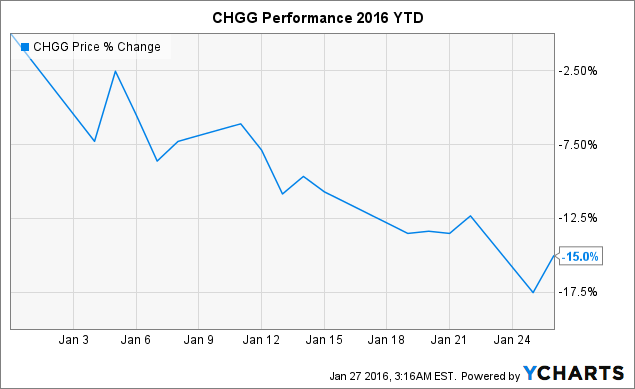 With the stock down 15% YTD, it is not unlikely to expect some panic selling down here despite the irrationality of doing so. However, rationality must take hold eventually, as Chegg is a widely covered stock, with 10 different firms currently offering analyst coverage.
Major firms' analysts covering Chegg include Bank of America Merrill Lynch's Nat Schindler, J.P. Morgan's Doug Anmuth, and Piper Jaffray's Mike Olson.
Short Interest
When we look into short interest for Chegg, we are paying specific attention to two different figures. We are looking for short interest as a percentage of float, as well as days to cover.
Short interest as a percentage of float is a straightforward calculation dividing shares held short by shares in float.
Days to cover is calculated by dividing shares held short by average daily trading volume for the stock. This estimates roughly how many days it would take to cover all of the short positions.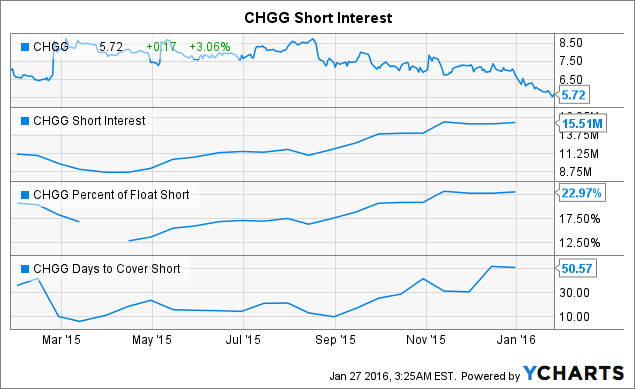 One of the major catalysts for a short squeeze in a stock is for a fundamental change to occur that forces shorts to cover. Since short interest is reported semi-monthly, we can only get a definitive reading twice per month.
Short interest in Chegg was up slightly by 192,499 shares between December 15th and December 31st alongside downward trading. However, investors will receive an update in the coming days noting up-to-date short interest in the stock.
Fall Semester Textbook Tailwinds
Chegg's customers are students. There is no arguing this, as it is a major player in the textbook and test/homework assistance landscape. Many investors/traders may have forgotten that while it is January, and winter break for students has ended, the company's upcoming earnings report is for Q4 2015.
This will include the fall 2015 semester for college and high school students. As this is the time when many students kick into gear purchasing or renting textbooks, this should provide a nice tailwind for upcoming Chegg earnings that may not be baked in just yet.
According to data from the National Center for Education Statistics, estimated student enrollment for 2015 was flat compared to 2014; however, they estimate a rise in enrollment for 2016, from 20.24 million students (public and private) to 20.49 million.
Varying Price Targets on The Street
On October 4th, 2015, both Piper Jaffray as well as Bank Of America raised their price targets on Chegg. Piper Jaffray raised the target from $9.00 to $9.50, while Bank of America raised the target from $10.50 to $11.00. From today's close of $5.72, these price targets offer a potential upside of roughly 83% and 92%, respectively.
On November 11th, 2015, Craig-Hallum analyst Mitch Bartlet initiated coverage on Chegg with a $10.00 price target and a Buy rating. Based on today's closing price, that is just a hair under 75% upside potential, based on this price target.
Chegg is the Future
One final longer-term note is that online-based services like Chegg are the future. Major competitors to the company in the textbook space include online heavy hitter Amazon (NASDAQ:AMZN) as well as Barnes & Noble Education Inc. (NYSE:BNED), which is the operator of college/university bookstores.
Our side-by-side comparison below shows that these three stocks are very different from one another:
| | | | |
| --- | --- | --- | --- |
| Stock | CHGG | BNED | AMZN |
| Market Cap | $488.02 Million | $486.87 Million | $280.64 Billion |
| EPS | $-0.71 | $0.21 | $0.69 |
| P/E Ratio | N/A | 47.58 | 872.19 |
Two of the companies (Chegg and Amazon) do not have brick-and-mortar locations, while Barnes & Noble Education is an operator of brick-and-mortar bookstores. As more students turn to the web to buy/rent textbooks at competitive prices, fewer and fewer will turn to traditional textbook sources such as the school bookstore.
As time goes on, this will help Chegg as well as Amazon take precious market share from Barnes & Noble Education and the dying breed of brick-and-mortar bookstores (most especially for heavy and expensive textbooks that only have demand roughly two times per year).
History of Earnings Surprises
As shown below, Chegg has posted quarterly earnings surprises for the last two quarters, and depending on seasonality revolving around school cycles, it could beat the street again. Prior to that, the company surprised to the downside. Depending on upcoming Q4 2015 quarterly earnings reports, a surprise to the upside could certainly initiate a short squeeze. With that being said, a surprise to the downside could prime Chegg stock for all-time lows.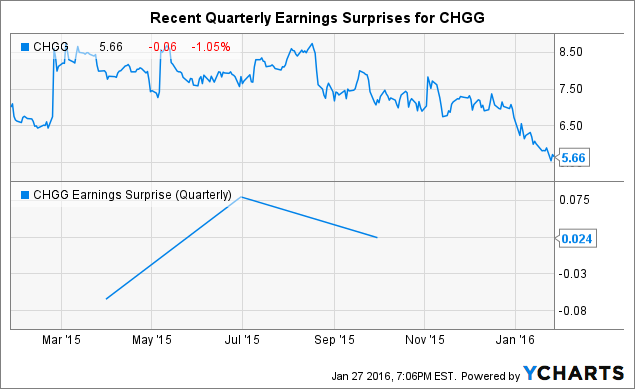 CHGG data by YCharts
Near All-Time Lows for Chegg
Looking at the chart below, it is clear that Chegg stock is trading close to its own all-time lows of $4.82 per share. Additionally, as shown below, it has been making new 52-week lows, most recently at $5.52 per share.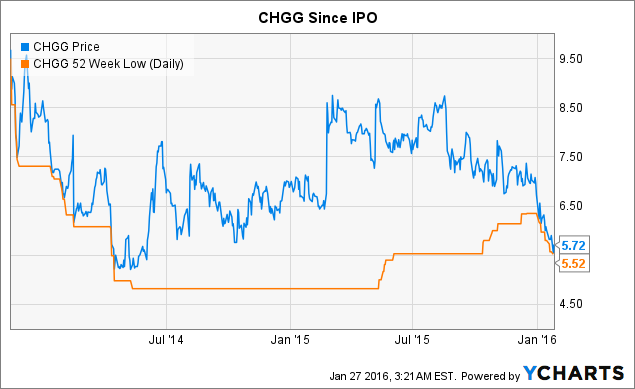 Lastly, from a technical analysis point of view - this is prime time for a double bottom move, depending on how furiously traders defend the range between $5.50 per share and the imaginary support line at all-time lows of $4.82. Since $4.82 is the lowest traders let Chegg shares trade before, it is not far-fetched to ask whether or not it could go lower (if Chegg tests the low, that is).
Conclusion
Overall, we hope that this has been a helpful article for both investors and traders alike to determine their outlook for Chegg. Whether or not the current shorts have more room to fall, or whether this is a good time to buy in for a squeeze, we look forward to February 22nd, when the company announces its Q4 2015 earnings.
We look forward to keeping investors and traders posted on other short squeeze opportunities as we see fit. For more reading on Chegg, we would highly recommend reading Diamond Technology Management's article here.
Resources
Student College Enrollment Data
Disclosure: I/we have no positions in any stocks mentioned, and no plans to initiate any positions within the next 72 hours.
I wrote this article myself, and it expresses my own opinions. I am not receiving compensation for it (other than from Seeking Alpha). I have no business relationship with any company whose stock is mentioned in this article.
Additional disclosure: Not Investment Advice.