By Matthew Lewis, CFA
In the fifth article of our "What Lies Beneath" series we analyze core assets driving financial results for Williams Pipeline Partners (NYSE:WPZ) (NYSE:WMB). Williams owns and operates assets critical to the nation's energy landscape, but shares are down 65% from highs set back in May 2015. Concerns over cost of equity capital, the default risk of Chesapeake Energy (NYSE:CHK), and the long-term earnings power of WPZ's pipelines have even the faithful grinding their nails to the nub. In this article we spotlight assets that make up approximately 45% of WPZ's annual EBITDA; Transcontinental Pipeline and the Access Gathering Systems.
Transcontinental Pipeline - Somebody has to Heat and Cool the Mid-Atlantic
In our previous article, we highlighted the significant risk and potential decrease of long-term earnings power for Kinder Morgan (NYSE:KMI) and Energy Transfer's (NYSE:ETP) Fayetteville Express Pipeline. We explained that Richard Kinder's analogy comparing pipelines to toll roads often downplays risk and competitive forces. However, Kinder's analogy does hold true on some pipelines. Unlike the Fayetteville Express, a "supply push" pipeline that moves natural gas out of a production area, WPZ's Transcontinental Pipeline (Transco) is mostly a "demand pull" pipeline. Demand pull pipelines connect and feed power plants, heating distribution, and industrial use and are thus less levered to shifts in production. In addition, for many areas of the Mid-Atlantic, Transco is the only option for moving natural gas. Figure 1 shows the legacy contract holders of capacity on Transco, with over 75% made up of stable end users.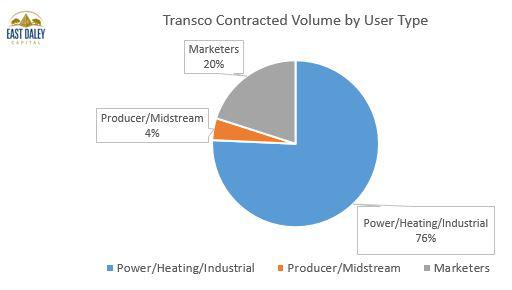 In addition to stable legacy contracts, Transco has a significant number of accretive expansions coming into service over the next few years. Transco's geographic footprint gives it access to low-cost Marcellus production with demand market access all the way down the Mid-Atlantic to the Gulf Coast (Figure 2).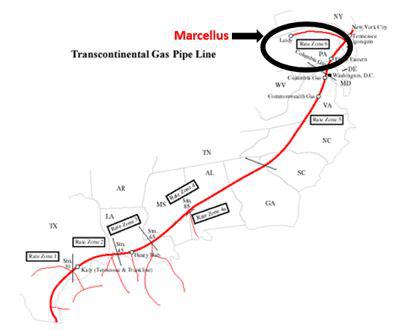 This access has led to a wave of expansions as Marcellus production ramped and volumes needed to disperse. Our analysis indicates attractive economics (ranging from 4-8x Cost/EBITDA) for each of Transco's current announced expansions. The largest expansion, Atlantic Sunrise, will move 1.7 Bcf/day of production from the Marcellus to pooling stations south along the pipeline. This expansion is contracted primarily by producers (supply push), leading to some counter-party risk in the current distressed environment. However, most of the producers (Anadarko, Cabot, and Seneca) are not distressed and are likely to honor their contracts. Our full pipeline analysis evaluates and weighs every Transco contract for volume, rate, and credit risk to derive an EBITDA forecast. Our base forecast shows very little risk on legacy contracts and growing EBITDA through expansions over time (Figure 3).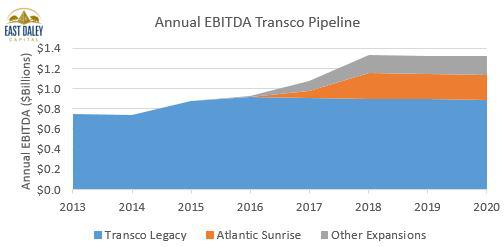 Access Gathering - The Elephant in the Room

Williams's Access segment gathers natural gas for producers in production basins throughout the US (Figure 4). Chesapeake Energy is the anchor producer on most of the systems, levering Access's health to that of CHK. The recent credit downgrades by both Fitch and Moody's noted the counter-party risk of CHK in support of their analysis. As stated by the ratings agencies, the risk is approximately 20% of annual EBITDA given macro, segment level financials. However, when broken down by asset, the true exposure is primarily in the Barnett and Eagle Ford, and represents only around 12% of EBITDA. These contracts are of particular concern because they are structured with minimum volume commitments and cost of service provisions, forcing CHK to pay well above market rates based on current production. Under a CHK reorganization scenario, these contracts would likely be torn up and renegotiated lower. However, it is also likely that well production would continue and WPZ would receive at least market rates through bankruptcy and into the future. Using current market rates, we forecast Access's annual EBITDA would decrease approximately $600 million in a CHK reorganization starting in 2017. Figure 5 below shows our EBITDA forecast for each of WPZ's segments (colored bars) derived from our asset level forecasts, as well as a CHK reorganization scenario (black line). Although painful, a $600 million hit to annual EBITDA is not disastrous for WPZ.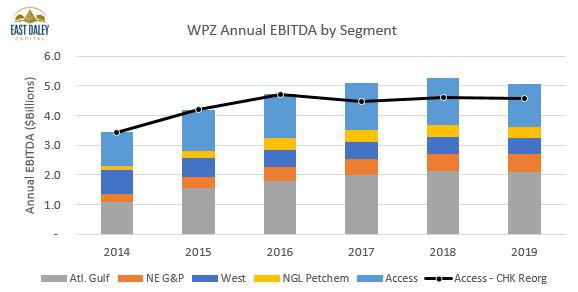 Our asset driven EBITDA forecast is fairly conservative, assuming flat commodity prices, flat rig counts, and no new offshore drilling (Atlantic Gulf segment). A rebound in commodity prices would increase EBITDA for commodity sensitive segments like the West and NGL/Petchem and could increase EBITDA in segments tied to production volumes. WPZ also owns other stable assets like Northwest Pipeline and 50% of Gulfstream Pipeline which we forecast will produce stable returns long into the future. Despite the 65% drop in share price, many of WPZ's assets are fundamentally strong and the risk tied to Access does not appear to be monumental.
Disclosure: I/we have no positions in any stocks mentioned, and no plans to initiate any positions within the next 72 hours.
I wrote this article myself, and it expresses my own opinions. I am not receiving compensation for it (other than from Seeking Alpha). I have no business relationship with any company whose stock is mentioned in this article.