Freeport-McMoRan Copper & Gold (NYSE:FCX) released its earnings report and presented higher than expected EPS. It also provided revised guidance for 2016-2017. Let's see the good and bad in the latest earnings report and what's next for FCX.
Beating expectations
Although FCX surprised the markets with higher EPS, its revenue missed the target. The company still presented higher copper and oil production that partly offset the drop in realized prices. For oil, production costs dropped by 26%, year on year. Copper unit net cash cost only inched down by 1.4%.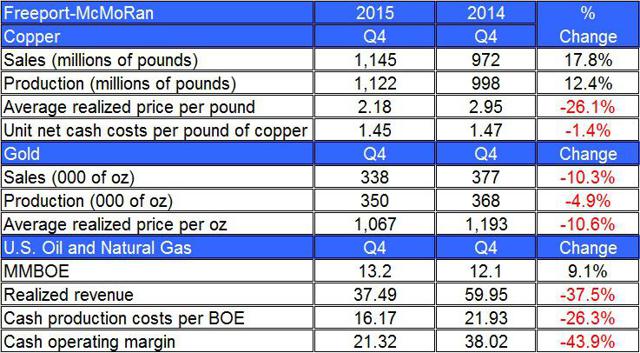 Click to enlarge
Source: FCX
But the main issue is what the company plans ahead, starting with slashing costs.
Cutting costs, saving up on cash
The company plans to cut down its production and improve its cost structure, as presented herein.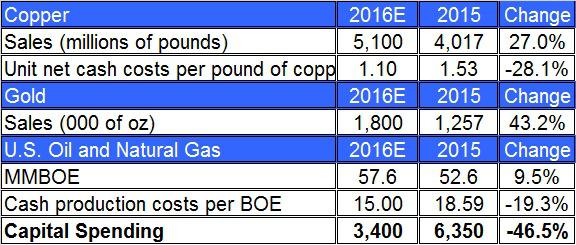 Source: FCX
If FCX reaches these goals, then the profitability from producing copper will remain the same this year as it was in 2015 (assuming copper prices remain at $2). For oil and gas, even after the slashing costs by nearly 20% the profitability will still lower by 23% than in 2015.
But it remains to be seen whether will Freeport reach its ambitious goal of slashing the unit net cash cost for copper 28%. After all, as of Q4 2015 the unit cost was still $1.45. So bringing down the cost by $0.35 in the coming months won't be an easy task.
When it comes to cash flow, this year the operating cash flow or OCF is expected to reach $3.4 billion. And since capital spending is also estimated at $3.4 billion, it should be covered, based on FCX's outlook, by its OCF. The capex for oil and gas operations is roughly 44% of total capex. Because FCX is trying to save up on cash, it may decide, for the right price, to sell some of its underdeveloped oil and gas assets. Next year, the OCF is estimated to reach $3.5 billion.

Source: FCX and Author's calculations
Turning to the impact of debt repayments on the cash flow: This year the debt repayment will only sum up to $0.2 billion. So FCX is likely to manage paying back this sum from its available resources. But by next year when $1.8 billion of its debt will have to be repaid, it could pose a cash flow problem. The operating cash flow won't be enough to cover this debt repayment; FCX will still have to come up with another $0.6 billion in 2017. Bear in mind that this is under the assumptions that all goes as planned when it comes cutting production and costs but also assuming commodities prices remain low.
Bottom line
FCX has made some changes to improve its cost structure and offset the drop in commodities prices. If all goes as plan then the operating cash flow should be enough to cover its capex this year. And without dividend payments, FCX isn't likely to take on more debt this year. On the other hand, things aren't looking good for this company, given the current market conditions and its $20.4 billion debt. Finally, what will the company do next to improve its balance sheet and raise more cash: it's unclear whether the company will sell additional assets, raise more capital by another share offering (although whether FCX will succeed next time is highly questionable) or something else. These steps could also play a role in impacting its share price. For more please see: Does This Producer Have a Silver Lining?
Disclosure: I/we have no positions in any stocks mentioned, and no plans to initiate any positions within the next 72 hours.
I wrote this article myself, and it expresses my own opinions. I am not receiving compensation for it (other than from Seeking Alpha). I have no business relationship with any company whose stock is mentioned in this article.