Shares of Kinder Morgan (NYSE:KMI) have been on a tear lately, driven higher by a rising stock market and soaring energy prices (mostly oil), though shares did manage to pull back on January 25th as oil resumed its decline before climbing again during the 26th. In my own opinion, shares of the company appear to be very cheap and provide investors with very attractive risk-adjusted prospects but, for investors who don't quite want to commit to the shares at current prices, there's an attractive alternative that can garner a nice chance of return down the road; selling puts on the business.
A look at Kinder Morgan's share price
Given its current share price, Kinder Morgan appears to be a cheap prospect relative to the risk the company demands of its investors. For the most part, the company's sales come from the transportation of natural gas and petroleum products, an industry that will likely continue to grow so long as natural gas and oil see rising demand. In the graph below, you can see that shares of Kinder Morgan are currently trading for just 6.49 times operating cash flow. This is quite cheap no matter how you look at it and it represents the lowest price point (absent the past couple days when shares were lower) that the company's stock has traded at for quite some time.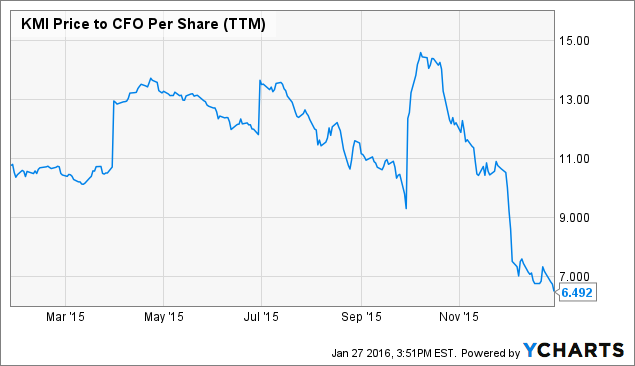 KMI Price to CFO Per Share (NYSE:TTM) data by YCharts
In addition to being cheap relative to operating cash flow, Kinder Morgan is also trading quite cheap when it comes to its book value. According to the graph below, shares of the business are now going for 0.90 times book value, which means that the net value of its assets (assuming book value equates to market value) is actually more valuable than what the market is pricing in for the company. Of course, this book value has been brought down by $41.45 billion in debt and has been buoyed by $23.79 billion in goodwill but management has pledged to grow without tapping into capital markets moving forward and cash flow is projected to be higher this year than it was last year so significant goodwill write-downs are unlikely near-term.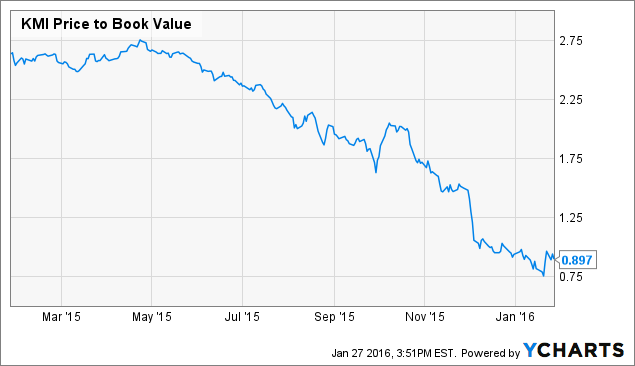 KMI Price to Book Value data by YCharts
A strategy that could help you buy shares for cheaper
One particular strategy I find appealing regarding Kinder Morgan is a straight-up sale of put options for the business. According to the most recent prices available, investors can sell put options for January of 2018 for a price of $3.10 apiece with a strike of $12.50. What this ultimately means is that, if shares trade for $12.50 or less at any point between now and the expiration date in 2018, the buyer of the put options has the right (but not the obligation) to force you to buy their shares for $12.50.
As an example, let's take a situation where an investor would sell 10 contracts (each contract represents 100 shares so we are looking at selling the rights to 1,000 shares) in exchange for $3.10 per share. This means the put seller should receive $3,100 up front. If shares never again trade for $12.50 or less between now and the time the contracts expire, the put seller will have gotten a cash payment for nothing more than taking the risk that shares will drop significantly.
If, on the other hand, something happens (fraud, a meaningful economic downturn, shareholder dilution, or just plain market volatility) that forces shares to trade at $12.50 or less, you would have to buy up to 1,000 of them from the contract owner. If you don't want to own Kinder Morgan at all, this could be a problem but it could be a blessing for investors who, like me, really like the company but hope that shares fall further. In theory, it's possible that long-term investors in Kinder Morgan could take a beating if value is significantly impaired during this waiting period but, absent that, downside at current prices appears unlikely to me.
In order to lose out on this trade, shares of Kinder Morgan would have to fall below to $9.40 ($12.50 - $3.10 = $9.40 = break-even) apiece or lower, a decline of 33.9% from the company's share price of $14.23 as of the time of this writing. To put this in perspective, this suggests that shares of the company, if management's forecast is correct, would be trading for 4.4 times common shareholder's 2016 distributable cash flow. Using my estimate of 2015 free cash flow, shares are going for 6 times cash flow if this scenario does transpire. If we assume that each of these manages to grow at just 4% annually, then the trading multiple in January of 2018 would be 4.2 for distributable cash flow and 5.6 for free cash flow.
Takeaway
Based on the data provided, Kinder Morgan appears, to me, to be very much undervalued. However, using both the share price itself compared to where the company has traded in the past, and looking at put option prices, it seems the market disagrees. In this scenario, I believe Mr. Market is likely wrong about Kinder Morgan and the return for investors, using a put option strategy like what I described, could be material in nature. Best of all, if shares do drop to a low enough level to trigger the puts, investors who want to own the stock at a lower price likely won't be in any mood to complain
Disclosure: I/we have no positions in any stocks mentioned, but may initiate a long position in KMI over the next 72 hours.
I wrote this article myself, and it expresses my own opinions. I am not receiving compensation for it (other than from Seeking Alpha). I have no business relationship with any company whose stock is mentioned in this article.