By Colin J. Lundgren, CFA, Head of U.S. Fixed Income and Gene Tannuzzo, CFA, Senior Portfolio Manager
High yield may produce some of the most attractive returns in fixed income, despite higher defaults.
Duration-bitten portfolio managers may be capitulating on U.S. interest rates at just the wrong time. Positioning surveys suggest professional investors are less afraid of higher rates than retail investors. Also, the market is priced well below the Federal Reserve's current guidance for the path of the federal funds rate. In other words, the interest rate market is not well set up for a stronger economy, higher inflation or anything more than a few Fed rate hikes.
The market is priced below the Fed's interest rate projections



Source: Bloomberg, 12/15
*Median based on the Fed's Summary of Economic Projections (NYSE:SEP), 12/15
Dealer inventory slump threatens bond market liquidity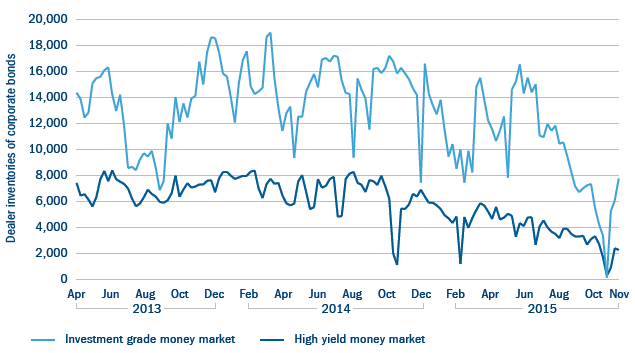 Source: Federal Reserve Bank of New York, 11/15
Bond market liquidity: From bad to worse?
Liquidity will continue to nag the bond market, and not just in risk-off environments. Regulatory changes help explain why dealer inventories are at or near all-time lows, and they are no longer the source of liquidity they once were. Also, we can't necessarily take comfort in size. Mega funds may be especially challenged to navigate changing market conditions, respond to large flows or invest in cash bonds. Morningstar's non-traditional and multi-sector fixed-income categories include six mutual funds with more than $15 billion in assets, and two funds that exceed $30 billion as of November 30, 2015. Unfortunately, the surprise may be bond market liquidity going from bad to worse.
Beyond the headlines
Defaults are on the rise, but the headline number masks the real story. High-yield spreads are currently compensating investors for a 5% default rate, well above the current rate and slightly higher than the long-term average. Our internal default forecast is 5.5% in 2016 and 6.4% in 2017. But the increase in defaults is expected to be largely concentrated in energy, metals and mining. We expect energy defaults to exceed 20% in 2016 and be close to that level in 2017. Excluding those troubled areas, we think defaults will be less than 3% in 2016 and under 5% in 2017.
Therefore, higher defaults should warrant some caution and careful security selection, but a broad repricing of the high yield market may provide more than enough yield compensation to produce attractive risk-adjusted returns in 2016. Indeed, based on our proprietary model of default rates, current credit spreads already price in rising defaults throughout 2016 and 2017.
Default rates expected to rise in 2016-2017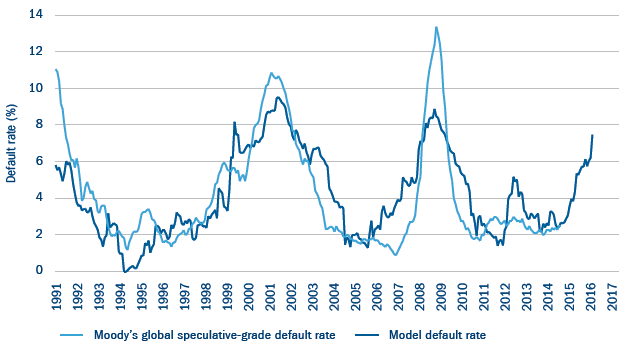 Sources: Moody's, Columbia Threadneedle Investments proprietary research, 11/15
Disclosures: There are risks associated with fixed-income investments, including credit risk, interest rate risk, and prepayment and extension risk. In general, bond prices rise when interest rates fall and vice versa. This effect is usually more pronounced for longer-term securities. Investing involves risk including the risk of loss of principal.
Disclaimer: The views expressed in this material are the views of the author through the date of publication and are subject to change without notice at any time based upon market and other factors. All information has been obtained from sources believed to be reliable, but its accuracy is not guaranteed. There is no representation or warranty as to the current accuracy, reliability or completeness of, nor liability for, decisions based on such information and it should not be relied on as such. This information may contain certain statements that may be deemed forward-looking statements. Please note that any such statements are not guarantees of any future performance and actual results or developments may differ materially from those discussed. There is no guarantee that investment objectives will be achieved or that any particular investment will be profitable. Past performance does not guarantee future results. This information is not intended to provide investment advice and does not account for individual investor circumstances. Investment decisions should always be made based on an investor's specific financial needs, objectives, goals, time horizon and risk tolerance. Please see our social media guidelines.