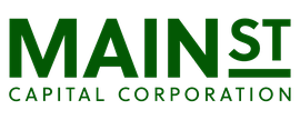 What a start to the year. Stocks across the board slumped on crashing crude oil prices and fears that tailspinning commodity prices would set off a wave of bankruptcies in the oil patch. As a result, investors ran for the hills and pushed many income stocks down to new 52-week lows.
Main Street Capital (NYSE:MAIN) is such an income vehicle whose stock fell to a new 52-week low last week. On January 20, 2016, MAIN crashed to a low of $24.21. At this point, MAIN was selling for a whopping ~9% yield, based on a recurring dividend payout of $0.18/share a month. Lucky were investors that managed to buy shares around such lows.
MAIN recovered quickly from the meltdown, and has now bounced back above $28. The sell-off nonetheless showed that investors can get their hands on a real bargain if they have the cash at hand, which in turn could lead to compelling excess returns down the line.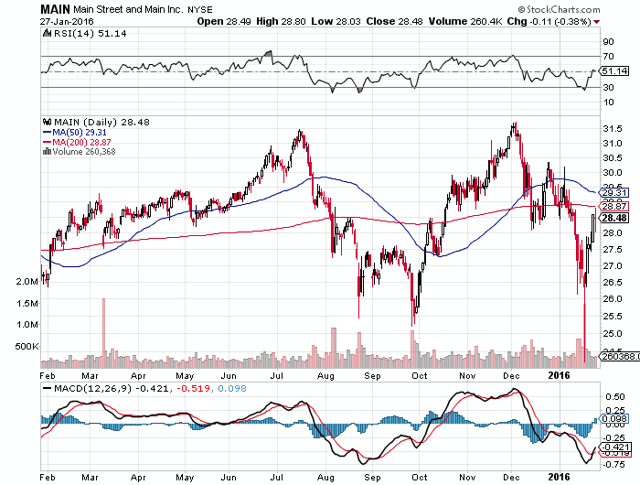 Click to enlarge
Source: StockCharts.com
Main Street Capital was not the only BDC that sold off sharply last week, which only goes to show that the market has lost its way when it comes to valuing high-yielding business development companies. The bottom line is evident: Main Street Capital remains a compelling "Buy" every time the stock slips, and robust preliminary fourth quarter results only attest to this.
Robust preliminary fourth quarter results
For the fourth quarter of 2015, Main Street Capital released the following preliminary results:
Estimated Q4-15 distributable net investment income, DNII, of $0.59-0.60/share.
Distributable net investment income estimate falls within guidance range of $0.58-$0.61/share.
Estimated Q4-15 net investment income of $0.56-$0.57/share.
Main Street estimates a December net asset value in the range of $21.19-$21.29/share.
Preliminary results proved, first and foremost, that Main Street Capital has no problems at all covering its monthly dividend payout with distributable net investment income and net investment income.
MAIN is not too expensive yet
Main Street Capital's fourth quarter NAV slipped slightly, for which the company gave the following explanation:
Main Street's preliminary estimate of net asset value ("NAV") per share as of December 31, 2015 is $21.19 to $21.29. After adjustment for the semi-annual supplemental dividend paid in December 2015 of $0.275 per share, this represents a decrease of approximately $0.23 to $0.33 per share, or 1.1% to 1.5%, from the reported NAV per share of $21.79 as of September 30, 2015. Main Street estimates that the decrease is primarily due to unrealized depreciation relating to its middle market debt investments during the fourth quarter of 2015 in large part due to the volatility the leveraged loan market experienced during the quarter.
Despite the drop in accounting book value, Main Street Capital is not too expensive yet: MAIN sells for ~1.34x estimated Q4 NAV, and ~12.0x Q4-15 run rate DNII.
Your Takeaway
Main Street Capital slumped to new 52-week lows last week when the bottom fell out of the stock market. As Main Street Capital's preliminary results release demonstrated, though, buying the company's stock on market weakness is a no-brainer since its (distributable) net investment income is stable and more than covers Main's monthly dividend payout. Though MAIN's NAV dropped slightly in the last quarter, MAIN remains a top-rated income vehicle that's worth buying every time Mr. Market stumbles.
Disclosure: I am/we are long MAIN.
I wrote this article myself, and it expresses my own opinions. I am not receiving compensation for it (other than from Seeking Alpha). I have no business relationship with any company whose stock is mentioned in this article.