In a recent article, I named Boeing (NYSE:BA) as one of my favorite picks for 2016. I am personally long the stock, having bought lots of shares at $118.23, $124.47, $145.54, and most recently at $115.80 during the post-earnings decline. My cost average for the overall position is currently $126.32, meaning that I'm down 7.71% on my shares. This loss wouldn't be so bad if it weren't for my recent purchase at $145; however, after the company's 20% dividend increase in December, I felt compelled to add to my position. I viewed this as a bullish sign from management. Apparently, I read the signal wrong. Either way, over the long term I feel comfortable with exposure to BA, and I will continue to lower my cost average should the shares sell off further. In this piece, I will work through the Q4 report and conference call, using this, as well as past performance data to fortify my bullish thesis in the face of present-day negative sentiment.
We'll start with the Q4 data, though I admit that I think far too often investors put far too much weight on one report, losing sight of the bigger picture. To me, BA's near-10% decline post earnings has been an overreaction. The stock was already trading down double digits from its high setback in February. Now, it is down over 26% from that high of $158.83 - a decline that should catch the attention of both value and contrarian investors.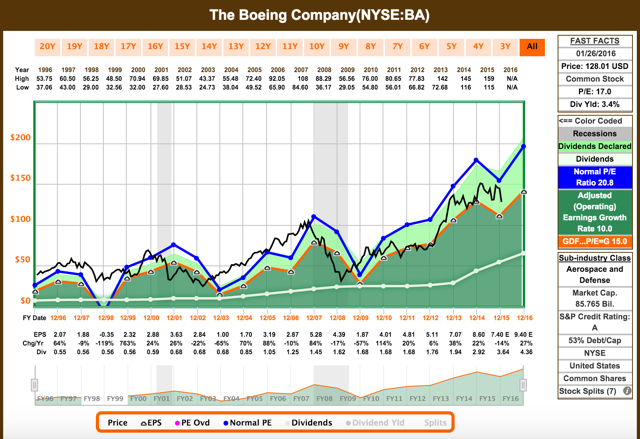 Click to enlarge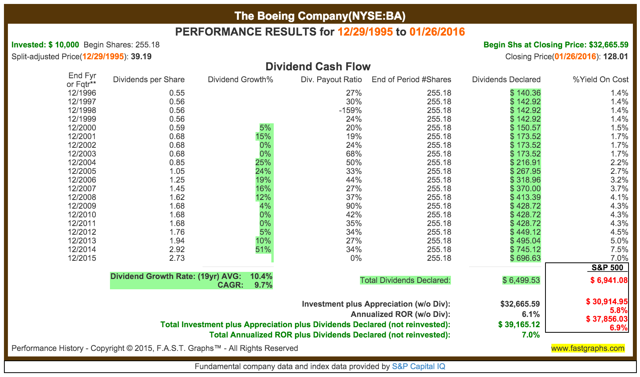 Click to enlarge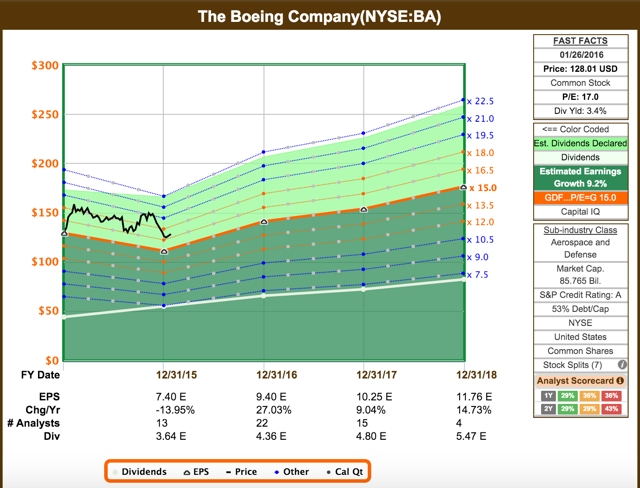 Click to enlarge
Source: F.A.S.T. Graphs
Q4 Highlights
First and foremost, 2016 will be Boeing's 100th year of business. Any company that can survive and thrive in the competitive market place for a century deserves respect.
2016 core EPS guidance was $8.15-8.35. This was a significant disappoint (which sparked the sell-off) due to the prior expectation of $9.43.
2016 revenue guidance was also a disappointment, though not as much of one of a percentage basis: $93-95 billion, versus a consensus of $97.2 billion.
Operating cash flow for 2015 came in at $9.4 billion; BA expects roughly $10 billion for 2016.
R&D spending for 2016 is expected to be $3.6 billion.
2016 is expected to be a "peak" year in terms of capex (specifically with regard to production automation), and these costs are expected to "taper off going into 2017 and beyond."
Commercial airplane revenue was a record $66 billion in 2015 (a 10% increase y/y). The company expects commercial revenues to be $64-65 billion in 2016.
The company guided for commercial deliveries of 740-745, which is below 2015's total of 762.
In 2015, Boeing captured 768 orders, or a roughly 1:1 ratio with deliveries completed. The company's current backlog sits at $432 billion, or roughly 5800 planes (7 years of production at present-day production rates).
In 2015, it was very generous returning cash to shareholders. BA repurchased 47 million shares for $6.75 billion and paid $2.5 billion in dividends. I've already mentioned the 20% dividend increase management approved in 2015; I expect the dividend to continue to rise, though not necessarily at the same 20% pace. BA's 5-year DGR is 13.03%. I expect future increases to be more in line with this low-double digit trend. The company's payout ratio in 2015 was 49.5. Assuming management's 2016 EPS guidance is correct, even taking the bottom end into consideration, the company's current dividend represents a 53.5 payout ratio. To me, the 50% threshold is an important one. I like to see the companies I own paying out less than 50% of earnings in the form of dividends, though so long as this ratio doesn't rise above 65-70%, I don't get too worried.
When speaking of shareholder returns, it's also worth mentioning that management increased the buyback authorization to $14 billion in 2015. The company expects to complete this buyback over the next 2-3 years.
Over the last 3 years, BA has reduced its share count roughly 10%, buying back 120 million shares, and has increased its dividend by 125%.
To make matters even better for investors interested in capital returns, in the CC Q&A session, CFO Gregory Smith said this: "And we're committed to returning cash to shareholders in the fashion that you've seen over the last couple of years going forward."
At the end of Q4, BA had $12.1 billion in cash and marketable securities on the balance sheet.
The company's progress with the KC-46 is moving along with a refueling flight with an F-16 accomplished. This contract will mean a lot for BA's future military revenues. Investors should continue to track further progress here.
The company highlighted the fact that commercial air traffic increased by 7% for the year, "above the 10-year average", signaling to BA (and hopefully investors) that the air industry as a whole continues to be healthy.
Global air freight growth wasn't quite so robust at 2%. Though, BA management is bullish on the market due to an expected plane replacement cycle starting up, due to the fact that roughly 240 air freighters will be 20+ years old by 2019. This bodes well for the 747, which is struggling a bit at present. With regard to the 747, its current production schedule, and its future, management had this to say: "the 747 is a niche market, it's an important niche market and one that we think is sustainable. So all of the decisions we've made factor in both the near-term economics as well as this longer-term replacement cycle."
The International Air Traffic Association (IATA) targets 7% commercial growth and 3% freight growth in 2016.
Air traffic growth in China is expected to increase at an even faster rate, with 15% growth in 2015. Boeing expects China's middle class to continue to grow (and fly), and therefore, management believes the country will need over 6,300 new aircraft over the next 20 years.
The company expects that the air industry as a whole will require another 38,000 over the next 20 years, meaning there is a lot of opportunity for BA, one of the major players in the space.
Narrow body competition with Airbus (OTCPK:EADSY) has been a major concern for investors of late. Management highlighted the fact that since the introduction of the 737 MAX, orders have been roughly 50/50 in comparison to Airbus's narrow body option(s). Before the MAX, there was a discrepancy there, with Boeing falling behind its major competitor. In the CC, management was quoted as saying: "And as noted, again, we were the market leader in total deliveries again this year. So when we think about market share, it's important to think about both deliveries and future orders. And as we've had the MAX in the marketplace and competing, based on feedback from our customers, we see that the MAX is providing a value proposition beyond our competitor's aircraft." BA believes it's winning with the MAX, which is why management feels confident focusing on 737 production, pushing the total up to 57/month for 2019.
As you can see, although the stock sold off drastically following this report, it wasn't all bad. Long term, I still like BA's prospects moving forward. Also, which so much emphasis put on 2015 and 2016, I wanted to take a look backwards and see how these years compared to recent performance. So, what I did was look back at BA's annual reports and compile basic financial information dating back to 2005. As you will see below, the company remains in a strong up-trend. If 2016 guidance holds true, there will be a bit of a lull in growth, but consider this to be a blue chip company, and I'd need to see more than a couple of relatively flat years for me to really believe the tide is turning and the business has lost its luster.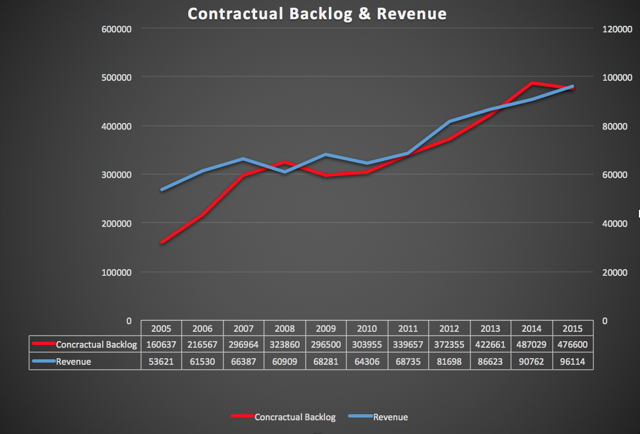 Click to enlarge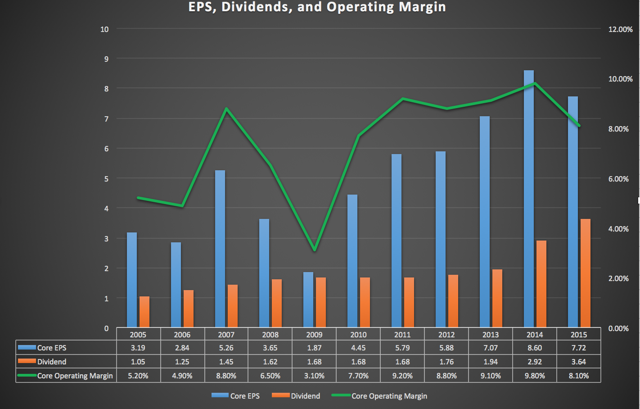 Click to enlarge
My Stance Moving Forward
The macro-environment has been a concern of mine for some time now - enough of a concern that I've sold shares and liquidated several positions in a defensive attempt to raise cash. So, when looking at BA's decline in price and considering whether or not to add shares (which I've already done), and whether or not I should add more (which I'm still considering - this 3.76% yield is hard to ignore), the macro picture plays a role in my decision making. Late in the CC, an analyst asked management if they would be willing to speak of their apparently bullish view of their company moving forward and explain their reasoning. Management agreed with CEO Dennis Muilenburg, saying:
"Yeah, we will. And I think your read in that is correct in that we're bullish about our prospects, but we're also paying attention to what's happening in the macro environment around us. If you take a look at GDP projections of about 2.7% growth over the near-term and midterm, again, that's a balanced view. That's different in different parts of the world as you well know. But on balance, that's a respectable level for our industry.

The key differentiator is we continue to see passenger growth globally increasing at about 6% to 7% a year. It is outpacing GDP. And even in places like China where, obviously, it's been getting a lot of attention on economic growth prospects, even during the fourth quarter of 2015, just as a reference point, as GDP in China fell back to a little under 7%, airplane and passenger traffic growth increased 15%. So passenger growth continues to outpace GDP. That is a strong trend. It's a long-term trend. And then that's part of what paints a bit more of a bullish view in terms of our growth prospects. You see that reflected in our planned production rate increases."
I was happy to see a CEO frankly address the question. Obviously, management isn't going to paint an ugly, bearish picture of their own company; however, it seems as though those in charge at BA genuinely believe their position moving forward is one of strength. I agree. I've been so attracted to aerospace investing due to two of my favorite investable macro trends: urbanization and globalization. So many of the mega-trends that we hear about today seem somewhat hard to predict (with some being relatively far-fetched). But I believe these two are easily predict, and I've bought into them completely.
I came across this U.N. Urbanization report back in 2014, and have been a believer in the trend and the role that air travel will play in the world moving forward ever since. To me, Boeing, United Technology (NYSE:UTX), and Honeywell (NYSE:HON) all stand to benefit from this trend (I don't own shares of either of the latter, though both are on my watch list right now). I think picking up shares of companies with such strong long-term tail winds is a great idea for long-term investors, especially when those shares are beaten down because of short-term news.
Sure, BA's 2016 guidance isn't as rosy as many would have hoped for, but no matter who you are, you're going to have a hard time convincing me that Boeing isn't a great company to buy and hold for decades. Now, with that said, if you're bearish, I ask that you try. I'm always hoping to learn, and I think readers all benefit from diverse discussions. You won't hurt my feelings, I promise. I look forward to any and all responses. Best wishes, all!
Disclosure: I am/we are long BA.
I wrote this article myself, and it expresses my own opinions. I am not receiving compensation for it (other than from Seeking Alpha). I have no business relationship with any company whose stock is mentioned in this article.