It's hard to find a company more exposed to the global commodity rout than Allegheny Technologies Incorporated (NYSE: ATI). A perfect storm of lower oil, nickel, and stainless steel prices combined with a strong U.S. dollar have pummeled the demand for and pricing of ATI's products, particularly in the Flat-Rolled Products ("FRP") segment. With Chinese steel companies continuing to dump steel on North American markets, an oil market share war in full swing, and ongoing union labor negotiations at a standstill, there appears little reason for optimism.
Allegheny Technologies Incorporated's 4Q15 earnings reinforced this view. Volume and pricing tumbled, charges were taken, and the enterprise fell further into the red. Increased cash burn and dividend sustainability (even after ATI's recent dividend reduction) are now becoming real concerns. The only silver lining at this point appears to be ATI's long-term agreements ("LTA's") with commercial and defense aerospace OEM's and engine manufacturers, but even these contracts appear vulnerable to swings in nickel pricing, as is the case with much of ATI's contracted volume.
With Allegheny Technologies Incorporated trading around $8, it's tempting to try to call the bottom here. But management's ages old line that "aerospace demand will drive increased volumes, asset utilization and higher margins in 2H16" was first touted years ago, never materialized, and so is falling on deaf investor ears. Such is the nature of lost management credibility. At this point, investing in ATI is akin to investing in Nickel pricing, and I can think of better ways to realize Nickel exposure. So I remain on the sidelines and will watch with interest for any clues that ATI's financial performance may rebound.
Plummeting volumes destroys asset utilization and margins
Allegheny Technologies Incorporated manufactures stainless steel, specialty metal and nickel/titanium alloy products for use in the aerospace & defense, automotive, medical, oil & gas, and construction markets. The business is an asset-intensive business that requires constant, high volumes in order to generate sufficient returns on capital.
But conditions and performance are deteriorating at ATI. In 4Q15, ATI reported continued steep volume declines, particularly in its FRP segment, where total shipment volumes declined 38% yoy. FRP average prices declined 17% yoy in 4Q15. Management claims the dumping of cheap foreign steel on the North American market is driving lower volumes and prices. ATI has responded by idling two separate FRP facilities.
ATI is a victim of emerging market currency devaluations and Chinese irrational "produce at any price" decision-making. Foreign steel is more competitive right now as the dollar strengthens. And China is desperately trying to mitigate a slowing economy by producing products regardless of the price they can be sold at. Combine that with ATI's significant capital investment in expanding its FRP operations right before the market for steel went south, and you have a recipe for disaster on the ROI and profitability front.
In the High Performance Materials ("HPM") segment, ATI does not break out shipment volumes in its earnings press release. But management did indicate that shipment volumes declined yoy, primarily as a result of supply chain re-balancing in the oil & gas market. Even aerospace sales declined, though this was likely the result of rebalancing inventory levels, and not a major reason for concern.
Thus, ATI is facing an asset utilization issue in both its FRP and HPM segments, though the issue has reached a crisis point in FRP; hence, the decision to idle to two FRP facilities. Margins in HPM are also being negatively impacted, as plummeting oil & gas volumes have decreased HPM facility utilization. HPM margins are now down to the lower single-digits.
Could Aerospace demand drive HPM operating margins back into the double-digits?
While HPM segment volumes are not disclosed in the press release, sales to Aerospace suppliers were down 6% yoy in 4Q15. Aerospace made up >60% of HPM sales in 4Q15, or roughly $274M. Considering that sales to Aerospace customers were $350M in 4Q15 (using total aerospace sales in 2015 less total aerospace sales in YTD 3Q15), then we can calculate that aerospace sales in FRP were only $76M in 4Q15, or roughly 27% of sales.
According to the press release, management is expecting HPM segment operating margins to return to double-digit levels by 2H16, as increasing aerospace volumes drive higher asset utilization. But I remain skeptical on this front. With 40% of HPM sales non-Aerospace, and a nearly 70% yoy decline in oil & gas sales in 4Q15, there is still a lot of excess capacity that even 10% yoy growth rates in the aerospace market cannot fill, at least for several years. Furthermore, Boeing (NYSE: BA) recently guided to lower commercial aircraft deliveries in 2016 vs. 2015, largely as a result of expected production declines on the legacy 747 and 777 programs. While ATI appears to have less exposure to these legacy programs, there is still the possibility that the aerospace cycle is reaching its apex.
Company's heavy debt load makes determining equity value a challenge
With volumes plummeting, prices declining with nickel prices, and asset utilization in a downward trajectory, valuing ATI using a traditional DCF model becomes challenging. My preferred method of valuing ATI is to simply value the HPM segment in isolation using an EBITDA multiple, which assumes that the FRP segment is of minimal or no value.
Recent transactions of HPM competitors RTI and PCP, which were executed in the 12x EBITDA range, now may be a stretch EBITDA multiple for HPM, considering the segment's reduced margin profile and long-term agreements ("LTA's") that fail to mitigate sharp declines in nickel pricing. Positively, HPM does appear to have strong dollar content on new engines assigned to growing New Engine Option ("NEO") aerospace programs.
In Exhibit 1 below, I update a simple valuation analysis I published in my last article on ATI. Rather than using solely a 12x EBITDA multiple to value the HPM segment, my analysis contemplates a high multiple of 12x EBITDA and a low multiple of 8x EBITDA.
Exhibit 1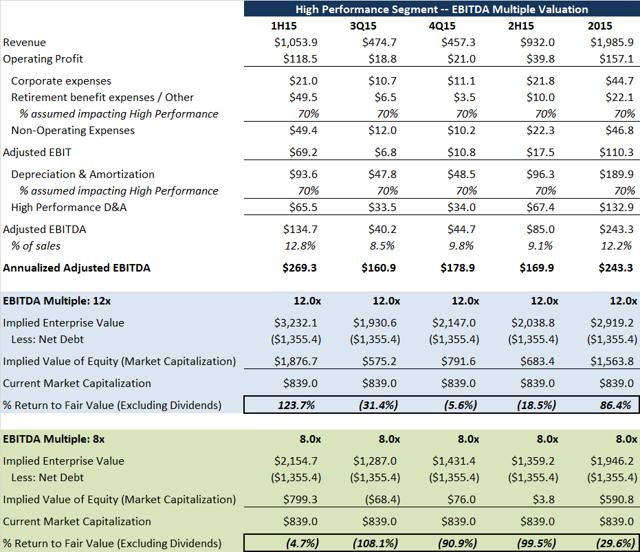 Click to enlarge
Source: ATI SEC filings and author calculations
There are a few takeaways from this analysis:
While calculated enterprise value ranges from $1.3B-$3.2B, ATI's significant net debt position of $1.4B leaves a wide range of equity values (from $0-$1.9B).
Management's commentary that HPM will return to double-digit segment operating margins in 2H16 leads me to believe that FY2015 performance in HPM may be indicative of FY2016 performance in an "upside scenario," except that 1H16 will be weak (vs. a strong 1H15) and 2H16 will be strong (vs. a weak 2H15). In other words, management is calling for HPM operating profit to trough in 3Q15-2Q16. The result would be FY2016 financial performance not too dissimilar from FY2015. Looking at EBITDA valuation based on 2015 performance therefore poses the upside case, in my view. And there we can see that with a 12x EBITDA multiple there is 86% upside to current equity valuation and with an 8x EBITDA multiple there is 30% downside.
If current conditions are indicative of future results, then the stock is still significantly over-valued, regardless of the EBITDA multiple you assign.
If 86% upside/30% downside (a 3:1 upside/downside profile) represents the "upside case" for ATI, then that is simply not strong enough to put money to work. Especially considering that the "upside case" of ramping aerospace volumes has been playing out for several years and has yet to meaningfully impact ATI.
The dividend may be cut; again
ATI finished 4Q15 with $149.8M in cash, down from $197.5M at 3Q15. While cash flow from ops in FY2015 was strong (at $131.4M, far higher than net income of -$365.9M), free cash flow was still negative (-$12.9M). With capital expenditures expected to reach $240M in FY2016, there is reason to expect ATI's FCF generation to deteriorate further from here.
ATI's current quarterly dividend of $0.08 per share translates to $34M annually, an amount that ATI will have to fund either through cash holdings or borrow more to meet. FCF generation in FY2016 will likely not be sufficient to cover this dividend. Additional borrowings is exactly the opposite of what ATI needs right now, despite the press release indicating sufficient liquidity of $590M (in the highlights section, no less). Interest expense is already burning up profits that do not exist, and equity valuation is volatile because net debt comprises too high a portion of enterprise value.
I would therefore not be surprised to see ATI abandon its dividend in favor of funding capital expenditure investment in its HPM business segment.
Watching ATI is like watching an oil & gas E&P MLP a year ago
Watching ATI lever up to increase capacity in a market that then collapsed is not so different from what we have seen in the oil & gas MLP space. What's interesting is that ATI's aerospace demand appears to be mitigating the otherwise disastrous impact that declining volumes and prices would have had on the stock. I think there is still hope amongst investors that the aerospace end-market can save this company; I know, because not too long ago I was one of those investors. But I think that the "aerospace volume ramp" story is a false premise now because ATI's aerospace contracts simply aren't meaningfully profitable anyway absent a significant rebound in nickel prices. With the oil & gas market down, nickel prices down, a strong dollar aiding foreign competitors, union labor conflict, and aerospace volumes not that profitable, I see no reason to own the stock. And absent a substantial rebound in nickel prices, I would not be surprised to see ATI fall further from here.
Disclosure: I/we have no positions in any stocks mentioned, and no plans to initiate any positions within the next 72 hours.
I wrote this article myself, and it expresses my own opinions. I am not receiving compensation for it (other than from Seeking Alpha). I have no business relationship with any company whose stock is mentioned in this article.