Among the developed countries one of the best performers is Germany, a country which grew by 1.5% in 2015 and saw its population increase by over 600,000, reaching a record of almost 82 million people. More people means more consumers, more food sold, more diapers sold and more new car sales. The political preferences of the German society and the attitudes of their leaders means that this population increase is unlikely to stop any time soon. If the current trends are not suddenly reversed, the country will reach a population of 100 million before 2050. To be part of this growth one option is to invest in the iShares MSCI Germany ETF (NYSEARCA:EWG), which will provide a broad exposure to the country.
Additional unique competitive advantages of the central European powerhouse are a balanced governmental budget, something which very few countries in the world have, and those hard-working Germans, which despite being fewer and fewer ever year will still remain a sizable part of the population for the decades to come. The country also produces high-tech items which are export successes world wide.
While some claim that the asylum crisis could pose a threat to trade in Europe, such as this article in oil-price.net, the largest source for oil price data and analysis, I disagree. Even if the borders are closed, if enough personnel is provided to make the passport checks, people will still cross the borders and trade will not be affected. Losing 30 minutes to cross a border control in a trip is no big deal, so I disagree with the statements from oil-price.net:
Europe's southern front breached

....

The tightening of European border will lead to a decline in intra-European exchanges and rampant distrust - bad for business. Additional taxes will come into place adding to the already worsening economic climate. Europe had a strong oil demand last year. However, we expect Europe's oil consumption to decrease a drastic 5% in 2016, freeing additional oil to the open market daily. This will contribute to a decrease in oil prices.
Unlike oil-prices.net, I foresee no major problems for the European economy, on the contrary, the additional population will instead lead to a higher consumption and therefore higher profits. Even if the Schengen agreement is scrapped, remember that the United Kingdom is not part of Schengen and I never heard that it's economy suffers because of that. It is true that criminality is on the rise, but I guess that Germans will simply have to adapt. In many countries in the world, like in Brazil and in South Africa, the population lives with a very high criminality and people simply learn to avoid going out alone at night, learn to keep at most a few hundred in the pocket at any moment, build high fences in their property, the rich buy armored cars and personal body guards, the stores hire security guards, etc.
A Country ETF like MSCI is a collection of corporations, so it is only as good as the sum of it's parts and in this article I'll explore how each of the main constituents of the iShares MSCI Germany ETF will be affected going forward, but first let's establish where this population growth will be coming from:
The population of Germany grew by 600 000 in 2015
While it is true that the number of Germans without foreign background fell from 65 550 00 in 2012 to just over 64 million in the end of 2015, an average fall of 425 000 per year. This is like losing a Battle of Stalingrad every two years and naturally the country needs reinforcements. In 2015 the population of Muslims in the country had a natural increase of 77 000, so there are segments of the population with a healthy number of children. Besides that, the country imported more than 1 million refugees in 2015. On top of that, there is no sign at all that the political leadership of the country will change radically, putting the future population growth in danger. So there is no danger that Germany will be stuck with a falling population situation as Japan is facing. Bellow are the official historical data for the population of Germany by ethnic origin for the years 2012-2015 and a projection for the future:
Year
Germans
European, Americas, Asia
African (Non
Muslim)
Muslim
Total
2012
65 550 000
10 683 000
817 000
3 349 000
80 399 000
2013
65 125 000
10 690 780
857 850
4 093 370
80 767 000
2014
64 700 000
10 698 638
900 743
5 068 000
81 198 000
2015
64 275 000
10 706 574
945 780
6 000 000
81 927 354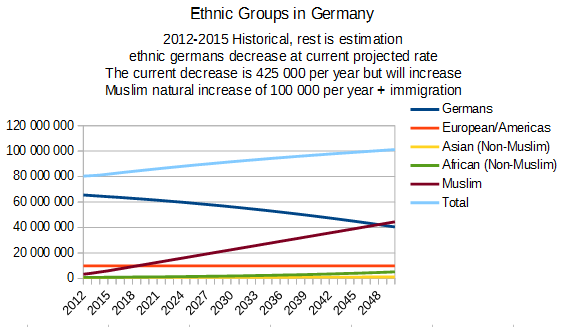 Source: For 2012-2015 historical official data available at Wikipedia. For 2016-2050 demographic projections.
But, after more than 1 million arrivals in 2015 Germany might run out of people to import, right? No, there are at least 20 million more waiting to cross. Ok, so after those 20 million are settled it is all over, right? No. The population of the countries were they are coming from is projected to explode. An unprecedented baby boom is happening right now. It is happening in Africa. There is a widespread belief that what happened in Europe, USA, Japan and China will repeat itself: That better education and health care will quickly drop fertility rates in Africa bellow replacement. But reality says otherwise.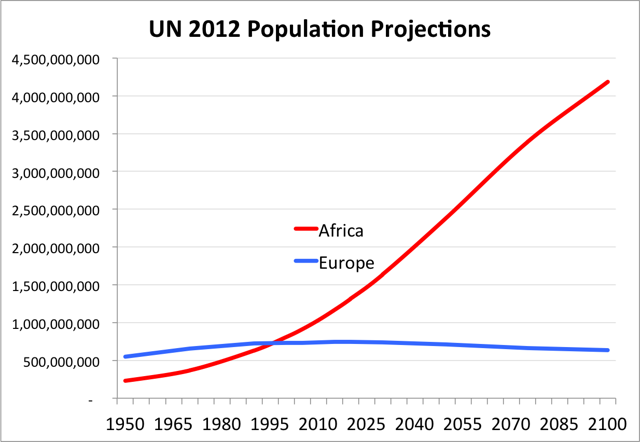 Click to enlarge
Source: United Nations 2012 Report
The United Nations in 2012 issued a full review for projected populations in Africa because the fertility is not falling as anticipated and populations will be much larger than anticipated before. For example, it revised the projected Nigerian population upwards by more than 50 million people by 2050. This is relevant because many of the new world inhabitants will wish to live in Germany and will find a way to get there.
Consider that an average African needs to work all day under the heat of the sun for less than 1€ per day, but a family with 2 children which received asylum in Germany receives 1000€ for doing nothing all day. The official Eurostat statistics show a current acceptance rate of aproximately 50% for asylum seekers in Germany. The rates vary per country, for example in 3Q15 of over 3 thousand Serbian applicants almost none got asylum, but of almost 6 thousand Eritreans, almost all got asylum. Who in their right might, being born poor in Africa wouldn't want to go to Germany? If I was born a poor African I would want to go.
Upon arriving in Germany let's assume a 50% chance of being granted asylum. If the asylum is not granted, he will receive a letter asking that he kindly gets out of the country. Instead, since wages are much higher in Germany, most people will prefer to move to another city (to get out of sight) and try either to get a visa somehow (maybe on family grounds) or work in the black market economy. The German GDP was of 3573 billion euros in 2015. 1 million asylants would require payments of 12 thousand euros per year for each 4, so a total of 3€ billions per year. Germany had a budget surplus of 10 billion euros in 2015, so it is in a perfect position to expend up to 2% of its GDP (71€ billions) by paying asylants, which will pour the money back into the economy since they are poor and will immediately need to buy food, clothes, dippers, etc. Germany can give asylum to 20 million migrants without damaging its credit rating, and it can attract an equal number to work there either in the formal or the informal economy. They will fill the growing demand in the country for security guard positions, which the migrants will be ideally positioned to fill as they can use violence against their fellow migrants without being accused of racism. There will be many positions open to protect stores and residential buildings from the rising violence and criminality.
With this in mind, let's check how particular German companies will benefit from these trends:
Large benefit: Adidas (2% of MSCI Germany), E.ON (2%), Deutsche Post (2.4%), Henkel (0.9%), Osram (0.4%), Metro (0.5%), Deutsche Telekom (5.5%), Deutche Wohnen AG(0.9%)
A larger number of consumers in the country will mean more people buying goods, and this will benefit a large section of the German economy. For Adidas (OTCQX:ADDYY), this will mean more shoes sold. For E.ON (OTCQX:EONGY) a higher electric power usage. For Osram, more light bulb sales. For Metro, more newspaper readers. For Deutche Wohnen this will mean a stronger rent market. For Deutsche Post more packages and letters being sent, specially international ones. For Henkel (OTCPK:HENKY) this will be higher sales for it's cloth washing detergent Persil. The company also already developed new products to sell in Saudi Arabia such as "Persil Abaya Shampoo" or "Persil Black", which are liquid detergents for abayas, the loose, traditionally black, robe-like garments worn by women in many Islamic cultures. So it is well posed to sell the same product in Germany.
Deutsche Telekom (OTCQX:DTEGY) is a large part of the index (5.5%) and will be one of the companies more benefited by the changes going on. The first thing that every migrant will do in Germany will be to buy a sim card, and many of those sim cards will be from Deutsch Telekom. Revenue and earnings for this company will be way higher than they would have been with a falling population.
Minor benefit: Allianz (7%), Munich Reinsurance (3%), Deutsche Bank (2.4%), Commerzbank (0.8%)
The sectors of banking, insurance, reinsurance and real estate will also benefit greatly from a growing population and the extra consumption that it generates, but not as much as consumer goods. Real estate in particular will be impacted positively immensely with rent prices going up.
Not affected: Daimler (6.6%), Siemens (7%), Bayer (9%), SAP (7.5%), BMW (0.4%)
While many companies will be affected positively, it is true that for many large ones this won't make much of a difference. Companies that sell expensive cars such as Daimler (OTCPK:DDAIF) the manufacturer of Mercedes and BMW will not be affected, since most migrants are poor. Also companies with a very large portion of their revenue overseas such as Siemens, Bayer and SAP will also not be affected much.
Negatively affected: Volkswagen (2%)
While most companies will be positively affected or unaffected, for Volkswagen (OTCPK:VLKAY) the current trends are a big problem. The new car market in Europe is driven by nationalism. For example, the Volkswagen Group (Volkswagen, Skoda, Audi and Seat) has a market share of 39% in Germany but only 13% in France. The PSA Group (Citroen and Peugeot) has a huge 30% market share in France, but only 3% in Germany. While the migrants will improve new car sales in the future, when they get jobs, there is no reason why they would have such a huge bias in favor of German cars like the, well, the Germans have. This is probably good news for Toyota, a leading brand in the Middle East as well as for Dacia, the low-cost brand from Renault. Mercedes and BMW will not be affected because they sell expensive cars, which will be unaffordable for most migrants.
Why the trend will not change
Some will claim that my population projection is wrong, and here unfortunately politics makes a huge difference and cannot be ignored, but by calmly analysing the existing data we can bring light to this issue. They will claim that Merkel will lose the 2017 election or that she will change her mind. In fact there were recently news that Merkel changed her mind, but the news headlines do not correspond with her actions. She only allowed the deportation of serious criminals, nothing was done to prevent new asylum seekers from coming. As for the CDU losing the next election, let's see how many EU and German parliament members each German political party has, and how they voted in the 17/9/2015 EU Parliament voting on the matter of the forced relocation of refugees among EU member states, a vote that shows if they are in favor of resettling refugees or not:
| | | | |
| --- | --- | --- | --- |
| Germany | EU 17/9/2015 Voting | EU Parliament Members | German Parliament Members |
| Sozialdemokratische Partei | For | 19 | 193 |
| Christlich Demokratische Union | For | 22 | 254 |
| Christlich-Soziale Union in Bayern | For | 6 | 56 |
| Freie Demokratische Partei | For | 3 | zero |
| Bündnis 90/Die Grünen | For | 11 | 63 |
| Die Linke | For | 7 | 64 |
| Nationaldemokratische Partei | Against | 1 | zero |
| Alternative für Deutschland | Against | 2 | zero |
Source: EU Vote Watch - On the matter of settling refugees in EU member states
As one can see in the table, created based on EU Vote Watch data, the political parties which are against the refugee resettling have a tiny share of the German EU parliament and zero representation in the German parliament. I would be surprised if the parties that are against suddenly increase their share to above 50%.
Disclosure: I/we have no positions in any stocks mentioned, and no plans to initiate any positions within the next 72 hours.
I wrote this article myself, and it expresses my own opinions. I am not receiving compensation for it (other than from Seeking Alpha). I have no business relationship with any company whose stock is mentioned in this article.
Editor's Note: This article discusses one or more securities that do not trade on a major U.S. exchange. Please be aware of the risks associated with these stocks.