Fast food behemoth McDonald's (NYSE:MCD) is a stock that I've been critical of in the past. The company's well-publicized turnaround efforts - including all-day breakfast - have since come to bear some fruit, something I was skeptical of a few months ago. At the time, MCD had been bid up aggressively to $112 and I said it was overvalued as the turnaround hadn't yet really started. But with Q4 earnings out and investors racing each other to the 'buy' button for MCD shares, it seems I was wrong. But what do we do now? Is $121 really the right price for MCD?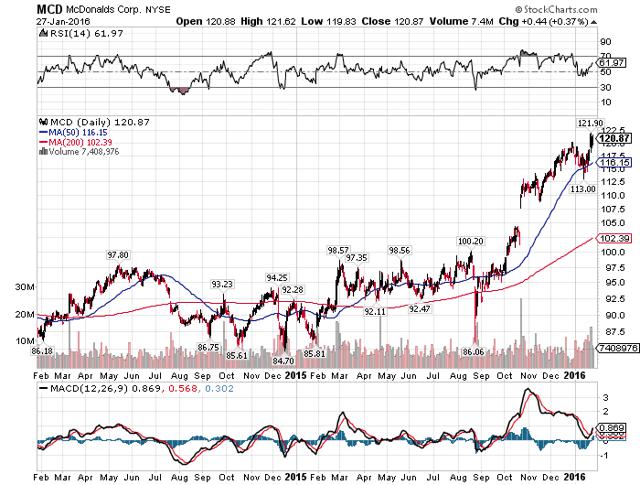 Click to enlarge
The reason I was bearish on MCD in the past was not because I thought the model was broken or something; far from it. I simply didn't understand how a company with such enormous headwinds to growth could trade at a valuation of 21+ times forward earnings. MCD's dividend and buyback are certainly sources of strength and as a guy that loves capital returns, it's difficult for me to reconcile the two. But in MCD's case, the capital returns simply weren't enough for me to want to pay so much for a company that is having a hard time growing earnings.
Of course, Q4 earnings looked a lot better and the report has investors very excited about MCD's medium term prospects, more so than was probably true after Q3. And why not? Tremendous strength was exhibited in pretty much any metric you can think of. Sales were down 3.5% but it was due to currency headwinds; the ex-forex number was more like +5% as the company's global comp sales increase was 5%. The US business was certainly helped by all-day breakfast and unseasonably warm temperatures across much of the country but comps were strong everywhere. It seems MCD's formula for turning the business around is certainly working to drive traffic gains.
But to what extent can MCD keep this momentum going? These gains are nice but remember that MCD has to comp against these gains starting in Q4 of 2016, meaning it has three quarters of easier comparables - particularly in the US - as the all-day breakfast launch occurred in October. While I expect that MCD's comp sales gains for all of 2016 will be strong, what happens then? Can we expect MCD to continue to post mid-single digit comp gains for the foreseeable future? I think that is unreasonable as the all-day breakfast launch has created excitement and traffic but cannot be expected to replicate those results. In short, I think MCD has headwinds in 2017 as comparables become a lot more difficult than they are right now and as the refranchising efforts really make their impact on the top line.
In addition to tough comparables in 2017, MCD continues to suffer mightily at the hands of the strong dollar. MCD is surely not alone in this struggle as many multinationals face the same issue but for MCD, the impact is particularly pronounced. MCD's revenue was cut down by 9% in Q4 and 10% for the full year simply from the impact of the strong dollar. That is a horrendous headwind to both revenue and earnings growth as MCD has to grow revenue by 10% organically just to get to flat reported growth. That is not something MCD can do now or will ever be able to do as it is undergoing its refranchising efforts and its scale is simply too large. As long as the dollar is strong against other major currencies, this is going to be a significant problem that no one seems to care about. With the Fed the only major central bank in the world embarking on tightening efforts, it seems we'll likely see another high single digit or worse loss of top line growth due to the dollar. I know organic growth numbers are sexy and popular to focus on but they don't matter; what matters is what is reported and that number is going to continue to be crushed by the strong dollar for the foreseeable future.
So what do we do now that the stock is in excess of $120? MCD is one of very few stocks in the US market that is actually trading near its highs, something management should be very proud of, but I'm concerned. Analysts have very bullish EPS growth numbers for MCD in 2016/2017 and given the simple fact that comparables will begin to be very tough in Q4 2016 and with the strong dollar taking its massive toll on revenue, I am concerned there is little chance MCD can hit those numbers. But even if I'm wrong and it does, it is still trading for 22.5 times this year's earnings and just over 20 times 2017's EPS estimates. For a company that is seeing negative revenue growth as it restructures its business and suffers from the strong dollar, that is lofty indeed. It seems to me that investors are buying much more growth than what MCD can possibly produce and that is a big problem in my view.
In addition, the chart seems to be confirming to me at this point that buying momentum is slowing significantly. The breakout over $100 that occurred last fall was certainly powerful and MCD hasn't looked back. The stock continues to fly higher and - as I said - is trading at its highs despite a very weak broader market. The problem is that the recent rally to $121 hasn't produced a buy signal in the momentum indicators. The RSI and MACD are both much weaker during this rally than they were in previous rallies with both failing to get even close to overbought conditions. That is very unfavorable as that could be an early indicator that the current rally is losing steam. That doesn't necessarily mean the stock short be shorted but it does mean that upside is probably limited short term. However, when you combine the chart and what I see as a very expensive stock, a short is exactly the right play in my view.
MCD's turnaround plan is certainly working and I'll be the first to admit that my skepticism has proven unfounded. However, extrapolating one good quarter's results into eternity is a dangerous business and I think that is what MCD buyers are doing right now. Results were very strong in Q4 but when MCD begins to compare against them, growth may be nonexistent or even negative once again. The capital returns the company promises are nice but not enough to overcome the headwinds I've mentioned and with the chart confirming my suspicion at this point, I think shorting MCD is the prudent thing to do.
Disclosure: I/we have no positions in any stocks mentioned, but may initiate a short position in MCD over the next 72 hours.
I wrote this article myself, and it expresses my own opinions. I am not receiving compensation for it (other than from Seeking Alpha). I have no business relationship with any company whose stock is mentioned in this article.