My previous article on Potash Corp. (NYSE: POT) was titled "Potash Corp.: Current Dividend Yield Is Scary". I argued that the yield has grown to excessive levels and that the negative developments in China will influence management's decision about the dividend. Today, Potash Corp. announced its fourth-quarter results and stated that it cut the dividend by 34%. I'll first start with the dividend topic and then get back to the earnings report itself.
2 signs your company is about to cut the dividend
There have been several common factors that signaled a dividend cut or elimination during this commodity downturn. My observations are, of course, subjective, but they seem to work. The first one is the yield. Forget about the yield on cost - the companies seem to focus on actual yield as if all of you were buying the shares today. Yield over 6% already looks dangerous, while the yield over 8% almost guarantees a dividend cut. The next observation is even more subjective.
When a commodity company states that the dividend is the top priority you can also expect a cut or elimination of the dividend. In my view, management tells the market what it wants to hear, but on the operational level the management is not suicidal. In my opinion, they speak about the importance of the dividend in hope that the market shows some upside and there will be no need to cut the dividend, but when the upside fails to emerge they have to act in the best long-term interests of the company.
What I don't like about the current dividend cut
Obviously, current shareholders are interested in the biggest possible income stream from Potash Corp. That's the only positive moment in owning Potash Corp. shares given their dismal performance in the last few years. With that in mind, most of those who already own the company's stock would not have been happy if Potash Corp. cut the dividend even more.
In its report, the company stated the following about the dividend: "We believe this level - representing a payout ratio of close to 100 percent of 2016 earnings - remains highly competitive and balances interests of our many stakeholders, including equity and debtholders". A 100% payout ratio means zero flexibility if things go worse than Potash Corp. predicted. At first glance, this is a road for another dividend cut.
At current prices (I look at Potash Corp. premarket quotes) a quarterly dividend of $0.25 per share leads to a 7% yield. Of course, it is premature to derive any deep conclusions from premarket trading on a day of the earnings release, but the 7% yield still looks like a dangerous thing to me.
I am in the camp of those who believe that capital appreciation does matter a lot. From time to time, I get messages in my mailbox from people who ignored "paper losses" until they became 80%-90% of their original investment. By this time, dividends (if there were any) are already cut and the person is met with a choice to sell and get some of the money back or try to sit through everything and risk losing 100% of the investment.
A dividend cut is negative news that influences the valuation of the company. If presented with a choice to cut the dividend two times by 25% or one time by 50%, I would prefer the latter as it brings more financial flexibility to the company and puts the stock under pressure just once. I understand that this issue is highly subjective and I would like to hear your opinion in the comments section.
Guidance signals loss of market share
Potash Corp. missed analysts' estimates on both earnings on revenue. Fertilizer prices continued to decline. Potash realized prices slid to $238 per ton while the cost of goods sold increased to $132 per ton. In nitrogen, prices decline to $288 per ton compared to $319 per ton in the third quarter. The decline was also replicated in the phosphate segment, with realized prices down to $522 per ton from $538 per ton in the third quarter.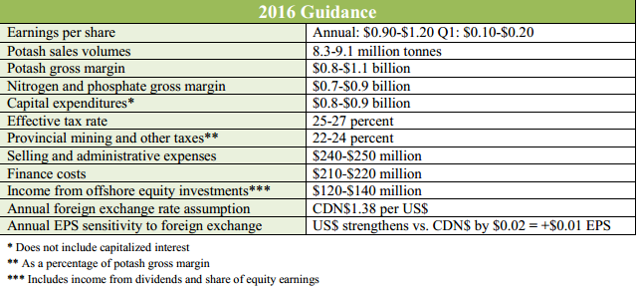 Click to enlarge
The outlook for 2016 seriously differs from the one we talked about in "Potash Corporation: Dividend Is Not Sustainable At $200/ton Potash Prices". Back then, I pointed out that the sales assumptions of 10 million tons annually were far from reality. As we discussed earlier in this article, you were told what you wanted to hear. The real guidance for 2016 is strikingly different from the above-mentioned presentation. Potash sales are expected to be 8.3 million - 9.1 million tons.
Note that Potash Corp. estimates that global potash shipments will be 59 million - 62 million tons this year. The company estimates that 2015 potash shipments were approximately 60 million tons. How do you call a situation when global shipments increase (or at least stay flat) and the company's expected sales decrease? It's a loss of market share.
At first glance, I don't like what I see in the report. The management certainly wanted to please shareholders as much as they can by committing to a 100% payout ratio, but this move could pave the way for future cuts if the market environment deteriorates further. The new dividend yield will still serve as a support for the company's shares, but I think that a 100% payout is probably too generous in the current market environment. If the dollar strength continues, the dividend will likely be under pressure.
Disclosure: I/we have no positions in any stocks mentioned, and no plans to initiate any positions within the next 72 hours.
I wrote this article myself, and it expresses my own opinions. I am not receiving compensation for it (other than from Seeking Alpha). I have no business relationship with any company whose stock is mentioned in this article.