By Parke Shall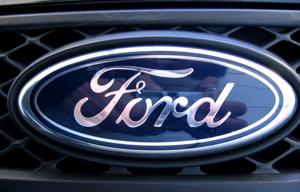 Ford (NYSE:F) delivered the quarter that we all thought that it could when they reported this morning. The US-based domestic automaker has shown such a difference since the dark days of 2008, now averaging over $3000 per vehicle as opposed to taking a loss of over $2500 per vehicle in its "darkest days".
For the last year, we have been writing article after article about Ford, examining all of the data that we could possibly find and commenting about the company's international expansion. It was our argument that Ford was doing a fantastic job investing in itself and that the company's investments overseas needed to pay off before the shareholder was going to see any type of positive effect.
We believe this morning's results are just the very beginning of Ford's global initiative beginning to pay off, and that profitability in two other major global regions aside from the United States is an immense positive for the company. As we have said in the past, we expect global profitability to boost the bottom line, and the bottom line to be the only thing that helps finally move the share price higher. We think we are going to see the share price steady and eventually move higher over the course of the long term from this point.
This morning, Ford delivered a record pretax profit and fantastic earnings that we wanted to run over and talk about briefly. We will probably follow up on this article later today or tomorrow after listening to the company's conference call at length.
First of all, here are some of the financial highlights from the quarter,
Record full year 2015 pre-tax profit, excluding special items, of $10.8B, up $3.5B; after-tax earnings per share of $1.93, excluding special items, up $0.59 cents from a year ago; full year net income of $7.4B, up $6.1B; after-tax earnings per share of $1.84, up $1.53 from a year ago
Fourth quarter pre-tax profit, excluding special items, of $2.6B, up $1.3B; net income of $1.9B, up $4.4B; after-tax earnings per share of $0.58, excluding special items, up $0.28 from a year ago
In addition, Ford reiterated its guidance for 2016. Altogether, it was an incredibly strong report.
What was the first thing that stuck out at us?
The company is starting to turn a profit in the Middle East and Africa.
Why is this important?
Because it validates our continued thesis that if Ford was going to see any improvement on the bottom line, it needed to start to monetize some of its international business. Ford obviously has a long way to go in growing global, so we believe that there is further good news ahead as the brand continues to blanket the globe.
The company also released some good news about operations in Europe. Ford was the most driven and most sought after commercial vehicle in Europe, according to Ford's investor relations.
In addition, Europe also returned to profitability last year. This is a big deal, as the company can push to swing this profit out further. These actions will be positive for Ford's shareholders with a longer term focus.
China continues to show strength, as we had commented that it would all year. The company released the Taurus brand overseas, which we thought was a fantastic idea. Chinese consumers, while interested in smaller smart cars are also interested in American luxury. We had written several articles last year detailing Ford's revamping of the Lincoln brand and the inroads they were making in China. We stated that even though the Chinese stock market crashed, we were still bullish on the company's ability to execute overseas, as CEOs of consumer-based product companies like Starbucks made comments that the consumer remains strong in China.
The company saw so much of its strength come from pickup trucks and SUVs. We have long been a positive believer in the changes Ford had made to its line of pick up trucks, writing on more than one occasion that they were innovators and that they were leading the charge in pickup trucks by using a new aluminum body that would allow for better fuel efficiency. Results from The Ford F-series have been absolutely fantastic, and it is no surprise to us that with demand exceeding supply at several points last year, that the F-series has been leading the charge in sales for the company.
The company also guided for 2016 pretax profit to be equal to or above 2015. In the auto industry, this is good news. This is an industry that is mostly cyclical and is much more difficult to grow year-over-year than something like a technology company. We are certain that the company plans on being able to do this by continuing its global rollout.
We recently wrote a couple of articles about companies that we were looking at now that the market has priced things at a discount. Ford, with it's fantastic dividend, was one such company.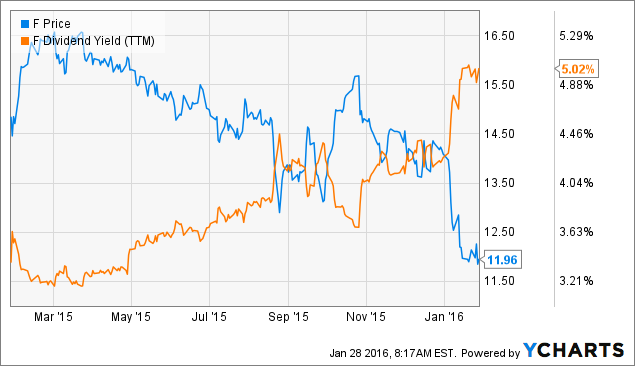 F data by YCharts
We only regret that we did not get to establish a long position before this report came out. We are still considering taking a long position in the company over the coming days. We think the valuation on an earnings basis, combined with the dividend make this iconic US automaker a great opportunity for a buy-and-hold over the course of many years to come.
We will make comments on the company's conference call later today or tomorrow.
Disclosure: I/we have no positions in any stocks mentioned, but may initiate a long position in F over the next 72 hours.
I wrote this article myself, and it expresses my own opinions. I am not receiving compensation for it (other than from Seeking Alpha). I have no business relationship with any company whose stock is mentioned in this article.