2015 was a woeful year for railroaders and it looks like 2016 is turning out to be the same. Take CSX (NASDAQ:CSX) for example. The stock was down 30% in 2015, and so far this year, it has already lost close to 16% of its market capitalization and trades near the lower end of its 52-week range. The weakness in CSX's stock is not surprising, as earlier this month the company posted weak results.
This red flag was raised by CSX on the back of weak domestic coal volumes in the U.S. in the fourth quarter, which declined at a greater-than-expected rate. Of course, CSX is expecting strength in markets such as automotive and construction, but a look at the table given below indicates that the coal problem will be difficult to overcome since it is almost 20% of revenue:

Click to enlarge
Thus, given the importance of coal in CSX's overall revenue structure, which is higher than peers such as Union Pacific (NYSE:UNP), I think that it will continue seeing weakness in its earnings performance this year. Let's see why.
Coal's downtrend will continue
The weakness in coal volumes is a result of declining demand for coal in the U.S., as a result of which production is declining. For instance, in 2015, coal production in the U.S. was down 10% from 2014 at 900 million short tons, which is the lowest level in almost two decades.
Even this year, coal production in the U.S. is expected to decline another 3%. Additionally, coal exports from the U.S. are expected to drop another 8% this year, which will create more pressure on coal volumes. A key reason behind the decline in coal production in the U.S. is the decline in consumption by the utilities, which are preferring natural gas due to lower costs and cleaner generation.
For instance, in 2015, coal consumption by the power sector in the U.S. dropped to its lowest level in 17 years as natural gas overtook coal in power generation. Now, the price of natural gas is low enough to warrant continued conversion from coal to gas. Currently, NYMEX natural gas trades at $2.20/MMBtu, and as BTU Analytics points out, a price below $2.50/MMBtu encourages switching from coal to gas as shown below: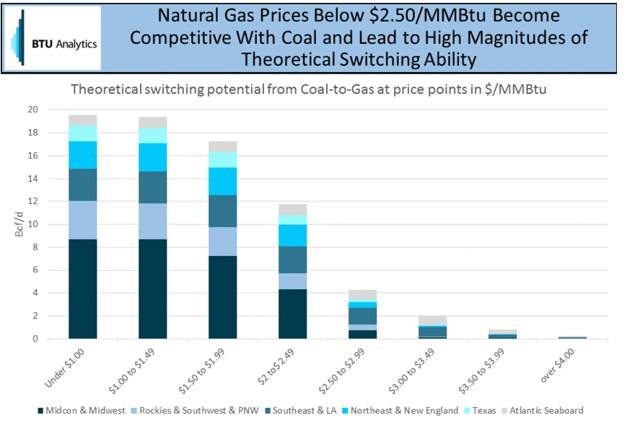 Click to enlarge
Now, there is a good chance that natural gas will continue to trade at depressed levels due to industry oversupply as production is expected to increase 1.5 Bcf/day this year, while demand will increase slightly from 76.5 Bcf/day in 2015 to 76.7 Bcf/day in 2016. As a result, the price of natural gas will continue to remain weak this year and this will encourage higher usage of natural gas as compared to coal in power generation, creating a headwind for CSX.
The positives
CSX, however, has been able to keep its margins and cash flow intact despite all the end market weakness. In fact, the company's gross margin has increased slightly in the past year, as shown in the chart below: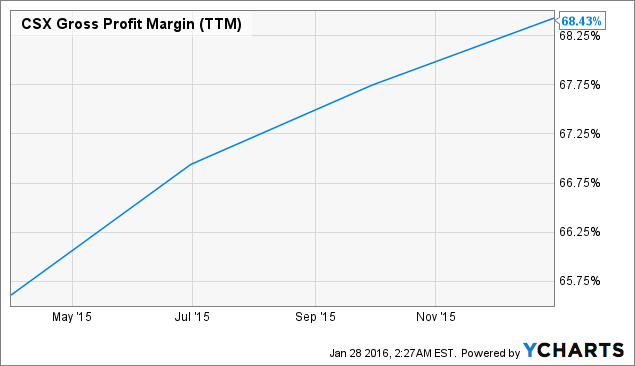 CSX Gross Profit Margin (NYSE:TTM) data by YCharts
Now, CSX has been able to achieve better margins and cash flow due to its consistent focus on improving efficiency and lowering costs. More specifically, CSX has undertaken initiatives such as increasing the train length by 10% so that it can haul more freight at lower costs. Additionally, since CSX has increased on-time originations and on-time arrivals by 41% and 26%, respectively, while its terminal dwell time has also gone down. As a result of this higher operating efficiency, CSX's operating ratio was an impressive 71.6% in the previous quarter.
Conclusion
Thus, CSX is doing its best to overcome the end-market weakness by improving efficiency. However, due to declining coal volumes that account for a fifth of its top line, I think that a consistent decline in its revenue due to weakness in coal will eventually have a negative impact on the margins. This is because CSX eventually expects its operating ratio to fall into the mid-sixties in the longer run, which when combined with a lower top line, will create pressure on its margin profile. So, I think that investors should not buy into CSX even though it is trading at depressed levels due to the headwinds in the coal segment.
Disclosure: I/we have no positions in any stocks mentioned, and no plans to initiate any positions within the next 72 hours.
I wrote this article myself, and it expresses my own opinions. I am not receiving compensation for it (other than from Seeking Alpha). I have no business relationship with any company whose stock is mentioned in this article.