Donaldson Company, Inc. (NYSE:DCI), is global manufacturer and distributor of filtration systems and replacement filters for engines and industrial applications. DCI has a proven history of delivering value to shareholders with a 12% earnings CAGR over the last 25 years but 2016 may prove to be challenging for the company.
DCI is currently trading with a stock price of $27.38 which gives it a P/E of 19.8 based on a trailing EPS of $1.38. The company paid a dividend of $0.68 this past December (a yield of 2.52%) and since the beginning of the month, the stock price has done well relative to the rest of the market, declining only 4.3%.
Business Segments
DCI operates in 2 business segments: Engine Products and Industrial Products. The Engine Products segment manufactures and distributes air and liquid filtration systems, exhaust systems and replacement filters as well as other related products. This segment accounted for 62.5% of revenue for the fiscal year 2015 or $1.5 billion. The end markets for the products from the Engine Products segment include aerospace and defense, both off and on-road vehicles and the aftermarket. The Industrial Products segment manufactures and distributes air and gas filtration systems, dirt collectors and air purification systems as well as other related products. This segment accounted for 37.5% of revenue for the fiscal year 2015 or $900 million. The end markets for the products from the Industrial Products segment include industrial filtration and gas turbines. The image below offers a visual breakdown of the business segments. (Source: DCI investor presentation, September, 2015.)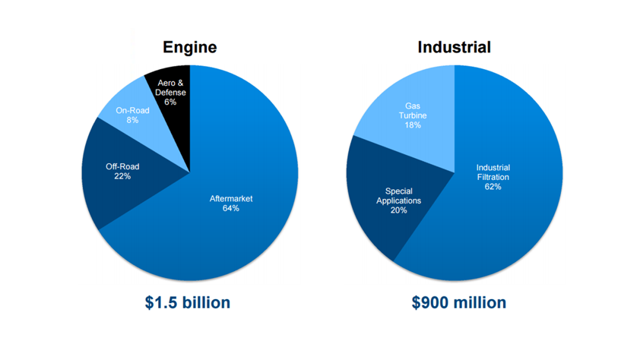 Historical Company Growth
Before we examine DCI's outlook for the upcoming year, it is important to look at historical trends to get a sense of how the company performs nominally. As mentioned above, DCI grew earnings over the past 25 at a CAGR of 12%. Additionally, revenue over the last 25 years grew at an average annual rate of 7%. Clearly, DCI has delivered value to investors who have held the stock for the long-term.
More recently, over the last 5 years (FY2011 to FY2015), revenues increased just slightly from $2.29 billion to $2.37 billion, a modest 3.5% increase. Total net income decreased from $225 million in 2011 to $208 million in 2015 (a 7.6% decrease over 5 years), however, due to a reduction in the total number of shares outstanding, the company actually had a slightly higher EPS in 2015 than 2011; $1.49 in 2015 versus $1.43 in 2011 (a 4.2% increase).
The past fiscal year (2015) was a rough one compared to a long history of consistent earnings growth. Revenue dropped $100 million compared to the previous year, a 4.1% drop. Net earnings dropped a significant amount compared to the fiscal year 2014; $52 million or 20%. EPS dropped accordingly, from $1.76 a share in 2014 to $1.49 a share in 2015 (a 15.3% decrease). These decreases can be attributed to a number of factors but the most important are the lack of growth in the end markets that the company operates in and slightly lower operating margins. However, it is important to note that there were successes in 2015 including growing sales of PowerCore and PowerPleat technologies and key acquisitions such as Northern Technical and IFIL USA.
Management's 2016 Outlook
The fiscal year 2015 was a year where DCI's revenue and earnings both dropped significantly from the previous year. Next we will examine if DCI will follow the same trend in 2016 as it did in 2015 or if the company will right itself and return to the historical trend of solid earnings growth.
In its latest earnings report (2016 Q1) released at the end of November, DCI reported adjusted EPS of 34 cents per share, down 6 cents from 40 cents in the same quarter during the prior year. DCI will need to do very well in the next 3 quarters to both make up for this decrease and grow earnings beyond the previous year. Management released guidance for the rest of the year of annual EPS from $1.49 to $1.69, down from previous guidance which has annual EPS ranging from $1.57 to $1.77. As mentioned above, EPS for the fiscal year 2015 was $1.49, so management expects the worst case to match 2015 EPS and for the best case to start to return to prior levels of growth.
Factors Affecting 2016
There are a number of factors that will affect DCI's earnings in 2016 including, but not limited to, currency trends, competition and growing global markets.
The global market for filters is affected by many different things but the main drivers are increasing pollution and health regulations and growing global manufacturing. The global market for filters is driven by regulatory actions related to the environment because companies need a wide variety of filters to stay up to date with strict regulations for emissions. As global manufacturing increases, demand for filters will grow accordingly.
According to a report from the Freedonia Group, global demand for filters will rise 6.2% annually through 2018 to $80 billion. They see this growth driven primarily by double digit growth in the Asia filter markets; China and India are both strengthening emissions and environmental regulations to be similar to European standards which is driving the filter market growth. Chinese demand for filters is expected to outpace demand in the US by 2023. Indonesia is another major Asian market driver because it is currently working to increase water coverage for its people.
Another Freedonia report, which focuses on the US filter market, sees domestic demand growing 3.6% annually. This growth is driven primarily by manufacturing growth. It is estimated that in 2018 automobiles (and their engines) will account for close to 27% of the market for filters in the US. Critically, in the US market, there is lowering demand for replacement filters as customers hold onto their filters for longer to reduce costs which will negatively affect DCI earnings.
In Europe, dust and mist collectors (which DCI manufactures), account for over 40% of the filter market. Similar to Asia, demand is being driven by stricter environmental and emissions regulations. In Europe, DCI has the largest market share, 20% of the market.
The global filter market is characterized by very heavy competition. DCI holds the largest global market share (less than 10%) and its next 4 largest competitors in the filter market hold less than 15% market share. Its next 4 largest competitors are Clarcor Inc. (NYSE:CLC), Cummins Inc. (NYSE:CMI), Parker-Hannifin Corporation (NYSE:PH) and Affina Group. Stiff global competition has the potential to hamper DCI growth in 2016 and beyond.
Summary
DCI is a leader in the global filter market and has a demonstrated history of growth. It operates in 2 segments: Engine Products and Industrial Products. During its fiscal year 2015, it strayed from consistent earnings growth. The fiscal year 2016 looks to be a challenging one for DCI as well. A number of factors will affect the earnings of DCI including currency trends, competition and global markets. DCI faces major competition globally to carve out its share of the growing global filter markets. If DCI is able to execute on its plan to increase its market share and to increase overall revenue, then 2016 will be a return to historical growth trends.
Disclosure: I/we have no positions in any stocks mentioned, and no plans to initiate any positions within the next 72 hours.
I wrote this article myself, and it expresses my own opinions. I am not receiving compensation for it (other than from Seeking Alpha). I have no business relationship with any company whose stock is mentioned in this article.