On January 28th, Ford Motor Company (NYSE:F) reported its fourth quarter results as Seeking Alpha has covered here. A picture is worth a thousand words and the one below should make Ford shareholders happy looking back at 2015.

Click to enlarge
Source: Businesswire.Com
Investors can read through the details of the results here as well but the following points are the ones that caught our attention from the earnings report and elsewhere.
Cash Flow: YoY free cash flow almost doubled from the automotive section. We are leaving out the credit services out of the equation here. Strictly for the 4th quarter alone, free cash flow went up by 30%. The reason we looked at this particular number is that when General Motors (NYSE:GM) announced a dividend increase, Ford maintained its current dividend (we acknowledge the special dividend). That prompted investors to worry if Ford's magical run is over. The increasing cash flow should be encouraging for investors as continuous cash flow from operations is critical to offset the dividend payments. As an example, with 4 billion shares outstanding and a quarterly dividend payment of 15 cents per share, Ford needed to have $600 million in cash flow just to cover its dividend for the quarter. The fact that it generated $2.1 billion means dividends consume less than 30% of the free cash flow.
Not A One Trick Pony: Almost every single business unit reported record profits. Europe returned to profitability in 2015. It is well known that Europe has been a problem zone for Ford for many years and the 2015 performance augurs well for the company just as it has announced expansion plans for 2016. Asia-Pacific reported record profit, while the latest unit Middle East & Africa showed profits after just two years of existence as a stand alone business unit.
Sales: Industry experts are betting huge on gas price staying low. Obviously, this is good news for automakers as people tend to drive more (in return buy more cars) when paying at the pump isn't taxing. This is vindicated by the record shattering sales in 2015 as well as by Ford's statement that it expects all its units to report same or higher profits for 2016.
But if things are so good, why isn't the market rewarding Ford with a higher stock price? Honestly, no one knows the exact answer. But all we can do as investors is to be prepared for both the best and worst-case scenarios. The table below shows the dividend income for three categories of investors: the ones who don't reinvest, the ones who reinvest at lows, and the ones who reinvest at highs. Obviously, no one can perfectly time the reinvestment price but the point here is that if you believe the stock is undervalued, continue reinvesting your dividends. For every 100 shares in this example, reinvesting at lows (around $11) increases your dividend income by 19% compared to not reinvesting the dividends.
The market might keep the stock undervalued for long but not for ever most likely. Once the share price rebounds, the higher number of shares accumulated will power the overall returns higher as well.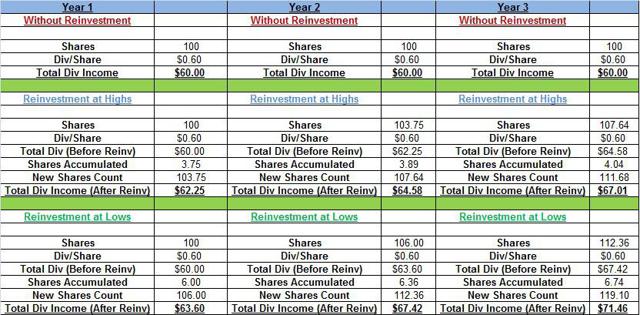 Click to enlarge
Conclusion: With a 5% and a (cyclical) business that is still going strong, Ford should attract value and income investors. The recent earnings report should calm some nerves after the decision to not increase the regular quarterly dividend. If there is one thing Ford has shown us over the recent years, "Go Further" is much more than just a slogan.
Disclosure: I/we have no positions in any stocks mentioned, and no plans to initiate any positions within the next 72 hours.
I wrote this article myself, and it expresses my own opinions. I am not receiving compensation for it (other than from Seeking Alpha). I have no business relationship with any company whose stock is mentioned in this article.