E. I. du Pont de Nemours and Company, known as DuPont (NYSE:DD) has been falling over the past few months. The company's stock dipped significantly, down 28%, since it reached $10 in December, 2015. This is a huge plunge for the company and its shareholders. I had already predicted this decline in a recent article. At that time, with its stock touching $74 per share, I recommended that investors sell on the rally. I predicted that, because the company's business fundamentals were bleak, we would see a considerable drop when its fourth quarter earnings were posted.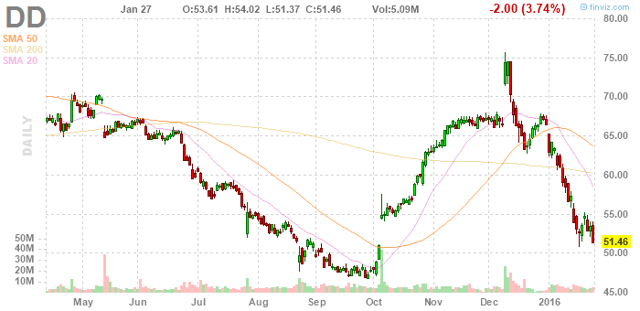 Click to enlarge
My prediction came to pass. DuPont's stock took a huge plunge and the company posted poor results for the final quarter of 2015. The question now is, what's next? Is the company presenting a buying opportunity after such a significant loss in share price? To answer these questions, let's take a brief look at the company's fundamentals, its financials, and the overall business environment.
Recently, DuPont posted its fourth quarter results which showed a significant decline in both sales and earnings. For Q4 of 2015, its sales declined 9%, down to $5.3 billion, amid negative currency translations of 8% and a 1% decrease in volume. On the earnings side, its fourth quarter operating earnings per share stood around $0.27, a significant decline from last year's fourth quarter earnings of $0.57 per share.
Results for the full year are painting a similar picture. Sales for 2015 declined by 12% and earnings per share fell to $2.09 compared with $3.39 in the prior year. The company's cash flow situation is no different. Its operating cash flow dropped to $2.3B over the fiscal year; a reduction of $0.6B.
Despite the dismal performance in fiscal 2015, I now believe the company has adopted strategies that will allow it to reverse course in 2016. In 2015, cost reductions added $0.40 per share to its earnings and the company intends to reduce nearly $700 million in costs over the course of 2016. This strategy will simplify its organization, consolidating into fewer but larger businesses with integrated R&D, engineering, and manufacturing functions. The company expects this will accelerate decision making and allow it to connect even more closely to its end markets.
In addition, the company is looking sharpen its focus by giving its individual businesses increased authority over their profits and losses, thus making them more agile and able to pursue growth opportunities. On the heels of DuPont's cost-saving program, the company's SG&A expenses will decline by 15% on a run-rate basis. This means that its operating margin is expected to grow, purely from cost savings. On another front, the company is looking to make changes to its working capital that will give a huge boost to its cash flows.
The company has provided a much-improved outlook for its 2016 earnings. It is anticipating operating earnings of $3.10 per share, much higher than the earnings it generated in 2015. Above all, DuPont is likely to implement a merger with Dow Chemical by the middle of the year. This merger will result in a unique massive company; the new entity will hold extensive market shares and its sheer size will minimize its competition.
In Conclusion
Buying this stock at present will result in ownership in the combined company. I suggest investors buy this stock before the finalization of the merger with DuPont. The company's share price has great upside potential for the coming days, with its improved market fundamentals and positive shifts in strategy. Its cost-cutting measures will add support to its margins in the coming quarters and its cash position is strong enough to pay uninterrupted dividends until the merger with Dow is fully implemented.
Disclosure: I/we have no positions in any stocks mentioned, and no plans to initiate any positions within the next 72 hours.
I wrote this article myself, and it expresses my own opinions. I am not receiving compensation for it (other than from Seeking Alpha). I have no business relationship with any company whose stock is mentioned in this article.