Although Qualcomm (NASDAQ:QCOM) has a number of interesting initiatives into adjacent markets that have long-term growth potential, the near term is still pretty ugly. For the December quarter, revenue and net income were down y/y double digits, and the outlook for the March quarter is for more of the same. Life without Samsung (OTC:SSNLF) is turning out to be very challenging.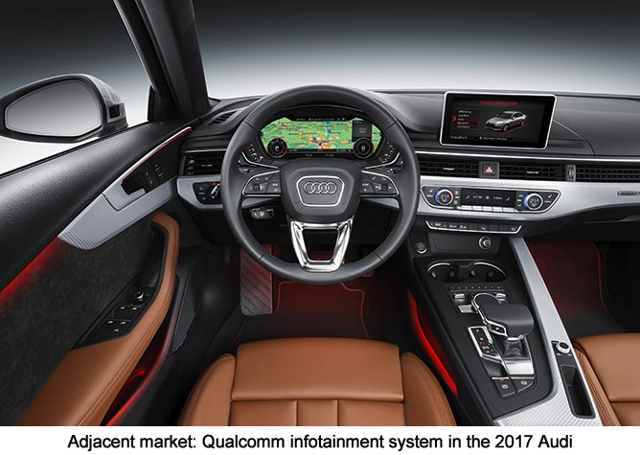 Click to enlarge
Source: Qualcomm
Difficult Comps
The y/y comparisons for Qualcomm's fiscal 2016 Q1 were bound to be difficult. Last year, the impact of Samsung's decision to use its own Exynos processor in the Galaxy S6 had yet to be felt. Qualcomm turned in record quarterly revenue of $7.1 billion in fiscal 2015 Q1 vs. $5.8 billion for fiscal 2016 Q1, a 19% drop. Operating income also fell 18% y/y to $1.7 billion.
Both the hardware segment, QCT, and the licensing segment QTL, fell y/y, but the hardware segment fared worse, with a 22% y/y decline to $4.096 billion. Faced with still non-compliant Chinese manufacturers, licensing revenue fell by 12% y/y to $1.607 billion.
Qualcomm's guidance for the March quarter (fiscal 2016 Q2) was for more of the same. Qualcomm projects a 17-29% decrease in revenue to $4.9-$5.7 billion and MSM chip shipments down 16-25% y/y to 175-195 million.
Qualcomm attributed the weak shipments to lower than expected "thin modem" shipments to a "major OEM", which clearly pointed the finger at Apple (NASDAQ:AAPL) and it's projected y/y decline in iPhone shipments for the March quarter. But Qualcomm management couldn't lay the blame entirely on Apple, and acknowledged during the conference call that it was also seeing other customers shift away from using Qualcomm chips.
Qualcomm still faces a difficult industry transition, with major mobile device makers increasingly turning to custom designed systems on chip (SOCs) to power their smartphones.
Samsung appears certain to use its custom designed Exynos 8 series SOCs in its next generation smartphones, starting with the Galaxy S7. During the conference call, no one in Qualcomm's management even hinted that the outcome would be otherwise, and no analyst dared bring up the subject.
Besides the Exynos 8, perhaps the most significant custom SOC is the Kirin 950 Huawei has designed for its latest Mate 8 phablet. The Kirin 950 is highly capable, although probably not the equal of the forthcoming Snapdragon 820.
This trend is currently most important at the premium tier of smartphones, where Apple, Samsung, and Huawei all use internally developed SOCs. This has more or less permanently locked Qualcomm out of the premium tier, and even modem shipments are likely to decline as companies such as Apple incorporate modems directly into their SOCs.
Qualcomm is left with selling into the mid-to-low tier smartphone markets, where OEMs lack the capability to design their own SOCs. This can still be a lucrative market, and Qualcomm management stated that they expect to see significant revenue from the Snapdragon 820 in the second half of the fiscal year. The 820 is starting production on Samsung's 14 nm FinFET process.
Ultimately, even this market may contract over time, as SOC design capability percolates to lower tier OEMs. Qualcomm claims over 100 design wins for the 820, but there's no telling what that translates to in terms of unit volume. Probably the arrival of the 820 will serve to stabilize revenue for QCT starting in fiscal Q3. However, the long-term trend will probably be further declines in demand for commodity processors as more vendors emulate the example of the top-tier smartphone makers. Qualcomm's long-term growth prospects reside in adjacent markets.
New and Adjacent Market Initiatives
Qualcomm has a recently announced joint venture with the Chinese provincial government of Guizhou to design and deploy Qualcomm-based server chips, which I described in Qualcomm Shows How Intel Could Lose The Data Center. ARM-based servers are a new market for Qualcomm, and the challenges are significant given Intel's (NASDAQ:INTC) dominance of the market.
During the earnings Q&A, Qualcomm management acknowledged that it was also talking to large cloud providers in the U.S. However, Qualcomm made clear that it is still in "investment mode" and will be for some time. Significant revenue from server chips is still years away.
The Guizhou joint venture provides the model for what is probably the best way for any ARM server chip vendor to penetrate the market. The large cloud providers have sufficient scale to constitute a market unto themselves, as well as control of the software stack the runs on their servers. This is most crucial, since software maturity for ARM architecture processors has been a major stumbling block to adoption of ARM in the data center. The prospect of a joint venture with Google (NASDAQ:GOOG) (NASDAQ:GOOGL) or Facebook (NASDAQ:FB) is naturally very intriguing.
Qualcomm's joint venture with TDK in RF modules represents an expansion into an adjacent market. Qualcomm, which has 51% ownership of the JV, will be able to offer RF front ends fully integrated with their modem products.
The Internet of Things represents a huge opportunity for Qualcomm in my view. IoT is clearly moving in the direction of always connected mobile low power devices that can be embedded with appropriate sensors into just about anything. I believe Qualcomm is the best positioned of any company, including Intel, to provide the best solutions for IoT. Qualcomm's expertise in low power ARM processors and modems will allow it to tailor just the right solution for a given IoT application.
Connected medical devices appears to be a very promising IoT application. Qualcomm already is collaborating with Novartis on a connected inhaler for COPD patients. Qualcomm is also reported to be in discussions with Glaxo.
Although Intel has made much of its IoT business, I believe Intel will ultimately fail to be competitive with ARM-based solutions in just the same way that Intel failed to be competitive with ARM in smartphones due to cost and power consumption. IoT is, if anything, more sensitive to both of those factors.
Qualcomm also has a number of other initiatives, in drones, smart homes, and automobiles. Qualcomm is doing the right thing by casting a very wide net for applications for its core ARM SOC technology.
Investor Takeaway
I really like where Qualcomm is going as a technology company, especially in comparison to Intel. Qualcomm has huge advantages over Intel in modem technology and general communications expertise, as well as expertise in ARM processor design. I've lauded the Snapdragon 820 as a big technical advance for the company. Qualcomm's market initiatives appear to have great potential.
But those initiatives aren't generating that much revenue. Qualcomm's bread and butter is still the smartphone, and the smartphone industry is changing. It's not a certainty, even with the 820, that smartphone chipset revenue (in QCT) will recover in the second half of the fiscal year, as Qualcomm's management seems to expect.
I'm also not convinced that Qualcomm's Strategic Realignment Plan will provide sufficient cost savings to keep up with the revenue decline. The Plan calls for $600 million in cost savings in fiscal 2016, but that won't even be close to enough unless y/y revenue declines are halted starting in Q3.
The chances of that are not bad given the release of the 820, but there are factors beyond Qualcomm's control. In addition to the overall industry shift to custom SOCs, Qualcomm may see intensifying competition from Chinese chip makers such as MediaTek and RockChip.
Under the circumstances, I can't quite bring myself to recommend Qualcomm as a buy. It's a confident hold right now, but I'd want to see the guidance for fiscal Q3 before recommending a buy.
Disclosure: I am/we are long AAPL.
I wrote this article myself, and it expresses my own opinions. I am not receiving compensation for it (other than from Seeking Alpha). I have no business relationship with any company whose stock is mentioned in this article.
Editor's Note: This article discusses one or more securities that do not trade on a major U.S. exchange. Please be aware of the risks associated with these stocks.