My regular readers know that I blew out of all of my energy positions by the end of the first quarter of 2015 - And I wish I would have done so sooner! It had just become apparent that the dynamics of the crude market has changed drastically from the environment that had existed for years and had supported $100 a barrel plus prices for oil up until the summer of 2014.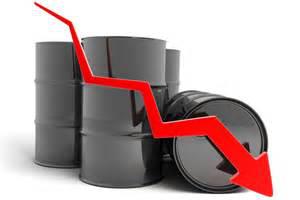 These changes primarily included Saudi Arabia opening up their spigots to maintain market share, slowing worldwide growth and a dramatic increase in U.S. production, thanks to the shale technology. We can now add to those worries, a significant amount of Iranian supply coming onto the market, thanks to the lifting of international sanctions. Crude is rallying in early trading Thursday on chatter around some sort of looming agreement between Russian and OPEC for production cuts. We will see if there is any fire behind this smoke in the days ahead.
The collapse in crude has obviously played a major role in the huge downward tilt to the market to start 2016. The implosion in energy prices has also played a key role in the spike in high yield credit yields as well as increasing worries about the sovereign debt of commodity-based emerging markets like Brazil and Argentina.
As I observed recently, the turbulence in the energy market could last a while and continue to drive the market lower if the slide does not get arrested. The only investment I have kept in the energy sector is in Valero (NYSE:VLO), which is North America's largest refiner. I believe the company is well positioned to navigate the turbulence in the oil markets right now. The stock is cheap, it pays a solid dividend, continues to best expectations by a wide margin and should continue to benefit from an increasing amount of its product being shipped overseas. You can see this strength in quarterly earnings released this morning.
Earnings Highlights:
The company posted earnings of $1.79 a share, a whopping 34 cents a share above the consensus. This is at least the fifth quarter in a row Valero has pasted expectations. The average beat over that time frame is 30 cents a share.
Revenues came in at just under $18.8 billion, more than $2 billion over expectations.
For the full year, Valero posted earnings per share of $9.24.
The company also announced last week it was raising its already generous dividend from 50 cents a share a quarter to 60%, a 20% increase.
Outlook:
The company has done a stellar job of reducing debt and upgrading operations over the past few years. Capital expenditure needs are expected to continue to fall in coming years and the company has dropped underperforming assets into Valero Energy Partners (NYSE:VLP). Valero continues to use its impressive free cash flow to reward its shareholders. For 2015, Valero returned $3.7 billion to stockholders which consisted of $848 million in dividends and $2.8 billion in stock buybacks. This equates to approximately 80% of adjusted net income for the year. In 2016, the company expects to return ~75% of adjusted net income to shareholders.
In summary, I continue to think of Valero as a core position in my portfolio. The stock is cheap, has a high dividend yield and is focused on rewarding its shareholders. The stock sells at approximately seven times the earnings it delivered in the just completed FY2015. Earnings should be down some in FY2016 but consensus estimates have got up not quite 90 cents a share over the past three months. They should go up more after these latest results. With the new dividend payout, VLO also yields a little over 3.5%. ACCUMULATE
Disclosure: I am/we are long VLO.
I wrote this article myself, and it expresses my own opinions. I am not receiving compensation for it (other than from Seeking Alpha). I have no business relationship with any company whose stock is mentioned in this article.