It has been a couple of weeks since Intel (NASDAQ:INTC) reported quarterly earnings, and since then shares have been on the decline. With the company providing some cautionary statements regarding China and guidance not being fully raised as hoped, shares have spent most of 2016 so far under $30 a share. While the company's purchase of Altera put the balance sheet in a net debt position, the combination of low rates and a low stock should make management rethink its buyback strategy.
According to the company's CFO commentary, cash generated from operations totaled $19 billion in 2015. After subtracting $7.3 billion for capital expenditures, free cash flow was approximately $11.7 billion. With these funds, Intel paid out $4.6 billion in dividends and bought back $3 billion worth of stock. Last year was a low capex year, and Intel has guided to $9.5 billion worth of capex in 2016, although that forecast was reduced by $500 million from its original $10 billion figure.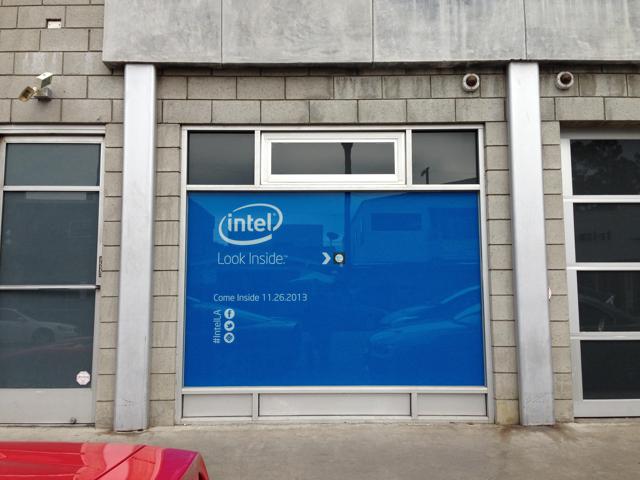 Even if free cash flow declines to say $10 billion this year, Intel's dividend payments probably won't rise much over $5 billion if they even hit that level. In the past, management has said it uses the buyback to manage cash balances, and the company did take out a bit of debt to complete the Altera acquisition. With that purchase being completed after the fiscal quarter, we won't see the big balance sheet changes until the Q1 report. By most projections, Intel will be in a net debt position at that time. Management hopes to get back to a net zero cash position later this year.
Between Intel's so-so quarterly report and some market weakness, shares have not done well so far in 2016. For the first quarter of this year, the dividend was raised to $0.26 per share, which is $1.04 on an annual basis. Based on this annual dividend increase, the chart below shows Intel's daily closing yield since the end of 2015.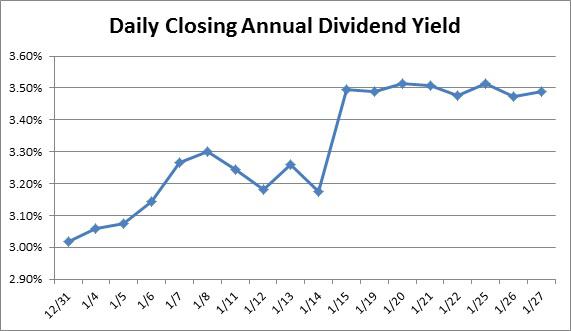 Source: Historical pricing from Yahoo! Finance
As of Wednesday's close, Intel was yielding just under 3.50%, a very nice yield for a technology company. But let's look at what the company's borrowing cost could be. In the image below, you can see what Intel paid for the majority of the debt it took out for the Altera purchase. Intel had other debt issuances with 30-year maturities later on, which carried interest rates of 4.70% and 4.90%.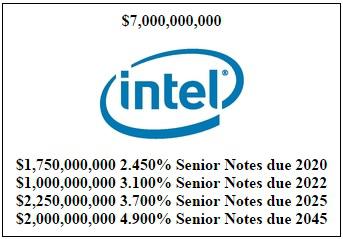 Source: Intel SEC debt filing
On the day of that filing, the 10-Year US Treasury yield was 2.28%, and now we are right at 2.00%. With rates coming down by nearly 30 basis points since that late July time period, I would think Intel could easily issue 10-year debt currently for at the most 3.50%. When you take out the tax impact, with Intel currently guiding to a tax rate of 25%, Intel would be looking at an after tax cost of roughly 2.625%.
So this presents the company with an interesting situation. If you can take out debt with an after tax cost well below 3.00%, shouldn't you do so to buy back shares yielding roughly 3.50%? Not only is there a cash flow savings here, but Intel can help its EPS because the reduction in the share count would be more meaningful to the EPS figure than the after tax cost of debt.
In the end, Intel might want to consider a more meaningful buyback. While the company is buying back a small amount of shares per quarter currently, a larger repurchase plan seems like a good idea. With interest rates and the share price low, why not buy back shares whose dividend yield is much higher than your interest cost? Since Intel management expects 2016 to be a solid year, perhaps the company should repurchase shares when they are under $30, a signal to the market that they could be undervalued.
Disclosure: I/we have no positions in any stocks mentioned, and no plans to initiate any positions within the next 72 hours.
I wrote this article myself, and it expresses my own opinions. I am not receiving compensation for it (other than from Seeking Alpha). I have no business relationship with any company whose stock is mentioned in this article.
Additional disclosure: Investors are always reminded that before making any investment, you should do your own proper due diligence on any name directly or indirectly mentioned in this article. Investors should also consider seeking advice from a broker or financial adviser before making any investment decisions. Any material in this article should be considered general information, and not relied on as a formal investment recommendation.