Stagnant global economic growth has sent Textainer's (NYSE:TGH) share price down by 71% over the past 12 months, which is about 10x a decline of 7% for S&P 500 Index. Primary factors driving the declining trend are weak global trade growth, easy access to low-cost financing, and low steel price, which have weighed on container demand, leasing rates, and container price and led to declining sales and profitability.
Stock valuation was dragged close to its historical low. The shares now trade at 6.0x 2016 consensus estimated EPS and 0.5x tangible book value. The current P/E multiple remains higher than its trough level at 3.0x in 2009, when the market was overwhelmed by the global financial crisis, and the Price/Tangible Book Value trades in line with its trough level (see charts below). Investors can also enjoy a whopping 9% dividend yield even after the first in history dividend cut in November 2015.

Click to enlarge
Click to enlarge
The valuation metrics and divined yield are indeed very appealing. However, I do not foresee sufficient near-term catalysts that could drive material price upside, and there are some uncertainties that could lead to volatile price performance.
Firstly, container price may continue to decline. In Q3 2015 earnings call, management provided a negative outlook for container price based on the rationale that the declining rate of container price has been slower than the drop in steel price. As steel accounts for ~90% of materials for container and containers are mainly produced in China, the local price of steel (hot-rolled coil ("HRC") steel to be precise) is a key driver of container price. Based on the company's disclosure, the average price of new and used containers peaked in 2011 and subsequently dropped by 28% and 53% through Q3 2015, respectively. The price chart for HRC steel in China shows a decline of 52% during the same period (see charts below). The comparison suggests that the price decline for used containers is indeed consistent with the HRC steel price whereas the price of new containers have not declined that much.

Click to enlarge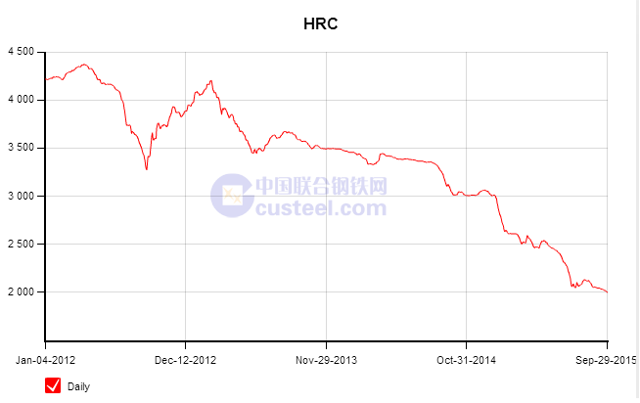 Click to enlarge
According to the following chart, the steel price in China reached trough level at the end of 2015 and had recovered to its level back in Q3 2015. The good news is that the price of used container may stabilize at the current level as it has experienced similar declining magnitude as the steel price, which appears to have stabilized. The bad news is that the price of new containers may play a catch-up game, imposing a risk of further decrease in new container price and Textainer's yield on new leases, which is closely correlated with the new container price.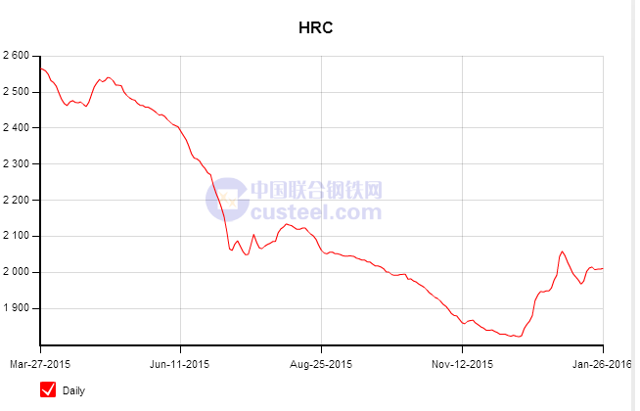 Click to enlarge
Another concern would be potentially higher lessee default. In Q3 2015, the company had bad debt expense of $2.6M, compared to -$3.7M in Q3 2014, which was primarily due to default by a mid-sized lessee. Although the year-to-date bad debt expense of $5.2M (as at Q3 2015) is immaterial relatively to total sales, still there appears to be an uptrend from prior year and should warrant investors' attention. According to Drewy, a global maritime advisor, supply-demand imbalance in shipping industry is expected to last into 2016 and shipping lines' profitability would continue to suffer from declining freight rates. This would only increase the likelihood of customer default. Nevertheless, the bright side of this trend is that shipping lines would still need to rely on lessors for their container supply as they have to deploy capital toward acquiring newer ships and cost reduction initiatives.
While the company's sales growth and profitability are suffering from the industry headwinds, its cash flow profile remains a bright spot that is worth a discussion. Despite the declining trend for both operating income and net income margins since they both peaked in 2010, Textainer was able to sustain a fairly steady operating cash flow margin at around 62% thanks to the company's continuous transition to owned container fleet (from managed container fleet) and long-term leases (see charts below).

Click to enlarge

Click to enlarge

Click to enlarge
Management's decision to cut dividend by 48% in November 2015 and allocate capital toward $100M value of share repurchase was negatively perceived by the market as reflected by a 20% selloff following the announcement. Given the company's solid operating cash flow margin, it does not appear to me that the shift in capital policy is a negative signal. To support my point, I prepared an illustrative example showing the incremental value that shareholders may accrue from the announced share buyback.
Firstly, I assume the $100M share repurchase program to be fully completed by the end of 2016. Although the current consensus estimates predict Textainer's quarterly revenue to decline gradually from $134M in Q4 2015to $125M in Q4 2016, the company may still be able to generate ~$80M operating cash flow per quarter through 2016 if the operating cash flow margin continues to stand at its historical level (i.e. ~62%) (see chart below). Provided that 1) capital requirement to maintain the current dividend level is reduced to ~$14M per quarter, 2) the company will continue receive proceeds from sale of used containers, 3) near-term capex opportunities are limited owing to low container demand and pricing, and 4) the company's leverage level is below comps average (see chart below), the company would have ample liquidity to complete the $100M buyback program by the end of 2016.

Click to enlarge

Click to enlarge
Based on an average buyback cost of $12.5 per share, the repurchase will create incremental EPS of $0.18 for the 4 quarters in 2016. Assuming a 6.0x P/E multiple, this translates into an incremental share price of $1.07 for the year, which is greater than the annual dividend reduction amount of $0.92 ($0.23 * 4 quarters) (see table below).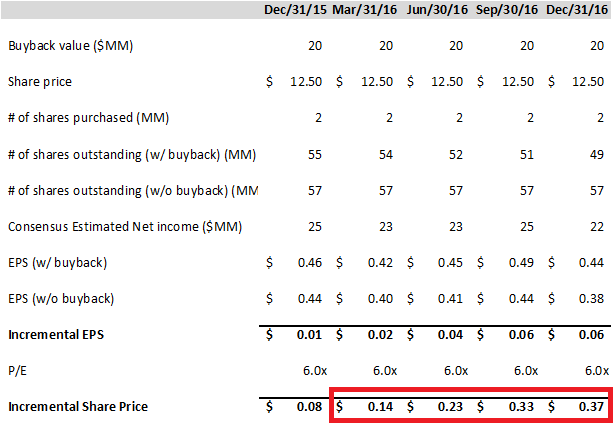 To be clear, the above is a simple illustration of how share buyback could benefit shareholders. The actual results may vary subject to developments of various driving factors. The takeaway here is that shareholders would be better off with the current capital policy if management can leverage on the current low share price and execute the repurchase program timely, which I believe they have ample liquidity to do so.
In summary, trading of Textainer's shares could be volatile in near term given that there remains uncertainty on when the trend will bottom. While I do think the market has overreacted to the dividend cut, as near-term catalysts remain lacking, I would stay on the sideline until the releasing of Q4 2015 results in February.
All the data presented in the above charts and the article is sourced from Capital IQ as well as company filings and presentations, unless otherwise noted.
Disclosure: I/we have no positions in any stocks mentioned, but may initiate a long position in TGH over the next 72 hours.
I wrote this article myself, and it expresses my own opinions. I am not receiving compensation for it (other than from Seeking Alpha). I have no business relationship with any company whose stock is mentioned in this article.